The Biggest Threat to Randgold Resources' Stock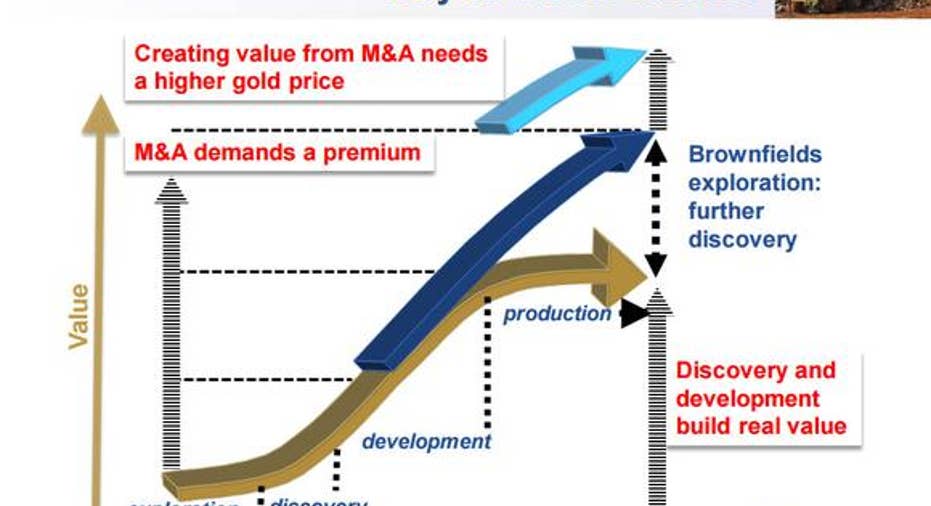 Image Source: Randgold Resources.
Like most of its gold mining peers, Randgold Resources faces the threat of slumping gold prices that could tarnish its financial situation. However, by focusing on exploration instead of acquisitions to drive growth, the company has done a much better job creating value than its larger peer Barrick Gold , which has actually vastly underperformed the price of gold over the past decade:
Randgold's exploration focus, however, cuts both ways with the company continually needing to find new gold resources to drive future growth. Further, it needs to develop these resources on budget, which has been a big problem for peers like Barrick Gold in the past. Because of that Randgold's biggest threat isn't the price of gold, but that its exploration efforts won't pan out.
Focusing on where value is foundRandgold holds the view that the only way for a gold miner to create value is by focusing on exploration, which it details on the following slide.
Source: Randgold Resources Investor Presentation.
It sees exploration being a better value driver than acquisitions because M&A requires a premium, which therefore requires higher gold prices to create value. If those prices don't materialize, it can wipe out a lot of value.
Just ask Barrick Gold, which earlier this year took a whopping $3 billion impairment charge, with $1.8 billion of that due to the writedown of goodwill. It's goodwill the company put on its balance sheet by paying a premium for prior acquisitions thatdidn't pan out as planned when gold prices tumbled. It's this type of value destroyer that Randgold is hoping to avoid by focusing on exploration.
Not every exploration effort pans outThat being said, while exploration efforts can create tremendous value when a discovery pans out, that's not always the case. First, the company need to actually find something of value that can be economically produced. In Randgold's case, it's scouring Africa looking for its next big discovery:
Source: Randgold Resources Investor Presentation.
Then, assuming one of these exploration efforts find a worthwhile deposit, the ensuing development needs to be managed on-time and on-budget to ensure value is created.
Again, we need to look no further than Barrick Gold for the potential pitfalls of a gold mining development gone awry. The company's massive Pascua-Lama mine, which straddles the Chile-Argentina border, was initially expected to cost the company $2.8 billion to $3 billion to develop when it started construction in 2009. However, two years later that estimate zoomed higher by 40% to $4.7 billion to $5 billion as a result of rising labor, material, and energy costs. A year later that estimate was pushed even higher to the $7.5 billion to $8 billion range as a result of a decision to manage the construction in-house instead of hiring external contractors. A few months later and that price tag was up to $8 billion to $8.5 billion as a result of construction delays and higher project management costs. Making matters even worst, the company recently chose to mothball the project after spending $5 billion due to weak gold prices and the company's own mounting financial issues.
That nightmare scenario is one that Randgold mustavoidin the future if it wants to create value from exploration. However, it is easier said than done considering that a number of its peers have run into major cost overruns when developing new mines.
Investor takeawayRandgold has created a lot of value for its investors in the past by focusing on exploration over acquisitions. However, this singular focus is also the company's biggest threat because it needs to not only keep finding viable discoveries, but turn them into profitable mines while avoiding the costly overruns that have befallen peers like Barrick Gold. It's a threat investors can't overlook, because a big miss could really tarnish the company's reputation and its financials.
The article The Biggest Threat to Randgold Resources' Stock originally appeared on Fool.com.
Matt DiLallo has no position in any stocks mentioned. The Motley Fool has no position in any of the stocks mentioned. Try any of our Foolish newsletter services free for 30 days. We Fools may not all hold the same opinions, but we all believe that considering a diverse range of insights makes us better investors. The Motley Fool has a disclosure policy.
Copyright 1995 - 2016 The Motley Fool, LLC. All rights reserved. The Motley Fool has a disclosure policy.