The Biggest Threat to Novavax Stock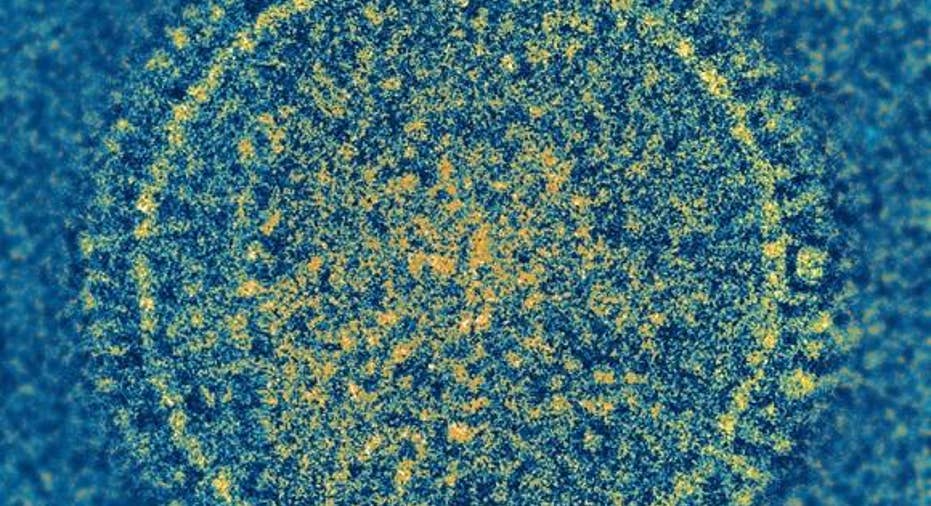 Respiratory syncytial virus (RSV).Image Source: National Institute of Allergy and Infectious Diseases
Any stock that loses over half of its market cap in an eight-month stretch might be viewed as a wee bit risky. Novavax was flying high last summer. But then came the biotech slump, driven at least in part by political backlash against excessively high drug prices. Novavax also released phase 2 results for its respiratory syncytial virus (RSV)vaccinethat, while positive on the surface, raised questions about whether the vaccine, when administered to pregnant women, effectively transfersmaternal immunization to infants as it is intended to do.
This double-whammy clobbered shares. Novavax stock is now more than 50% below its August 2015 levels. Better days could be ahead for the biotech, but there's at least one major threat looming on the horizon.
Stating the obviousThe most visible risk for Novavax is that its bid to secure regulatory approval for the RSV F vaccine might fall flat. How big of a risk is this? There's certainly a possibility that the drug could run into problems, but my guess is that its chances for approval are pretty good.
The company has two pivotal phase 3 clinical trials in progress for the RSV F vaccine. One is focused on protecting older adults against RSV, while the other trial focuses on the protection of infants from RSV via maternal immunization. Both late-stage trials come on the heels of generally successful phase 2 clinical studies.
There weren't any yellow flags with Novavax's phase 2 trial on older adults. Results showed statistically significant efficacy in prevention of RSV disease among the 1,600 patients participating in the study. The safety profile of patients taking Novavax's experimental vaccine was found to be nearly identical to that of patients on placebo.
Results from the phase 2 study on pregnant women and newborns also were positive. The response to the vaccine in the women participating in the trial was similar to the immune response observed in non-pregnant women. There also appeared to be a robust transfer of antibodies from the mothers to their unborn children. Some concerns remain, however.
Novavax didn't actually demonstrate that infants were protected from RSV by the vaccine -- only that the antibodies from immunized mothers were passed to them. Also, because pregnant women aren't given the vaccine until the third trimester, the RSV F vaccine wouldn't help infants born prematurely prior to that point.
A potentially greater threatWhile there is always a danger that a drug won't make it through the regulatory approval process, there is another risk to thebiopharmaceutical here that might be even greater: It could face troubles launching the vaccine successfully. Novavax intends to sell RSV F in the U.S. all by itself, but plans to find a partner to help market the vaccine outside of the U.S. Each effort comes with its own set of risks.
Assuming the RSV F vaccine wins FDA approval, it would be Novavax's first product on the market. The potential for missteps with a first-time commercialization effort is substantial. Novavax appears to be in good shape on at least one front. The company reported$230.7 million in cash, cash equivalents and investments at the end of 2015 and raised another $276 million in January by issuing convertible senior notes.
Finding the right partner for the international market could also be tricky. Novavax CEOStanley Erck has said that the company wants a partner (or partners) that "havethe existing infrastructure and experience to deliver on the promise" of RSV F. He also stated that Novavax plans "serious discussions with the top players in the field, or the top wannabe RSV players in the field".
AstraZeneca stands out as the current top player in the RSV treatment field. The big pharmaceutical company's drug Synagis isn't a vaccine, but is used to protect high-risk children from RSV. There could be one strike against AstraZeneca as a potential partner, though. The company has its own drug targeting prevention of RSV disease in older adults in phase 2 clinical testing.
Of course, Erck also mentioned "wannabe RSV players." GlaxoSmithKline is a possible contender in that category. It has plenty of vaccines on the market currently, but none to prevent RSV. Novavaxdesires a partner with a solid infrastructure and experience to make an international launch of RSV F successful, and Glaxo certainly fits the bill. On the other hand, Glaxo, too, has a couple of RSV vaccines in its pipeline -- one in phase 1 testing and another in phase 2.
There's at least one other "wannabe" that could be interested in RSV F -- Merck . Like Glaxo, Merck has a laundry list of vaccines, but unlike AstraZeneca and Glaxo, Merck doesn't have any RSV drugs in its pipeline. Teaming up with Novavax could make sense if it's interested in competing in the RSV space.
Looking aheadNovavax intends to move forward quickly on discussions with potential partners. However, it's quite possible that the interested parties will want to wait for results from the two phase 3 studies.
My take is that those studies will likely go well. I think the vaccine has a good shot at winning regulatory approval. I also expect Novavax will line up an established partner to help market RSV F outside of the U.S. The huge drop Novavax's share price has already experienced takes some of the risk (although certainly not all of it) off the table for investors. My prediction is that this biotech will emerge as a big winner in 2016.
The article The Biggest Threat to Novavax Stock originally appeared on Fool.com.
Keith Speights has no position in any stocks mentioned. The Motley Fool has no position in any of the stocks mentioned. Try any of our Foolish newsletter services free for 30 days. We Fools may not all hold the same opinions, but we all believe that considering a diverse range of insights makes us better investors. The Motley Fool has a disclosure policy.
Copyright 1995 - 2016 The Motley Fool, LLC. All rights reserved. The Motley Fool has a disclosure policy.