The Biggest Threat to Moody's Stock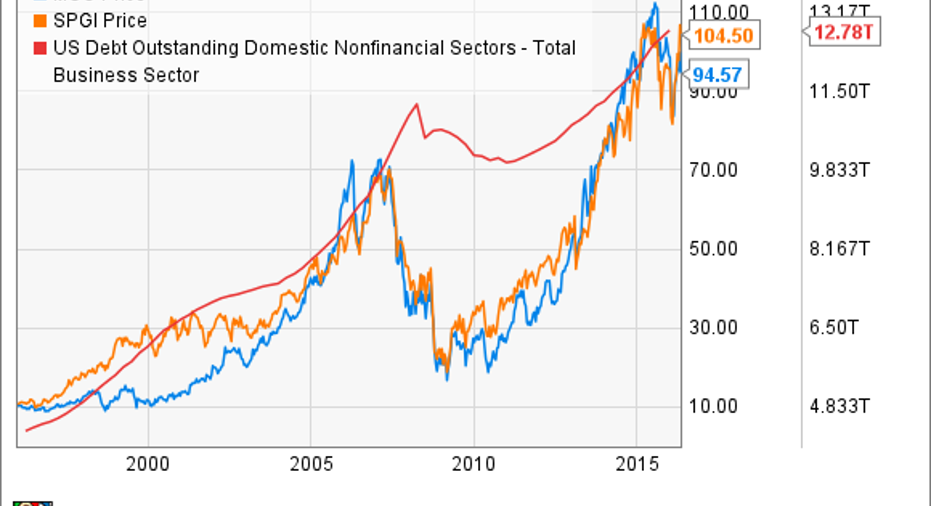 Moody's looms large in the world of finance, but more for what it means to its clients than as an investment in its own right. It operates one of the top ratings agencies in the world, and as such, its evaluations of the credit-worthiness of companies and governments are often critical to their success. Much depends on the ratings Moody's bestows.
As one of the impossible-to-ignore agencies, it operates a very secure business, takes in lots of cash, and is consistently profitable. But it's not bullet-proof; anyone considering an investment in the company itself should keep their eye on one factor in particular.
Rating the raterMoody's isn't only about those all-important credit ratings. It also has another line of business, called Moody's Analytics. It's the software and services end of the company that provides data and solutions to clients in the finance industry, and makes a little coin on research outsourcing and training programs.
Still, the ratings operations of the company -- technically known as Moody's Investor Services -- remain its bread and butter.
And rightfully so. Moody's is one of only 10 companies the Securities and Exchange Commission accepts as what it terms Nationally Recognized Statistical Rating Organizations. Out of that group, it's one of the Big Three in a power triumvirate consisting of it, S&P Global's Standard & Poor's, and privately held Fitch Group.
In order for a company or a public entity to have its debt considered seriously by institutional investors, it must have it rated by at least one of the big three. And very often, Moody's is the company that gets the job.
So, even though Moody's Analytics has been successful, Investor Services is the one that continues to bring home the bacon. The unit was responsible for nearly two-thirds of the company's overall revenue in its most recently reported quarter, with Analytics producing the remainder.
All told, Moody's booked revenue of $816 million during the period, 6% lower on a year-over-year basis, while net profit declined 20% to $184 million.
A drop in debtThe quarter was a Tale of Two Divisions for Moody's. While Analytics managed to increase its top line by 11%, that number for the all-important Investor Services skidded by 13% -- hence the overall revenue drop for the company.
It was no great mystery why this happened. As Moody's succinctly wrote in the press release detailing the results, "[r]educed global bond issuance in the first quarter weighed on Moody's financial performance despite strong results at Moody's Analytics, which is not sensitive to debt issuance activity."
That reduction was no joke -- according to S&P Global, said global bond issuance declined by a queasy 14% during the quarter.
The lower that figure, of course, the weaker the demand for Moody's core services. Or, for that matter, those of the other ratings agencies. Similarly, S&P Global's Ratings Services division saw a notable year-over-year revenue drop -- 9% -- in its most recently reported quarter.
Luckily for S&P Global, its data and services division, Market Intelligence, more than made up for the slack with 27% growth in its take. So in the end, S&P Global's total revenue grew.
Still, both companies are strongly identified with credit ratings, so if the debt taps start running a little dry, their stock will probably take a hit. If we match the development of outstanding U.S. business non-financial borrowings, we can see that -- with a bit of lag -- there's some correlation to the share prices of both companies.
Credit scrutinyOverall debt issuance, both of the domestic and overseas varieties, is what investors should track if they're considering Moody's stock.
Again, the company has done well in slowly diversifying its business over time, with Analytics making an increasingly important contribution to overall results. But in the public mind, the beginning and end of Moody's is those famous credit ratings, and sentiment on the stock will probably continue to rise and fall in step with how much debt is being created by the world.
The article The Biggest Threat to Moody's Stock originally appeared on Fool.com.
Eric Volkman has no position in any stocks mentioned. The Motley Fool recommends Moody's. Try any of our Foolish newsletter services free for 30 days. We Fools may not all hold the same opinions, but we all believe that considering a diverse range of insights makes us better investors. The Motley Fool has a disclosure policy.
Copyright 1995 - 2016 The Motley Fool, LLC. All rights reserved. The Motley Fool has a disclosure policy.