The Biggest Risks Facing Match Group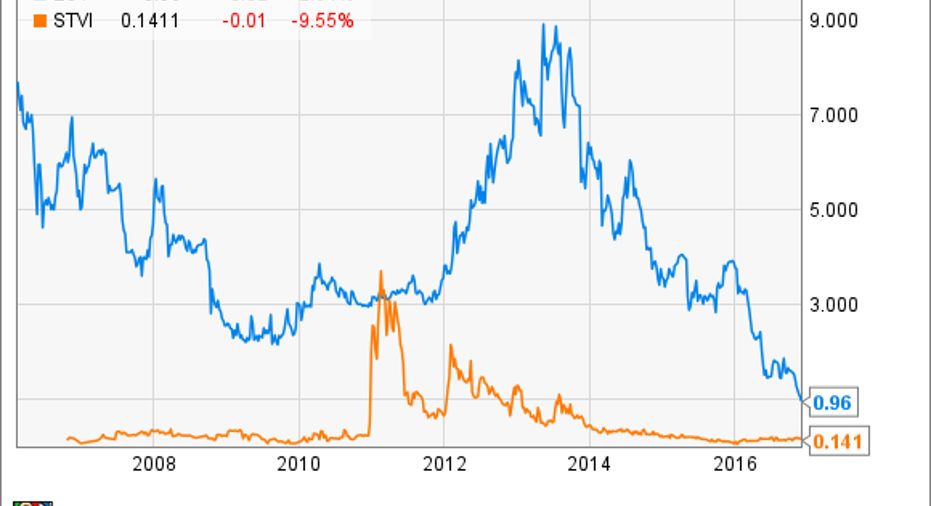 Online dating has gone from a novelty to a multi-billion dollar industry in the last decade, and no one has been a bigger winner thanMatch Group(NASDAQ: MTCH). The stock is up 15% from its IPO a year ago, and the company is now worth more than $4 billion.
Image source: Getty Images.
However, online dating remains largely unchartered territory on Wall Street, and tech stocks like Match Group have been known to fade suddenly, as enthusiasm can quickly disappear once these companies start missing expectations. J-Date parentSpark Networks, for example, is now trading for less than $1, as the stock has lost 90% of its value since its peak in 2013.Snap Interactive, the parent of dozens of lesser-known dating sites, has had a similar experience, trading in penny stock range today, down more than 90% from its 2011 peak.
Given that history in the industry, it seems worthwhile for investors to consider the risks of a stock like Match Group. Below are a few significant risk factors to consider.
1. Competition
Online dating is a highly competitive industry. Trends move fast, and daters are often on several sites at once. Even a company like Match, which owns more than 45 brands, is facing steep competition from services like eHarmony, Bumble, Zoosk, and Hinge. Looking at the two competitors above, the demise of Spark Networks can largelybe blamed on the success of Match's Tinder, which transformed the direction of online dating from profile-based websites to swipe-based mobile apps.
Match Group is by far the biggest online dating company in the world, so its size and scale may give it some advantages over the competition. It's been able to acquire rivals like PlentyofFish, and it may have to continue its acquisition strategy in order to remain the leading online dating company. Bumble, which was founded by a former Tinder co-founder Whitney Wolfe just two years ago, reached 7 million members this summer and is growing quickly. The prevalence of free dating apps and sites may also challenge Match Group's ability to convert users into paying members, which has been its primary business strategy.
2. Balance sheet
Though Match's balance sheet is unlikely to affect the core business, it could become a problem if the company starts to underperform. Of its $2.1 billion in assets, about 75% of them are in the form of intangible assets, most of which is goodwill -- which accounts for the difference between the purchase price of an acquisition and its recorded book value. If acquisitions like PlentyofFish underperform, Match Group could be forced to write down some of the value of that goodwill.
On the liability side, it carries $1.2 billion in debt compared to just $231 million in cash. Match has taken on this debt in order to make acquisitions, but its size may hinder the company's ability to borrow to make future acquisitions. That debt is also costing the company about $80 million in interest expense a year, or nearly a third of its operating income over the last year. As profits grow, that percentage should decline, but it's a noticeable weight on earnings. Again, taking on more debt may not be a wise strategy, as the company is already paying most of its net income in interest.
3. Tinder concentration
With more than 45 brands, Match Group may have the appearance of a well-diversified company, but much of its recent growth has come from Tinder. On the recent earnings call, CEO Greg Blatt said Tinder's growth was a "rocket ship," and the numbers show that's no exaggeration.
Over the last four quarters, Tinder has added nearly 1 million paying members, while the company as a whole added about 1.4 million. However, without the addition of PlentyofFish, virtually all of its net new members came from Tinder.
In other words, the company's growth prospects are riding almost entirely on Tinder at this point. That could be a problem in the future once the popular dating app reaches a saturation point. It may not happen for years, but it will happen eventually, and the company needs to make sure it has other products in the pipeline to maintain growth once it does.
It signaled in the recent earnings call that it would spend more on developing new brands next year -- a wise move, as Tinder was once a seed concept. With Tinder growing rapidly, it makes sense for the company to continue to invest in it, but it should also be wary of being overly concentrated in its success.
While Match Group's overall prospects still look strong, those risks may best explain why the stock is priced relatively cheaply despite its strong profit growth and momentum going into next year.
Find out why Match Group is one of the 10 best stocks to buy now
Motley Fool co-founders Tom and David Gardner have spent more than a decade beating the market. (In fact, the newsletter they run, Motley Fool Stock Advisor, has tripled the market!*)
Tom and David just revealed their ten top stock picks for investors to buy right now. Match Group is on the list -- but there are nine others you may be overlooking.
Click here to get access to the full list!
*Stock Advisor returns as of November 7, 2016
Jeremy Bowman owns shares of Match Group. The Motley Fool recommends Match Group. Try any of our Foolish newsletter services free for 30 days. We Fools may not all hold the same opinions, but we all believe that considering a diverse range of insights makes us better investors. The Motley Fool has a disclosure policy.