The Biggest Problem Facing Kroger Co. Stock Right Now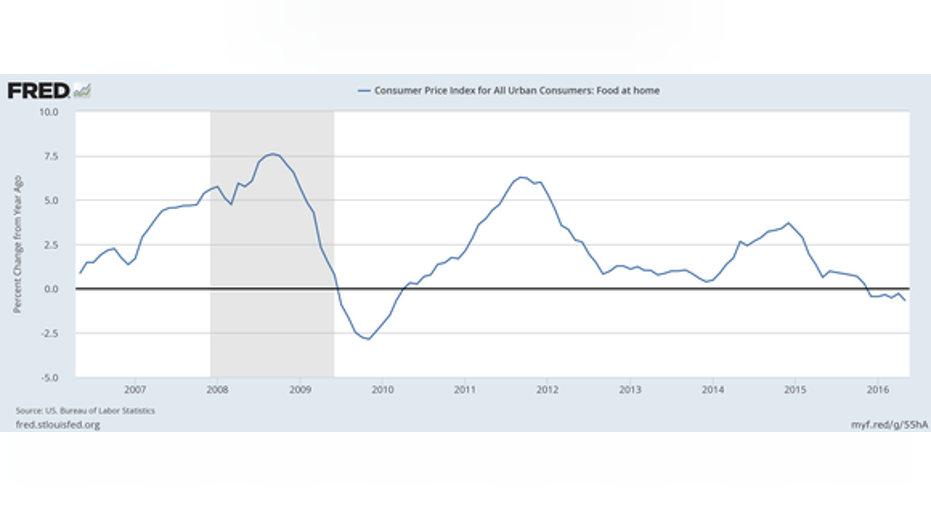 Kroger has a nagging issue that's hurting its operating results. Prices didn't budge on groceries last quarter, marking the lowest inflation level in six years for the supermarket chain.
That pricing pressure was the main factor behind a huge growth slowdown: Comparable-store sales rose by just 2% in Q1, versus 4% in the prior quarter and over 5% in each of the last five quarters.
Source: Kroger financial filings.
Low inflation, or even deflation, isn't always bad news for the business. In the recent case of meats, for example, prices spiked so high last year that customers traded out of the category. Then, a few months ago beef and pork costs started trending back down to more normal levels, sending Kroger's prices lower.
Image source: Getty Images.
As a result, more customers began buying the products again and profitability rose even though revenue ticked down. Chief Financial Officer Mike Schlotman called this "good deflation" in a conference call with investors in March.
Ideally, inflation should run between 2% and 3%, according to executives, and anything much above or below that number can cause a disruption in the business: Too high and customers shift their shopping habits -- too low and Kroger's sales growth and profitability begin to decline.
The retailer's experience is backed up the latest government data. Grocery prices plunged in May, according to official statistics, with eggs, dairy, beef, pork, poultry, and fish categories all posting declines. Fruits and vegetables ticked higher, but overall the same basket of goods at a supermarket cost shoppers 0.7% less year over year. The last time we've seen deflation that high was while the country was just recovering from the Great Recession.
Price change from prior-year period for groceries. Image source: Federal Reserve Economic Data.
The bad news for investors is that Kroger can't do much about these pricing shifts. Deflation directly pinches comps and translates into lower earnings growth over the short term.
Meanwhile, unlike big-box rivals, its business isn't set up to offset weakness in groceries with gains elsewhere. Kroger doesn't sell appliances, electronics, or housing supplies like you'll find at Costco or Wal-Mart . That diversity has helped Costco's comps hold up better against deflation lately. They dipped only slightly to 3% last quarter from 4% in the prior quarter. Wal-Mart's comps actually accelerated in Q1, rising to 1% from 0.6%.
The good news is that Kroger has done well in exactly this type of environment before. Price growth has turned sharply negative twice over the last decade, and through it all the company gained market share (especially against chief rival Wal-Mart) while posting comp gains. Sure, if inflation was running at 2% rather than -1% at the moment, investors might be looking at much healthier sales growth numbers. Yet, as CEO Rodney McMullen said in a recent conference call, "You rarely get the perfect operating environment."
That's why Kroger's focus right now is on growing the volume of grocery sales, which indicates that both customer traffic and average unit sales per shopper are improving. Steady gains there won't produce the type of banner year that the business had in 2015 when the company posted a 20% profit jump, but Kroger is on pace to improve profits by double digits, putting it right within management's long-term goal of between 8% and 11% annual gains.
The article The Biggest Problem Facing Kroger Co. Stock Right Now originally appeared on Fool.com.
Demitrios Kalogeropoulos owns shares of Costco Wholesale. The Motley Fool owns shares of and recommends Costco Wholesale. Try any of our Foolish newsletter services free for 30 days. We Fools may not all hold the same opinions, but we all believe that considering a diverse range of insights makes us better investors. The Motley Fool has a disclosure policy.
Copyright 1995 - 2016 The Motley Fool, LLC. All rights reserved. The Motley Fool has a disclosure policy.