The Big Thing Ford Didn't Tell Us About the New Ranger and Bronco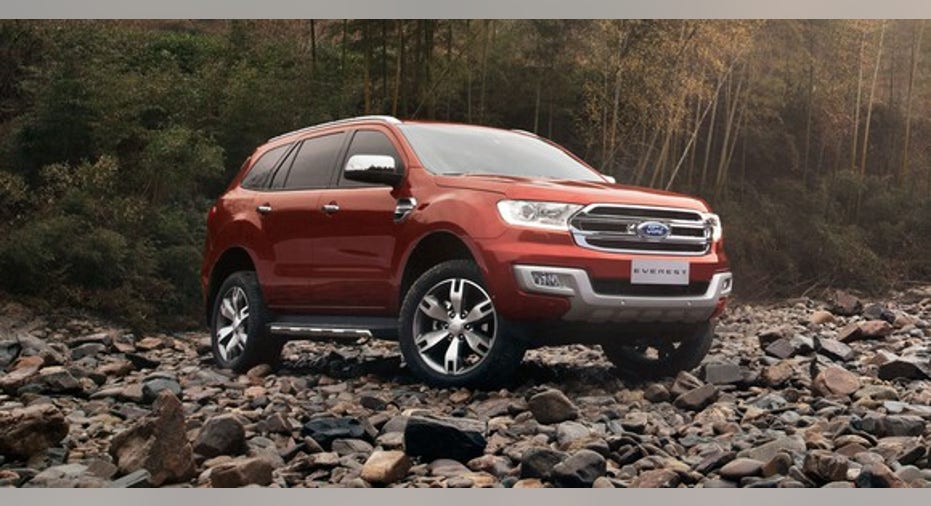 Ford Motor Company(NYSE: F) confirmed the worst-kept secret in Detroit on Monday: Production of the midsize Ranger pickup will begin at a Michigan factory late next year -- and a brand-new SUV to be called the Bronco will follow about a year later.
Ford's Ranger isn't sold in the U.S. now, but the midsize pickup is still sold in other parts of the world. Image source: Ford Motor Company.
What Ford said: Ranger and Bronco to return to U.S. lineup
Ford Americas chief Joe Hinrichs dropped the news during a presentation at the North American International Auto Show in Detroit on Monday morning:
"We've heard our customers loud and clear," Hinrichs said. "They want a new generation of vehicles that are incredibly capable yet fun to drive. Ranger is for truck buyers who want an affordable, functional, rugged and maneuverable pickup that's 'built Ford tough.' Bronco will be a no-compromise midsize 4x4 utility for thrill seekers who want to venture way beyond the city."
Hinrichs didn't give much in the way of details beyond that. Here's what we know officially, from what Hinrichs and Ford PR folks said on Monday:
The Ranger will return for the 2019 model year and the Bronco for the 2020 model year.
Production of the Ranger will begin late in 2018 at Ford's Michigan Assembly Plant in Wayne, Michigan, near Detroit.
The Bronco will also be built at Michigan Assembly.
The Bronco will be added to Ford's "global product portfolio," meaning that it will be sold around the world. (Even though it's not sold in the U.S., the Ranger is already part of Ford's global product portfolio. See below.)
The Michigan Assembly Plant has been the center of some recent controversy: It's where the compact Focus is currently built, and Ford has said the next-generation Focus will be built in Mexico.
Now we know -- officially -- what Ford will be building there instead.
What Ford didn't say about the new Ranger and Bronco: All-new?
There are a bunch of things we don't know about Ford's new trucks. We don't know when the Bronco will go into production. We don't know (officially) anything about what either vehicle will look like. We can make some very specific guesses about the Ranger (it'll be a midsize pickup in the vein of General Motors'(NYSE: GM) ChevyColorado and Toyota's Tacoma), but aside from the above we don't know anything (officially) about what Ford has in mind for the Bronco.
But the big thing is that we don't know if these will be completely new vehicles. It's striking that Ford isn't using the term "all-new" to describe the upcoming Bronco and Ranger. That might be nothing more than an uncharacteristic oversight, but Isuspect that it's a hint that the Ranger and Bronco coming to the U.S. will be based on products that currently exist.
If so, we might know quite a bit more than Ford has officially said.
While Ford stopped building and selling the Ranger in the U.S. in 2011, an all-new version made its debut that year and is currently sold in many markets around the world (including Europe and China). Ford rolled out an updated version of that Ranger for 2015. That's the model shown in the photo at the top of this article.
The Ranger-based Ford Everest SUV could be the basis of the upcoming 2019 Bronco. Image source: Ford Motor Company.
But what about the Bronco? Some, including your humble Fool, have speculated that the Bronco could be based closely on the Ford Everest, a Ranger-based SUV that (like the Ranger) is sold in many parts of the world, but not the U.S.
The Everest is roughly the size of Ford's Explorer, but it's very different, a truck-based SUV esteemed by off-road enthusiasts in places like Australia and China. I've thought for a while that it wouldn't take much to turn the Everest into a fierce competitor to Fiat Chrysler Automobiles' (NYSE: FCAU) big-selling (and very profitable) Jeep Grand Cherokee for the North American market.
The upshot: Ford probably won't say more for a while
I expect that we'll see the U.S.-bound Ranger at a major auto show sometime next winter. We might see the Bronco at the same time, perhaps in a near-final "concept" version, or Ford might wait until early 2019 to show off its new truck-based SUV.
I don't expect that we'll hear much between now and then. But your humble Fool will be listening carefully anyway.
10 stocks we like better than Ford When investing geniuses David and Tom Gardner have a stock tip, it can pay to listen. After all, the newsletter they have run for over a decade, Motley Fool Stock Advisor, has tripled the market.*
David and Tom just revealed what they believe are the 10 best stocks for investors to buy right now... and Ford wasn't one of them! That's right -- they think these 10 stocks are even better buys.
Click here to learn about these picks!
*Stock Advisor returns as of January 4, 2017
John Rosevear owns shares of Ford and General Motors. The Motley Fool owns shares of and recommends Ford. The Motley Fool recommends General Motors. The Motley Fool has a disclosure policy.