The Best Welltower Inc. Headlines in 2015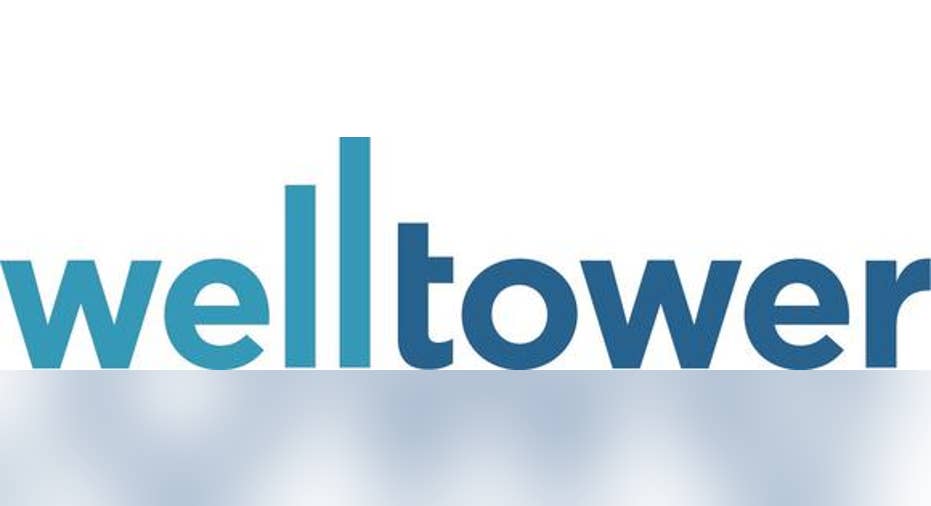 2015 was an eventful year for Welltower . More than $4 billion was invested in new properties, the company's access to low-cost capital may have improved, and shareholders were rewarded with yet another dividend increase. Plus, the name "Welltower" itself is new for 2015. Here's a recap of some of the best Welltower news from 2015.
What is Welltower, anyway?Perhaps the most noticeable headline for 2015 was the company's name change from Health Care REIT to Welltower in September. This doesn't cause any fundamental changes in the company or its stock, but I view it as an enormous positive for long-term investors.
Essentially, the name change shows that the company has grown to a point where it wants to create a recognizable brand name. The old name, Health Care REIT, was simple and to the point -- after all, the company is the largest healthcare REIT in the market, so it let investors know exactly what they were buying into. However, it wasn't a brand.
On the other hand, Welltower could grow into a recognized and respected brand name, just like Pepsi,Microsoft,and Nike. According to Welltower's CEO, Thomas J. DeRosa, "Welltower is a brand that emphasizes wellness and positions us as an essential partner in the transformation of healthcare infrastructure."
A strong brand gives a company pricing power and other advantages over competitors, and changing the company name to Welltower is a step in the right direction.
An active year of investmentAs of the end of the third quarter, Welltower had closed or announced $4.1 billion in investments for 2015, bringing the company's total to more than $27 billion invested since 2007.
One highlight of the new investments is that more than $1.6 billion of the above total was made in the U.K. and Canada -- two high-potential markets where Welltower is rapidly expanding its presence. In the U.K., where Welltower has invested $2.8 billion, the 75-and-older population is growing five times faster than the overall population, and Canada's population is aging even more rapidly.
So, not only does Welltower have a wealth of opportunity in the coming decades in the U.S. thanks to an aging population and fragmented healthcare real estate market, but there are now two more markets full of opportunity where Welltower can build its brand.
Finally, the company also completed some strategic sales of assets, particularly the sale of the Life Science portfolio, which was completed in June. The portfolio was acquired for $327 million in early 2010 and sold for $573.5 million -- an annualized return of 15%.
The takeaway is that during 2015, Welltower continued aggressively pursuing opportunities to produce value for shareholders, on both the acquisition and disposal sides of the business.
Welltower's credit rating improvedAs the population of Welltower's markets ages, there will be no shortage of opportunities to grow. This makes it incredibly important to maintain access to low-cost financing, since the lower the interest paid, the higher the profit margin.
In March, Fitch upgraded Welltower's credit rating from a BBB to a BBB+, citing the company's relationship investment strategy, improving credit metrics, and ability to generate steady cash flow growth.
This wasn't a big surprise, as the company's balance sheet has shown significant improvement over the past two years. Just to name a few metrics, net debt as a percentage of enterprise value has fallen from 38.3% to 30.4% and interest coverage has increased from 3.4 times to 4.5 times.
An investment-grade credit rating allows Welltower to borrow money inexpensively -- which I mentioned is a key part of its growth strategy. For example, in November the company was able to issue its inaugural Canadian notes at a 3.35% interest rate, significantly less than the company's weighted average interest rate of 4.2%.
The streak continuesAlthough it wasn't much of a surprise, one of the best headlines of the year came on Oct. 30, when the company announced a dividend increase of 4.2%, effective as of the February 2016 quarterly payment. This will represent the company's 179thconsecutive quarterly dividend payment (nearly 45 years), and is in addition to the 3.8% dividend increase that took place in 2015.
Now, in fairness to other REITs who have maintained a flawless record of dividend increases, it's important to point out that Welltower has not -- although it's pretty close. As you can see from the following chart, the company has only cut its dividend once since 1971 and has increased it in most years, by an average of 5.1% annually.
Image source: Welltower
What's in store for 2016?In 2015, Welltower continued to invest aggressively but wisely, and the improvement in its balance sheet was rewarded with an increased credit rating. I fully expect another year of strong growth in 2016, particularly in the U.K. and Canadian markets, and I'm especially curious to see how the new Welltower brand name will be used to the company's advantage.
The article The Best Welltower Inc. Headlines in 2015 originally appeared on Fool.com.
Matthew Frankel owns shares of Welltower. The Motley Fool owns shares of and recommends Nike and PepsiCo. The Motley Fool recommends Welltower. Try any of our Foolish newsletter services free for 30 days. We Fools may not all hold the same opinions, but we all believe that considering a diverse range of insights makes us better investors. The Motley Fool has a disclosure policy.
Copyright 1995 - 2016 The Motley Fool, LLC. All rights reserved. The Motley Fool has a disclosure policy.