The Best Vivint Solar, Inc. Headlines in 2015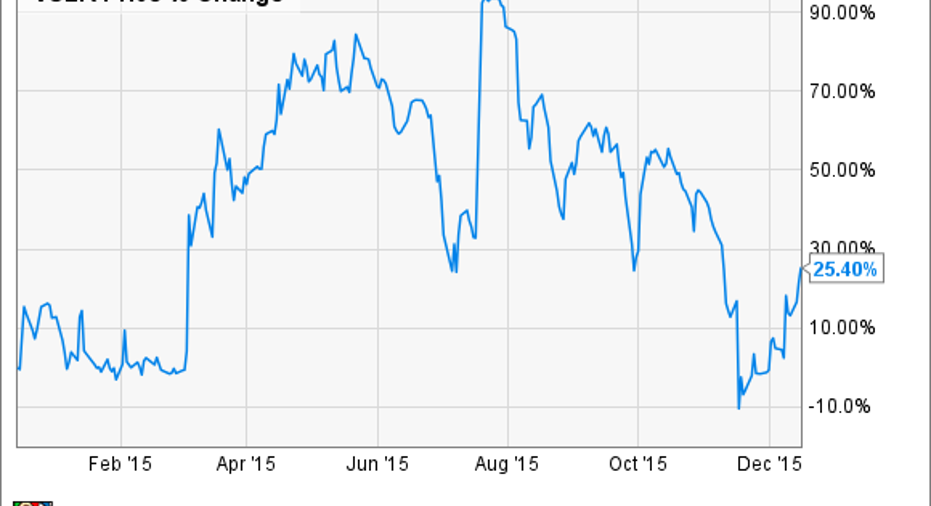 Depending on when you looked at Vivint Solar in 2015, you could have had a very different view of the stock. At one time, the company was up over 90% for the year, and at its nadir, the stock had fallen over 50% from that peak.
Along the way, Vivint Solar madea number of interesting moves in a quickly evolving solar industry. Here's the one that caused me some shock in 2015:
Vivint Solar takes a $2.2 billion buyout offer If you look at the chart above, the spike in shares in late July came on the day Vivint Solar accepted a $2.2 billion buyout offer fromSunEdison . That's the biggest and best headline the company had during the year, and it led to large gains for investors.
What's interesting is that the move happened at all. The buyout price at the time Vivint Solar accepted it was $16.50 per share, barely a gain from the $16 per share the company was priced at during its IPO. Over that time, the company had grown its operations and lowered costs, which are presumably good, but management thought the best path forward was under SunEdison's umbrella. This could have been because of uncertainty that it could finance growth long-term as an independent company or fear that a looming drop in the investment tax credit (which has now been extended) could lead to dwindling prospects, but the buyout itself was sort of strange for such a new public company.
So, while a $2.2 billion buyout was Vivint Solar's best headline for the year, the honeymoon didn't last long.
How a great headline went bad Where Vivint Solar's management made a disastrous mistake on arguably its best day of 2015 was failing to ensure that there was any sort of floor to the buyout. SunEdison's buyout offer was for $9.89 per share in cash, $3.31 per share in stock, and $3.30 per share in SunEdison convertible notes. The total was $16.50 per share, but that was assuming that SunEdison's stock stayed where it was. As we know, it didn't.
On July 20, the day the acquisition was announced,SunEdison's stock ended trading at $31.66 per share, and on Dec. 16, as I write this, it is trading for $6.21 per share. Not only have shares fallen, the yieldco that SunEdison was going to drop Vivint Solar's assets into has plunged, making the planned dropdown impossible, and liquidity for the deal dried up. As a result, Vivint Solar's stock fell along with SunEdison's.
If Vivint Solar had gotten an all-cash deal or negotiated a floor for the stock price, there could have been a way out of the buyout. Instead, it felt stuck and negotiated a complex redo of the buyout offer for $2 per share less in cash and a token $0.75 per share more in stock, which didn't make up for SunEdison's drop in value.
Today, the buyout is valued at $12.69 per share, assuming SunEdison's current share price of $6.21.
What a whirlwind for Vivint Solar 2015 was a crazy year for Vivint Solar, and even its best day in accepting a buyout became tarnished by the meltdown in SunEdison's shares that followed. Maybe the lesson for 2015 is to cash in your chips when a buyout is announced, especially when the buying party is already a highly leveraged entity. There's more risk in a deal being completed than a headline might tell.
The article The Best Vivint Solar, Inc. Headlines in 2015 originally appeared on Fool.com.
Travis Hoium has no position in any stocks mentioned. The Motley Fool has no position in any of the stocks mentioned. Try any of our Foolish newsletter services free for 30 days. We Fools may not all hold the same opinions, but we all believe that considering a diverse range of insights makes us better investors. The Motley Fool has a disclosure policy.
Copyright 1995 - 2015 The Motley Fool, LLC. All rights reserved. The Motley Fool has a disclosure policy.