The Best Tesla Motors, Inc. Headlines in 2015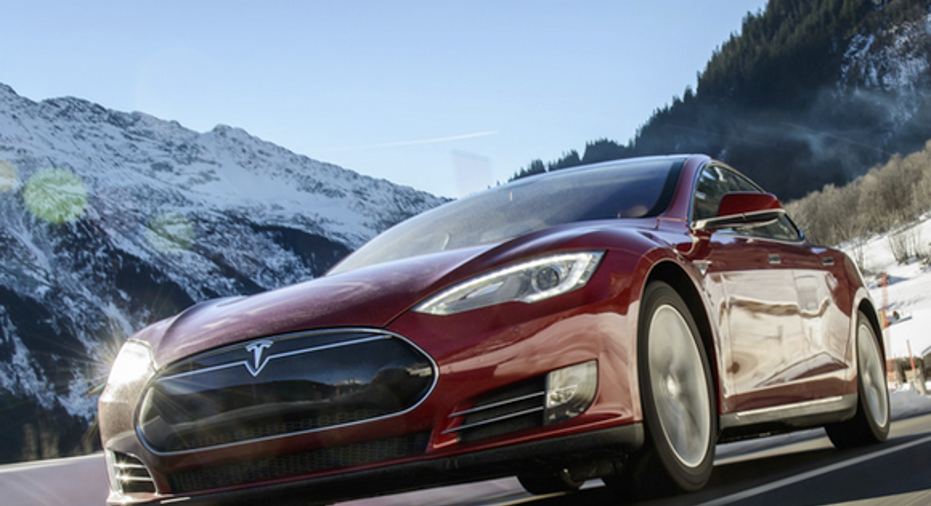 For investors in electric-car maker Tesla Motors , 2015 was a great year. Shares rose about 9.4% between Jan. 1 and Dec. 31, easily outperforming the S&P 500's 0.7% decline. Here are some of the headlines that defined the company's market-beating year.
Model X is a game changer While Tesla's Model X SUV may have been extremely late, its September launch certainly didn't disappoint. The company undoubtedly went all out on the Model X build. The SUV sports the same wild acceleration of Model S, unparalleled safety, double-hinged falcon-wing doors, and an expansive front windshield that extends over the front two seats to where the falcon wing doors begin.
Model X. Image source: Tesla Motors.
While the SUV's pricing is steep, starting at $5,000 more than the Model S, or $75,000, there are plenty of consumers ready to pay up. Going into 2015 with over 20,000 deposit-backed orders for the SUV, Tesla said orders have been increasing throughout the year. Indeed, management said in Tesla's third-quarter shareholder letter that Signature Series reservation holders were "converting to firm production orders at a much higher rate than we witnessed with Model S."
So far, it's looking like Model X sales could easily rival Model S sales after the company ramps up production. Achieving sales at these levels would put the Model X among the best-selling comparably priced SUVs in a handful of Tesla's markets.
Demand continues to soarWhile Tesla did announce a referral program for Model S during 2015, it still refrained from paying for any advertising. But, even without any advertising, demand for the company's vehicles is looking solid as the year comes to a close.
Model S. Image source: Tesla Motors.
Both deliveries and orders continued to rise throughout the year. And the company's most recent update on orders for Model S suggests interest in the vehicle continues to grow:
"In Q3, global Model S orders increased by more than 50% from a year ago and grew at a faster pace in North America, Europe, and Asia, than during Q2. In China, our newest major market, Q3 Model S orders increased substantially from Q2, due in part to the opening of two new retail locations."
One particular concern about orders for Tesla's vehicles during 2015 was whether or not Model S order rates would take a hit when the SUV was launched. Critics argued that the SUV could cannibalize Tesla's market instead of expand it.
But the opposite was the case.
"Since the Model X launch event, order rates have accelerated for both Model S and Model X," the company noted in its Q3 shareholder letter. "Although it is too early to draw firm conclusions, this supports our belief that Model X expands the market for Tesla vehicles, with little to no cannibalization of Model S."
Tesla spent 13% more than it planned toWhen Tesla entered 2015, it planned to spend a lot of money. It did exactly this ... and then some. The company's most recent update on its capital expenditures noted it now expected to spend $1.7 billion in 2015. This is about 13% more than the $1.5 billion the company had planned to spend. For a company with just $3.8 billion in annual revenue and yet to report an annual profit, this is a staggering number.
Fortunately, most of this capital spending wasn't likely due to higher-than-expected costs, but instead due to paying for some costs earlier than anticipated:
"The increase in spending is primarily due to accelerated investments in the Gigafactory, further vertical integration of seat assembly and other manufacturing activities, as well as faster milestone execution by certain suppliers for Model X manufacturing equipment and tooling."
Rendering of a complete version of Tesla's currently under-construction Gigafactory. Image source: Tesla Motors.
If this spending can translate into shareholder value the same way its spending has in the past, this huge cash outlay could play a critical role in fortifying the company's leadership position in building and selling fully electric cars.
While 2015 was undoubtedly important for Tesla, 2016 is perhaps even more critical. During 2016, Tesla plans to ramp-up production and deliveries of Model X and its battery storage products, unveil its lower-cost Model 3, increase total vehicle deliveries by around 50%, achieve positive free cash flow, and begin cell production at the Gigafactory.
The article The Best Tesla Motors, Inc. Headlines in 2015 originally appeared on Fool.com.
Daniel Sparks owns shares of Tesla Motors. The Motley Fool owns shares of and recommends Tesla Motors. Try any of our Foolish newsletter services free for 30 days. We Fools may not all hold the same opinions, but we all believe that considering a diverse range of insights makes us better investors. The Motley Fool has a disclosure policy.
Copyright 1995 - 2016 The Motley Fool, LLC. All rights reserved. The Motley Fool has a disclosure policy.