The Best SunPower Corporation Headlines in 2015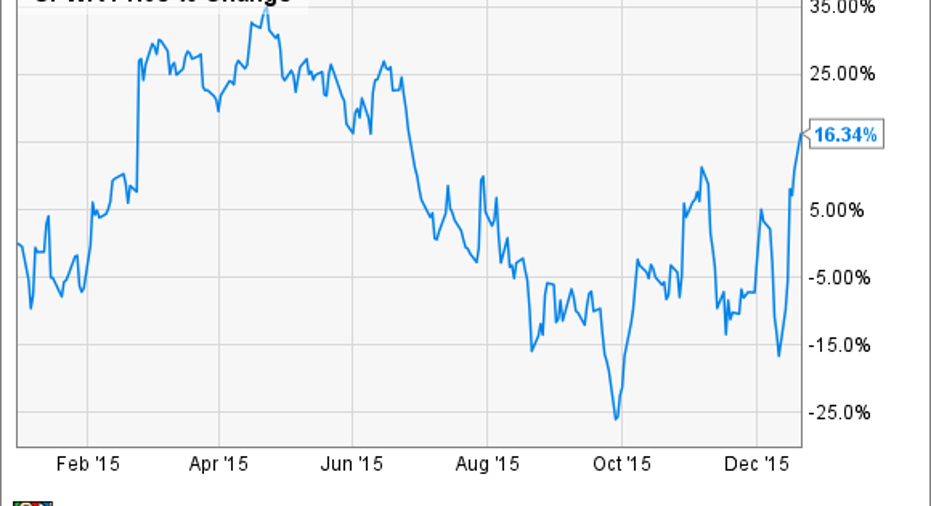 An up-and-down year for SunPower has turned into a strongly positive year for investors in just the past few weeks. And I would argue that 2015 could mark a turning point for the future of the company. Here are the positive headlines I took from the year.
2015 is the year of the ITC No look back on the positives for SunPower in 2015 would be complete without mention of the extended Investment Tax Credit, or ITC. The ITC is a tax credit of 30% given to a solar power system owner based on the value of the system, and it was due to fall to 10% at the end of 2016 for commercial projects and to 0% for homeowners. But it was extended on the last day Congress was in session (details here).
Image: SunPower.
You might think that a subsidy that was set to fall a year from now might not be an immediate issue, but companies like SunPower plan a year or more ahead of time what they're going to build, particularly for large-scale solar systems. So, having certainty heading into next year was key. The political reality was also that this was the last time the ITC could be extended until after the 2016 election, so there was a lot of urgency.
Ironically, SunPower would have been one of the stronger solar companies without the ITC, given its competitive cost structure and ability to move supply to international markets. But the extended ITC was a windfall for the company, and will help provide some certainty heading into a major growth phase for SunPower.
The new low-cost solar company The U.S. market is key for SunPower, and growing here will be important for years to come. But it hasn't been able to reach many international markets because of higher up-front costs. Enter the shock of 2015, the P-Series line of solar panels.
P-Series (in blue) is expected to be a big part of SunPower's future. Image: SunPower.
P-Series is built with commodity solar cells in a proprietary panel process, generating a panel that's 17% to 19% efficient (versus 22% for X-Series panels) at costs SunPower has said will be lower than commodity panels. If the company can execute on that plan, it will have a leg up in high-interest-rate markets like India, South Africa, and Mexico.
With management projecting that nearly half of production will be P-Series by 2020, this is a big bet on future growth.
Still the best solar panel in the world The final headline that caught my eye in 2015 was the battle over solar efficiency. SolarCity said it had made the most efficient panel in the world with a 22.04%-efficient panel, then Panasonic said it had produced a 22.5%-efficient panel, and finally SunPower said at its analyst day that it was producing and shipping 22.8%-efficient panels from its production facilities.
There are arguments about which panels are better and what degradations will be or what testing methods are appropriate, but one thing is clear: SunPower still makes the most efficientmass-producedmodule onthe market. Until competitors start producing high-efficiency modules by the millions, that's a major differentiator in solar.
A year of transition for SunPower A lot happened for SunPower in 2015, and I didn't even cover its growth in China or the launching of a yieldco. But going forward I think these were SunPower's three most positive headlines in 2015. And with the momentum in solar right now, I think more good headlines are in store for it in 2016.
The article The Best SunPower Corporation Headlines in 2015 originally appeared on Fool.com.
Travis Hoium owns shares of SunPower. The Motley Fool owns shares of and recommends SolarCity. Try any of our Foolish newsletter services free for 30 days. We Fools may not all hold the same opinions, but we all believe that considering a diverse range of insights makes us better investors. The Motley Fool has a disclosure policy.
Copyright 1995 - 2015 The Motley Fool, LLC. All rights reserved. The Motley Fool has a disclosure policy.