The Best Stock to Buy in This Multibillion-Dollar Market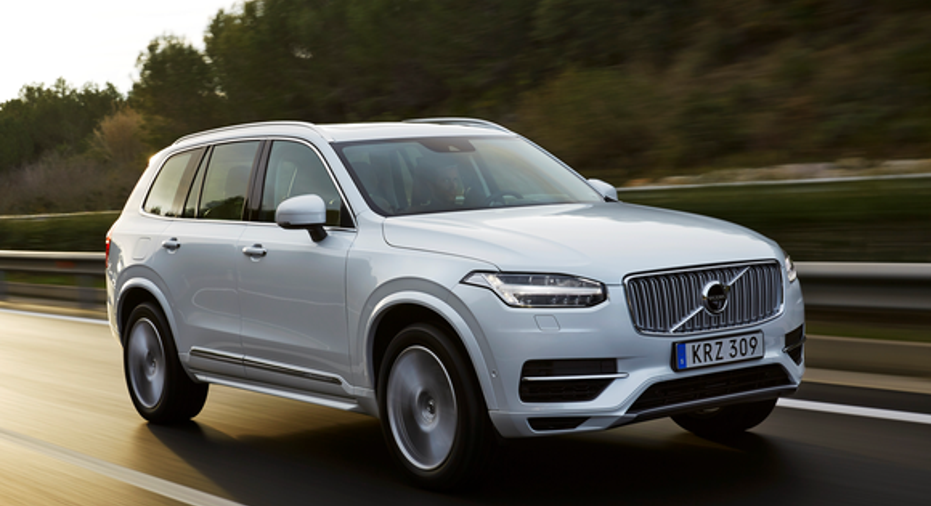 According to market researcher PwC Strategy&, the total revenue generated by the automotive industry, ranging from carmakers to technology providers, is currently about $5 trillion. By 2030, this will grow to an estimated $7.8 trillion, and the industry's profits will grow from $400 billion to $600 billion.
Much of the increase in revenue and profit will shift away from carmakers and auto suppliers to technology providers, such as Intel (NASDAQ: INTC), NVIDIA (NASDAQ: NVDA), and Alphabet (NASDAQ: GOOG) (NASDAQ: GOOGL) as cars become more like computers on wheels and we move further along the spectrum of autonomous vehicles.
NVIDIA's DRIVE PX 2 car computer powers the Volvo XC90 SUV. IMAGE SOURCE: NVIDIA INC.
Driverless cars will require highly sophisticated technology, such as sensors, software, and computer processors. Intel, NVIDIA, and Alphabet are leaders in these essential technologies and investors are eyeing them with interest. In addition to choosing a company with the best technology, it's important for investors to consider which company stands to reward shareholders the most from the coming boom in driverless cars.
Let's take a look at where the three tech giants mentioned above stand to determine which one is the best driverless-car stock for investors looking to get the most bang for their buck.
A game of partnerships
These major tech companies have been in a partnership-forming frenzy to create alliances with leading car manufacturers to accomplish the automotive equivalent of landing a rover on Mars. Alphabet has been working on self-driving cars for several years and has racked up 2 million self-driven miles, but it's not planning to build its own car. Its renamed Waymo division (which stands for "a new way forward in mobility") is working on partnerships with carmakers. For its part, Intel plans to acquire Mobileye, an Israel-based technology company purely focused on developing computer vision, data analysis, mapping, and other computer systems for driverless cars.
But investors considering Intel or Alphabet as a driverless car investment should be mindful of one very important thing. Any future growth from driverless cars will only provide a marginal benefit to Intel's and Alphabet's top lines. Intel's 2016 revenue was $59.4 billion and Alphabet's was $90.3 billion. Let's compare that with the market opportunity.
PwC Strategy& estimates the revenue opportunity for those providing the technology that helps cars drive themselves will cross $50 billion by 2022. Intel has estimated that the market for vehicle systems, data, and services will be $70 billion by 2030.
If Intel captured 100% of the $70 billion estimated to be the market opportunity in driverless cars, then its revenue would increase 118% over the next 13 years, or about 6% per year. Throw in a few more percentage points of annual growth from its existing business, and investors are looking at a company that might get 10% per year in annual revenue growth, which might be enough for Intel stock to keep pace with the S&P 500 index, but nothing more.
Alphabet generated $90 billion in revenue in 2016, so its potential upside from driverless cars also offers shareholdersmarginal benefits. And with so many companies jockeying for position in the driverless car market, it is unrealistic that one company is going to control 100% share of the market.
If you're looking for a stock with plenty of return potential from driverless cars, you want to find a company that has a small amount of revenue compared to the estimated size of the opportunity. That way there is plenty of room for the company's revenue to expand exponentially by winning market share in the driverless car market and provide shareholders the potential to beat the S&P 500 index over the long term. That leads me to NVIDIA.
Data source: SEC 10-K filings. All dollar figures in billions.
The best self-driving car stock
A better option is NVIDIA, which is just as well-positioned in the driverless car market as Intel and Alphabet and has the room to see its top line soar. NVIDIA generated $6.9 billion in revenue in 2016 and it has the necessary expertise in developing a crucial piece of technology powering the brains of driverless cars -- the graphics processing unit (GPU). The GPU developer has been forming an impressive list of partnerships with several major automakers, including Volkswagen AG's Audi, Daimler AG's Mercedes-Benz, Honda Motor Co, BMW, and Tesla among many others.
NVIDIA is even partnering with Baidu to develop automated parking, HD mapping, and advanced automated vehicle control.
NVIDIA has also signed agreements to supply its DRIVE PX 2 car computer to truckmaker PACCAR, as well as major auto suppliers such as ZF and Germany-based Bosch.
NVIDIA's revenue from its automotive segment totaled $487 million in fiscal 2017, which ended in late January. The graphics specialist is not a pure-play on self-driving cars, as the company is also selling graphics processors to video game enthusiasts and cloud computing providers, among other uses of its graphics technology. But given its relatively small amount of $6.9 billion in total revenue, the company will benefit shareholders much more from any future growth of self-driving cars compared to larger peers like Intel and Alphabet.
Find out why Nvidia is one of the 10 best stocks to buy now
Motley Fool co-founders Tom and David Gardner have spent more than a decade beating the market. (In fact, the newsletter they run, Motley Fool Stock Advisor, has tripled the market!*)
Tom and David just revealed their ten top stock picks for investors to buy right now. Nvidia is on the list -- but there are nine others you may be overlooking.
Click here to get access to the full list!
*Stock Advisor returns as of April 3, 2017
Suzanne Frey, an executive at Alphabet, is a member of The Motley Fool's board of directors. John Ballard owns shares of Nvidia. The Motley Fool owns shares of and recommends Alphabet (A shares), Alphabet (C shares), and Nvidia. The Motley Fool recommends Intel. The Motley Fool has a disclosure policy.