The Best Stock in 3D Printing to Buy for 2017 and Beyond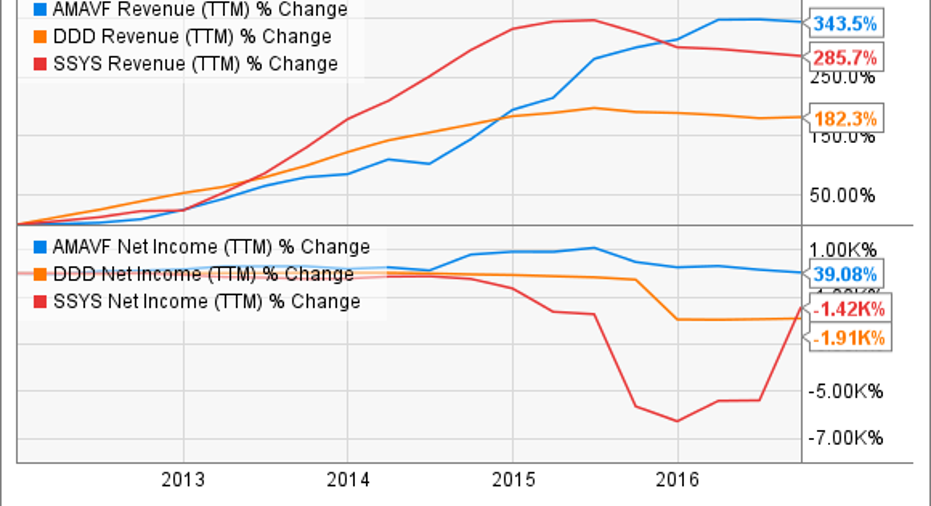 Most of the pure-play 3D printing companies -- including industry heavyweights 3D Systems (NYSE: DDD) and Stratasys (NASDAQ: SSYS) -- have been struggling over the last few years to grow revenue and to turn a profit due to a widespread slowdown in demand for their products.
Nonetheless, projectedlong-term growth dynamics for the industry remain very rosy. You might believe, as I do, that this means it's likely that at least one of the current crop of pure-play 3D printing stocks will be a long-term winner, despite increased competition from compelling new entrants such as HP Inc., General Electric (NYSE: GE), and venture-backed Carbon.
If so, and you want exposure to this space, which 3D printing stock should you buy?
3D-printed acetabular cup (for hip implants). Image source: Arcam.
Why Arcam remains the best 3D printing stock
Arcam(NASDAQOTH: AMAVF) remains the most attractive long-term investment among the pure-play 3D printing stocks, in my opinion. Since I called the Swedish industrial metal 3D printing specialist the best 3D printing stock to buy in Sept. 2015, it's gained a scorching 143%, through Jan. 27. For context, 3D Systems is up nearly 27%, Stratasys is down 32%, ExOne is up 39%, Materialise is up 3%, voxeljet has dropped 45%, and the S&P 500 has returned about 21% over this nearly 17-month period.
The first thing to know about Arcam is that late last year, General Electric acquired a controlling stake -- 76.15% to be exact -- in the company.GE's purchase wasn't much of a surprise, as the digital industrial giant has been beefing up its metal 3D printing capabilities for several years and has long been one of Arcam's customers.
Arcam makes 3D printers, powered by its proprietary electron beam melting (EBM) technology, that print in metals. Its target markets are the medical implant and aerospace industries. The company has two subsidiaries: AP&C, based in Canada, produces titanium powder for 3D printing and other applications. DiSanto, based in Connecticut, is an orthopedic-implant contract manufacturer that uses Arcam's 3D printers and other machines in its business.
The primary reason Arcam remains the best 3D printing stock to buy is simple: Although the company's 2016 financial results are on track to fall short of its robust 2015 results, its business has generally been performing well over the last few years. Meanwhile, the other pure-play 3D printing companies have largely been struggling. Notably, Arcam is the only one of the six pure plays that's profitable on a trailing-12-month basis.
Arcam's revenue and net income growth dynamics over the last several years have been better than those of 3D Systems and Stratasys (as well as the other pure-play 3D printing companies not shown). Data byYCharts.
Another reason to favor Arcam is that it focuses solely on metals. Metal 3D printing has been the fastest-growth space within the 3D printing industry.Moreover,this specialization better insulates Arcam from competition from HP and Carbon, both of which launched speedy polymer 3D printers for the enterprise market in 2016.
Arcam has risks
Arcam has just one 3D-printing technology. So, if another metal 3D-printing tech advances more quickly than EBM,Arcam could face difficulties. This risk, though, has been greatly reduced by GE's purchase of a controlling stake in the company.
Additionally, the stock is extremely pricey, sporting a trailing-12-month price-to-earnings ratio of 748. That's nosebleed territory, with much future growth already priced in. So, only investors comfortable with volatility and truly long-term focused should consider investing in Arcam.
Data by YCharts.
What about 3D Systems, Stratasys, and the others?
Investors should pass on ExOne and voxeljet, as neither company has yet to demonstrate that it can profitably grow its business. Materialise, which was profitable before its 2014 IPO and soon thereafter, remains a company to watch. It sells 3D printing software and provides 3D-printing services.
Some folks may wonder about Proto Labs: This is asolid company that seems to have good long-term growth potential. However, the quick-turn manufacturing service provider is far from a pure-play 3D printing stock, so it wasn't included in this analysis. In the third quarter, just 12% of Proto Labs' revenue was generated from 3D printing.
As for 3D Systems and Stratasys, while there are no guarantees,their industry-leading sizes and valuable intellectual property should help provide them with staying power. Notably, 3D Systemshas thelargest combined 3D printing personalized surgery and medical device services and production operation in the industry. One of Stratasys' top strengths, in my opinion, is its highly regarded line of multicolor, multimaterial 3D printers.
3D Systems' healthcare business is its crown jewel. Image source: 3D Systems.
However, both companies -- especially 3D Systems -- have made big missteps in recent years. Stratasys' desktop subsidiary, MakerBot, imploded after the company released the fifth-generation Replicator with widespreadquality issues. 3D Systems' manic acquisition activity over several years likely resulted in the company failing to adequately nurture its existing businesses.
The leadership teams under which these and other notable missteps occurred are gone. Both companies appointed new CEOs in 2016, while a new CFO joined 3D Systems last year and Stratasys this year. At this early stage, however, we don't know how successful either top management team will be.
In short, 3D Systems and Stratasys both have the potential to be solid long-term winners. But Arcam -- which has been led by the same CEO and CFO for many years -- has more successfully demonstrated that it has what it takes in the here and now to be a long-term winner.
10 stocks we like better than 3D Systems When investing geniuses David and Tom Gardner have a stock tip, it can pay to listen. After all, the newsletter they have run for over a decade, Motley Fool Stock Advisor, has tripled the market.*
David and Tom just revealed what they believe are the 10 best stocks for investors to buy right now...and 3D Systems wasn't one of them! That's right -- they think these 10 stocks are even better buys.
Click here to learn about these picks!
*Stock Advisor returns as of January 4, 2017.
Beth McKenna has no position in any stocks mentioned. The Motley Fool owns shares of and recommends Proto Labs. The Motley Fool owns shares of General Electric. The Motley Fool recommends 3D Systems and Stratasys. The Motley Fool has a disclosure policy.