The Best-Selling Tech Gadgets of 2015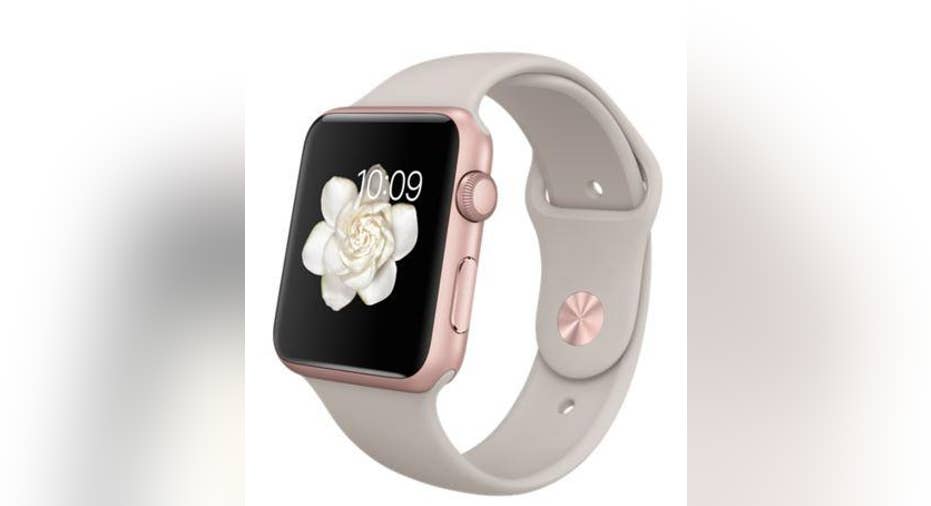 THE APPLE WATCH. SOURCE: APPLE
2015 was an interesting year for gadgets. Smartwatches slowly began to enter the mainstream, notably helped by the introduction of the Apple Watch. Less complex, fitness-focused wearables also continued to surge in popularity, led by Fitbit's array of bands. Video game consoles remained relevant, moving millions of boxes, as did dedicated streaming devices.
Let's take a look at some of the year's best-selling gadgets.
The iPhone remains dominantWhileSamsungmay sell more smartphones than Apple on an absolute basis, Apple's individual models are more popular, as it offers only a handful of different smartphones at any one time.In 2015, it sold just six models (the iPhone 5c, iPhone 5s, iPhone 6, iPhone 6 Plus, iPhone 6s, and iPhone 6s Plus).
Apple discloses its total smartphone sales on a quarterly basis, but doesn't break out individual models. Still, it's likely that 2014's flagship -- the iPhone 6 -- was the best-selling smartphone of 2015. In July, research firm Counterpoint Research reported that the iPhone 6 was the best-selling smartphone in every single month since its introduction. The iPhone 6 Plus was the second-best selling.
That's not surprising, given that Apple's flagships have been the single best-selling smartphones for the last several years. So long as demand for the iPhone remains strong, and Apple's model offerings remain limited, the iPhone 6s seems likely to be 2016's best-selling smartphone.
Fitbit leads the packFitbit sold more wearables than any other firm during the first three quarters of the year, according to research firm IDC. And given the recent rising popularity of its mobile app, Fitbit likely maintained its lead throughout the holiday shopping season.
Like Apple, Fitbit discloses total device sales, but doesn't break out individual models. Research firm NPD Group, however, reported that the Fitbit Charge HR was the best-selling fitness trackeroverall in the U.S. from April to September. Fitbit's more expensive model, the Surge, was the best-selling wearable among those devices equipped with GPS.
Fitbit faces a great deal of competition, but its momentum heading into 2016 is undeniably strong.The PlayStation 4 looks like this generation's winnerIn November, Sony announced that its latest video game console, the PlayStation 4, had sold 30 million units worldwide. That's likely quite a bit more than its primary competitor, the Xbox One, as Microsoft has stopped disclosing Xbox One sales figures, instead shifting its focus to various measures of engagement. In the U.S., NPD Group tracks console sales on a monthly basis, and in almost every month this year, it reported that the PlayStation 4 was the best-selling console.
With several highly anticipated exclusives set to launch this year (most notably Uncharted 4), demand for the PlayStation 4 could remain elevated in 2016. The addition of PlayStation VR, which is slated to make its retail debut sometime in 2016, should also help.
Debuting in second placeThe Apple Watch went on sale in April, and almost immediately became the best-selling smartwatch. According to IDC, Apple sold the second-most wearables of any company in both the second and third quarters. The only firm that exceeded it -- Fitbit -- doesn't offer smartwatches. In fact, in the third quarter, Apple was the only firm among the top five offering a true smartwatch (China's BBK sells a phone-watch hybrid aimed specifically at kids -- Xiaomi, Garmin, and Fitbit sell fitness bands).
It's not clear if Apple will update the Apple Watch in 2016. But if it does, it could remain the best-selling smartwatch, as its competitors have been unable to find much success.
A compelling value propositionAlphabet's Google Chromecast was the best-selling digital media streamer for at least the first quarters months of 2015, according to research firm Strategy Analytics. The dedicated streaming dongle edged out many of its competitors, including the Apple TV, Fire TV, and the various Roku boxes.Google updated the Chromecast in the fall, launching a second-generation model with a new look and greater Wi-Fi capabilities. It's functionality, however, remained roughly unchanged, as did its price tag. At just $35, the Chromecast is among the least-expensive ways to send streaming Internet video to your TV. In the third quarter, it captured 35% of the global market for streaming devices.
Given its affordability, it may be difficult for its rivals to overtake the Chromecast in 2016, but the market for dedicated streaming devices remains in its infancy, and they continue to evolve at a rapid pace.
The article The Best-Selling Tech Gadgets of 2015 originally appeared on Fool.com.
Suzanne Frey, an executive at Alphabet, is a member of The Motley Fool's board of directors. Sam Mattera has no position in any stocks mentioned. The Motley Fool owns shares of and recommends Alphabet (A shares), Alphabet (C shares), and Apple. Try any of our Foolish newsletter services free for 30 days. We Fools may not all hold the same opinions, but we all believe that considering a diverse range of insights makes us better investors. The Motley Fool has a disclosure policy.
Copyright 1995 - 2016 The Motley Fool, LLC. All rights reserved. The Motley Fool has a disclosure policy.