The Best Retail Stocks of 2016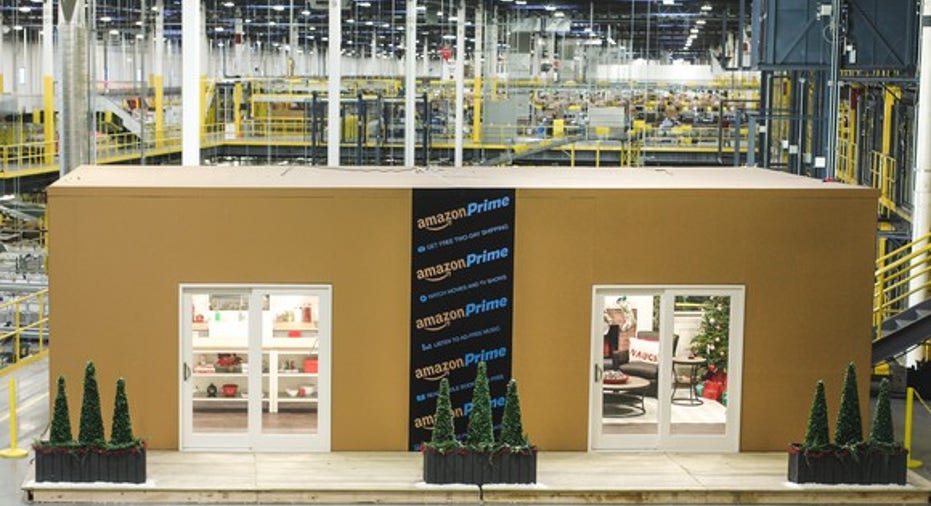 The past year has not been a good one for many retailers.
A number of chains including Sears and Barnes & Noble have been losing their fights to survive while others, including Sports Authority and Eastern Mountain Sports, have closed their doors for good. On top of that, even an iconic brand likeMacy'shas closed stores in the struggle to compete with online retail, while a number of mall stalwarts have closed stores and/or reorganized under bankruptcy protections.
It has been a retail shakeout to which very few stores have been immune. The clear leader has been Amazon (NASDAQ: AMZN), but the online giant is not the only company that has figured out how to operate in the new reality.
Amazon had a little fun in one of its warehouses this holiday season. Image source: Amazon.
Amazon is dominant
The online giant has simply changed the game. The company does not always perform well on a quarter-by-quarter profit basis, but its growth has been stunning.
In Q3 alone, the company saw its net sales increase by 29% to $32.7 billion, up from $25.4 billion in the same quarter last year. In addition, the company simply dominates the holiday season, according to eMarketer retail analyst Yory Wurmser:
It's fair to say that Amazon has changed retail in a way that nearly every other retailer has been forced to react to. The company has refined its delivery system and has nearly half of all Americans living in households with a Prime account, according to research from Consumer Intelligence Research Partners.
Costco has been holding its own
When living in Amazon's world, simply holding your own counts as a success. Costco (NASDAQ: COST) has shown that it has a resilient business model where consumers still want to visit its warehouses in person rather than just buying items online. Even though in many cases Amazon meets or beats its prices, there's something about the Costco experience -- the sense of discovery and the entertainment factor of not knowing what you will see when you visit -- that has kept the chain relevant.
In its fiscal 2016, when you factor out the negative impact of lower gas prices, Costco saw comparable-store sales grow 3% in the United States, and 4% for all of its global locations. It also saw its net stay about the same year over year, coming in at $2.35 billion, or $5.33 per diluted share, compared to $2.38 billion, or $5.37 per diluted share in 2015.The 2016 numbers are actually better when you consider that the chain had a one-time positive impact of $57 million ($0.13 per diluted share) tax benefit in connection with a second-quarter special cash dividend.
Costco is not crushing it; it's holding its own while showing signs of slow growth. In a market where so many other companies have struggled, that's a very strong positive.
Best Buy is comeback player of the year
There was a time not very long ago when it seemed like Best Buy (NYSE: BBY) had become little more than a place for consumers to look at merchandise before buying it on Amazon. The chain was expected by many to go the way of former rival Circuit City and fall into bankruptcy -- then oblivion.
However, under CEO Hubert Joly, Best Buy has made a remarkable recovery. By focusing on cost-control, service, and improving its digital offering, Best Buy has once again become a viable player. In Q3, the company reported GAAP diluted earnings per share from continuing operations of $0.60, an increase of 62% from $0.37 in the previous year. The company also reported a slight increase in sales from $8.8 billion in fiscal 2016 to $8.9 billion in fiscal 20.
"We are pleased to report today growth on both our top and bottom lines," said the CEO in the company's Q3 earnings release. "We are excited by the continued product innovation we are seeing, the role we play for customers, the growth opportunities in front of us, the quality of our execution and the strength of our financial performance."
This is a back-from-the-dead story where the CEO's management ability should give investors confidence in the company for the long term. Joly has cut over $1 billion in spending and has made his brand relevant when it seemed like it was on a path that could not be corrected.
10 stocks we like better than Amazon.com When investing geniuses David and Tom Gardner have a stock tip, it can pay to listen. After all, the newsletter they have run for over a decade, Motley Fool Stock Advisor, has tripled the market.*
David and Tom just revealed what they believe are the 10 best stocks for investors to buy right now and Amazon.com wasn't one of them! That's right -- they think these 10 stocks are even better buys.
Click here to learn about these picks!
*Stock Advisor returns as of Nov. 7, 2016
Daniel Kline has no position in any stocks mentioned. If Amazon does not sell it, he won't be giving it as a gift. The Motley Fool owns shares of and recommends Amazon.com and Costco Wholesale. Try any of our Foolish newsletter services free for 30 days. We Fools may not all hold the same opinions, but we all believe that considering a diverse range of insights makes us better investors. The Motley Fool has a disclosure policy.