The Best Mutual Funds to Buy in 2016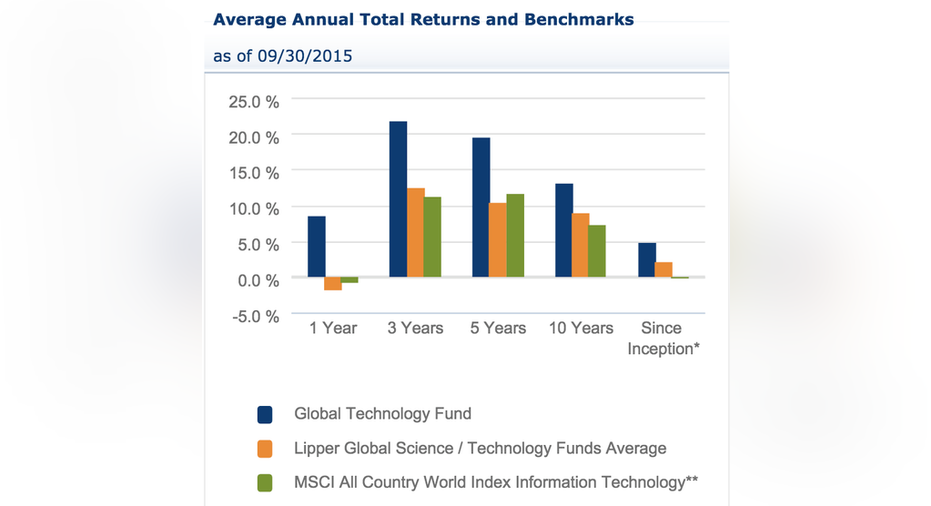 Mutual funds offer many attractive characteristics to investors. To begin with, you can get the benefits of diversification for a conveniently low cost. Finding investment managers who consistently outperform their benchmarks is not easy at all; in fact, many statistical studies have proven time and again that most active managers fail at this task. However, when you do find the right managers, the benefits for your portfolio can be substantial. In this roundtable, Motley Fool contributors share three promising mutual funds to buy in 2016.
Andres Cardenal: The technology sector is home to many of the most innovative growth companies in the world, and T. Rowe Price Global Technology is a world-class mutual fund that aims to capitalize on the power of technology on a global scale.
According to its prospectus, the fund seeks "long-term capital growth through investments in stocks of companies expected to benefit from the development, advancement, and use of technology." Managers can invest in companies of all sizes and with different risk levels. Diversity is a key focus, which is reflected in its goal to invest in at least five different countries while keeping 25% of the fund's capital outside the U.S.
Amazon is currently the biggest position in the portfolio, accounting for 11% of assets. Among other popular U.S. companies we can find names like Tesla, LinkedIn, and Microsoft. The fund also offers substantial exposure to chinese growth companies such as Ctrip, Tencent, and JD.com.
T. Rowe Price Global Technology has $2.6 billion in assets under management and the expense ratios is a reasonable 0.90%. Management has proved to have an extraordinary ability to outperform its benchmarks over the long term. This kind of consistency when it comes to performance is quite extraordinary in the mutual fund industry, and it makes T. Rowe Price Global Technology a compelling alternative for investors looking for top management skills in the global tech industry,
Data source: TRowe Price.
Brian Feroldi: The recent strength of the U.S. dollar combined with the collapse in commodity prices has wreaked havoc on international stock markets, and many funds with an international focus have dramatically underperformed theirU.S. counterpartsin recent years. However, neither of those trends can continue on indefinitely, and when they eventually reverse, I think that international investors we will be rewarded quite handsomely for their staying the course.
One mutual fund that I like as a way to play that eventual trend is the Vanguard International Explorer Fund . This fund offers its investors great global diversification: It currently counts 322 companies among its holdings, spread across more than 20 counties.
This fund has proven itself to be a great long-term performer. Since itsinception in 1996, it has provided investors with compounded annual returns of 9.5% per year. That's quite an impressive performance, and those returns have dramatically outperformed theS&P 500over the same time period.
VINEX Total Return Price data by YCharts.
This fund is also fairly tax efficient, as its turnover ratio is only 39%, and like all Vanguard funds, it sports a very reasonable expense ratio of only 0.40%.
Its impossible to know when the currency and commodity trends will reverse themselves, but when they do, I think this fund is in a prime position to prosper, making it a great fund to consider owning in 2016.
Jason Hall:Vanguard has a number of great mutual funds to choose from, and one that I'm a particular fan of is the Vanguard Growth Index Fund .
This fund tracks the CRSP U.S. Large Cap Growth Index, which is made up of 365 large-cap companies across a diverse range of industries, giving investors broad exposure to great companies while also minimizing over-exposure to a single industry. At the same time, all 365 of these companies meet specific criteria tailored to identify future growth potential.
In other words, it's a great mutual fund if you're looking for stable, large companies, but don't want to sacrifice growth. Add it all up, and the Vanguard Growth Index Fund has handily outperformed the S&P 500 over the past 10 years:
VIGRX Total Return Price data by YCharts.
The outperformance above would mean an extra $190 in returns for every $1,000 invested, versus anS&P 500index mutual fund.
Historically speaking, the class of large-cap growth stocks has been one of the best investments. There's little reason to expect that to change, and that makes the Vanguard Growth Index Fund a top mutual fund choice for 2016 and beyond.
The article The Best Mutual Funds to Buy in 2016 originally appeared on Fool.com.
Andrs Cardenal,Brian Feroldi,Jason Hall,own shares of Amazon.com and LinkedIn, which the Motley Fool also owns and recommends. Brian Feroldi and Jason Hall own shares of Tesla Motors, which the Motley Fool also owns and recommends. Brian Feroldi also owns share of Ctrip.com International, which the Motley Fool recommends.Try any of our Foolish newsletter services free for 30 days. We Fools may not all hold the same opinions, but we all believe that considering a diverse range of insights makes us better investors. The Motley Fool has a disclosure policy.
Copyright 1995 - 2016 The Motley Fool, LLC. All rights reserved. The Motley Fool has a disclosure policy.