The Best Mining Stocks of 2016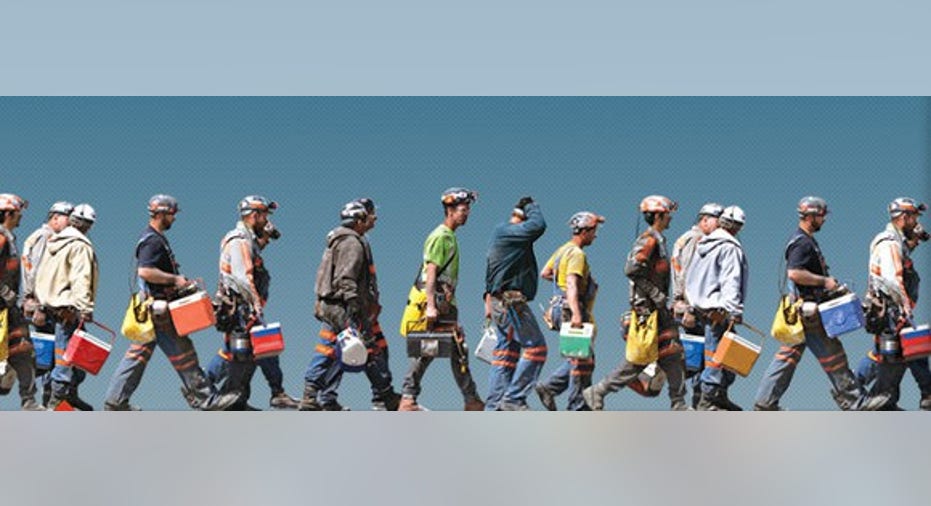 When investors look back on 2016, they'll note that the mining industry was full of winners. However, a big portion of the industry's success was due to the commodity upturn that started in early January and lifted gold, silver, iron ore, copper, and other commodities out of the Wall Street gutter. That helped all companies, regardless of their individual circumstances -- and lifted stock prices across the board. Upon closer look, however,Teck Resources (NYSE: TECK), Freeport-McMoRan(NYSE: FCX),and Alliance Resource Partners (NASDAQ: ARLP) stand out from the pack.
Image Source: Alliance Resource Partners.
More than a number
If all you are looking at is stock price, then the list of great performances in the mining industry in 2016 would be pretty long. In many cases, however, that had little to do with the companies' fundamentals. Vale SA (NYSE: VALE), for example, was up around 140% for the year despite the fact that it is dealing with the lingering impact of a mining disaster that happened in late 2015. Yes, the company's business is improving, but the legal quagmire it's in got worse in 2016 and will likely last for years.
Mechel PAO (NYSE: MTL) is another interesting story. This Russian mining and metals company's shares really took off in the final quarter of last year. The reason was that it finally started to gain real traction in its debt restructuring efforts. That should help it remain a going concern, and investors were, understandably, pleased. However, Mechel remains a heavily indebted company with negative shareholder equity, so it's hard to suggest that 2016 was a total win for it.
Real changes
Those examples show why a company like Teck Resources rises to the top of the mining heap in 2016. The company's primary operations involve metallurgical coal, copper, and zinc. But the real story during the commodity downturn was Teck's investment in a Canadian oil sands mine. The go-ahead on that investment, known as Fort Hills, took place shortly before oil prices began to crater. And when commodity prices were at their nadir, investors were concerned that Teck wouldn't be able to afford the expansion costs it had signed up for.
Teck can easily afford its oil sands investment. Image source: Teck Resources.
Teck proved those concerns unfounded, boasting strong liquidity throughout the year and pushing out its debt maturities. This showed clearly that it had ample capacity to fund its business and pay for the project. And when that project comes on line in the next year or so, it will significantly increase the miner's commodity diversification. Add in a more than 450% price gain and Teck easily makes the best-of list for 2016.
So does Freeport-McMoRan, though its price gain wasn't as robust, around 100%. This miner, known for digging up copper and gold, also bought into the oil industry at the peak, increasing its long-term debt from around $3.5 billion to $20 billion between 2012 and 2013. When oil started to crater in mid-2014, it looked like Freeport had bitten off more than it could chew.
The company started to gain notable traction on solving its debt and oil problems in 2016. The big move was selling non-core assets and putting the cash toward debt reduction. However, within that was some initial success in disposing of parts of its oil business. So not only did Freeport start to make headway on the balance sheet, it was also able to start the process of getting out from under the full weight of its ill-timed move into the oil business. Two wins that get Freeport onto the list of top mining stocks.
Freeport is on its way to a stronger balance sheet. Image source: Freeport-McMoRan.
And then there's coal miner Alliance Resource Partners. Its 60% or so price gain was relatively small compared to that of other companies in the broader mining industry. However, Alliance proved that it could remain profitable in the deeply out-of-favor coal sector.
The year also included a distribution cut, a clear negative. Context, however, is important. Management made sure to point out that the distribution decision was about maintaining access to capital markets and not about its inability to cover the payment. In fact, the company will likely cover its lower distribution by more than two times in 2016, a massive figure for a limited partnership. And one that shows the cut wasn't financially necessary.
Alliance's business remains in the black even while competitors like Peabody Energy and Arch Coal have been forced into bankruptcy because of deep losses and overburdening debt loads. The company's ability to survive and thrive in a still out-of-favor mining sector is what gets it on the list of best miners.
A deeper look
Many stocks in the mining sector posted huge gains over the past year. But if all you look at is stock price, you'll be missing the details that can help distinguish the companies that are really getting better from those that just got carried higher by the rising tide. Teck, Freeport, and Alliance all deserve special mention for their own specific achievements in 2016.
10 stocks we like better than Freeport-McMoRan Copper and Gold When investing geniuses David and Tom Gardner have a stock tip, it can pay to listen. After all, the newsletter they have run for over a decade, Motley Fool Stock Advisor, has tripled the market.*
David and Tom just revealed what they believe are the 10 best stocks for investors to buy right now... and Freeport-McMoRan Copper and Gold wasn't one of them! That's right -- they think these 10 stocks are even better buys.
Click here to learn about these picks!
*Stock Advisor returns as of Nov. 7, 2016
Reuben Brewer has no position in any stocks mentioned. The Motley Fool owns shares of Companhia Vale and Freeport-McMoRan Copper and Gold. The Motley Fool recommends Alliance Resource Partners. The Motley Fool has a disclosure policy.