The Best Investing Lesson I've Ever Learned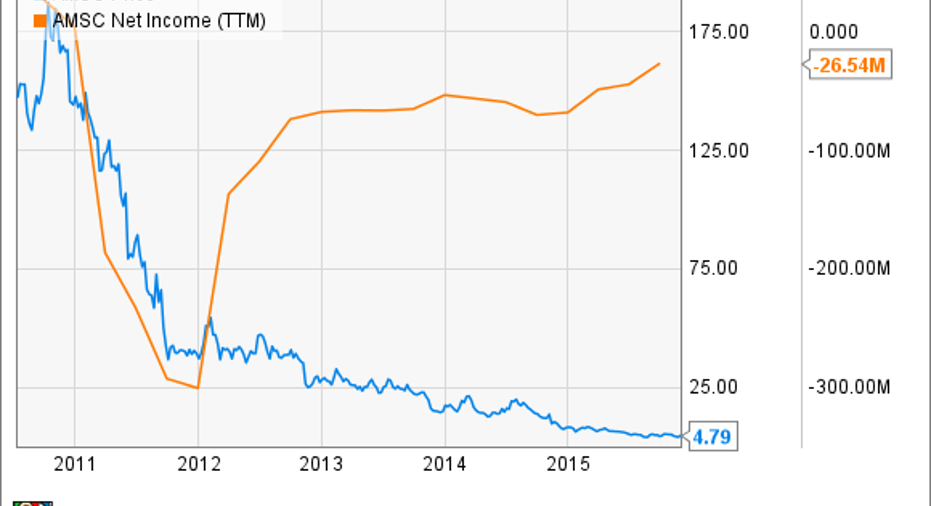 Investing is full of all kinds of potential pitfalls that can burn you if you're unprepared. Whether you're looking into growth, value, energy, tech, or any other subsector of the market there are dangers galore.
One thing I've learned through the market's mood swings over more than two decades of investing is that stocks can always go lower than you think possible. And it's a lesson I learned the hard way.
The risk no one saw coming My big lesson in falling stocks came from American Superconductor, a company that was once a major supplier of technology to some of the biggest wind turbine manufacturers in the world, including the Chinese giant Sinovel. But in 2011 after building a sizable position of American Superconductor shares in my portfolio the company began to fall apart -- although we wouldn't really know what had happened for months.
I looked at the company's problems as short-term and if you look at the company's performance leading up to 2011 you can see why I might be bullish. So, I sold puts, building an even bigger long position in the stock, but also increasing my downside risk if the stock went lower.
As it turns out, an American Superconductor employee stole key technology from the company and sold it to Sinovel, leading the company's biggest customer to back out on $800 million in contracts that once seemed safe as could be. The company fell apart before our eyes and it's been losing money ever since.
Sometimes it seems obvious that a stock will recover and it's easy to convince yourself that the market has it wrong and you have it right. But a stock can always go lower for reasons that may be unexpected and investors should keep that in mind when deciding how big to bet on a recovery that may seem imminent.
Hitting bottom or starting to freefall? I've used this lesson recently with two companies that seem destined for a recovery: GoPro (NASDAQ: GPRO) and SolarCity (NASDAQ: SCTY).
Both stocks are down big this year and there could be a good future ahead for both companies. But how low will their stocks go?
I've argued that GoPro and SolarCity are values today, based on GoPro's profitability and improving value to new investors and SolarCity's impressive contract backlog that will keep cash coming in for decades. Both investment theses seem solid and both seem to be incredible values if their respective markets continue to grow. But that doesn't mean both stocks can't go lower or that investors should invest too much of their money based on even the most bullish investment thesis. There's always more downside potential.
So, I've begun building a position in GoPro and anticipate doing the same in SolarCity. But I won't bet too much or sell put options this time around because I know there could be downside that I can't currently see from either company.
Managing risk is important for investors Learning that stocks always have more downside is really a lesson in risk management. Betting too heavily on one stock, especially with options, can present more risk than most investors should take. I learned that the hard way, which has made me a better investor in the long run.
The article The Best Investing Lesson I've Ever Learned originally appeared on Fool.com.
Travis Hoium owns shares of GoPro. The Motley Fool owns shares of and recommends GoPro and SolarCity. Try any of our Foolish newsletter services free for 30 days. We Fools may not all hold the same opinions, but we all believe that considering a diverse range of insights makes us better investors. The Motley Fool has a disclosure policy.
Copyright 1995 - 2015 The Motley Fool, LLC. All rights reserved. The Motley Fool has a disclosure policy.