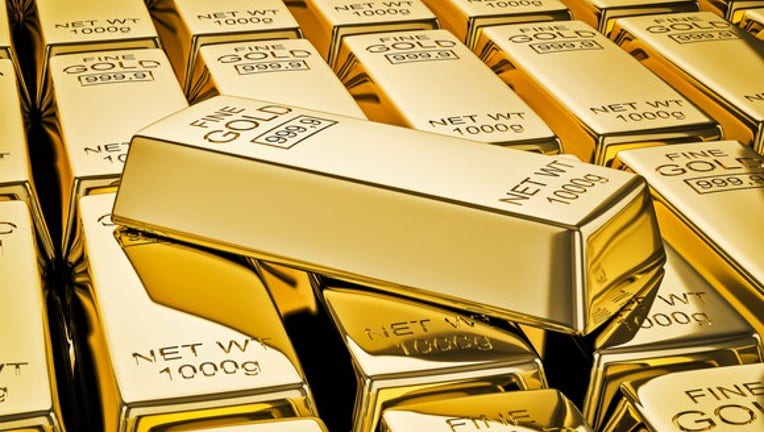 Gold stocks were in top form this year. Image source: Getty Images.
Gold stocks were red hot in 2016, and it isn't surprising to see why. Gold's appeal as a safe haven investment sent gold stocks to dizzying heights this year as major events like Brexit, the Federal Reserve rate hikes, the oil collapse, and the U.S. elections kept investors across the globe on tenterhooks. Here are the top ten gold stocks of 2016, as of this writing:
The chart reveals how little-known gold stocks have hugely outperformed the senior miners this year. Let's dig deeper into the top three performers: Gold Standard Ventures,McEwen Mining,and DRDGOLDand see what clicked for them and whether there's any steam left for 2017.
Gold Standard Ventures: The insider ownership appeal
Gold Standard is focused on owning and exploring mines exclusively in Nevada. The miner caught the market's attention earlier this year when Goldcorp bought 10% stake in the company, close on the heels of Australia-based OceanaGold Corp. buying 20% stake. To top that, Gold Standard discovered high-grade oxide gold in the North Dark Star area this year, which fueled investors' optimism even further. The miner now owns 20% land package in the high-potential Carlin trend belt.
With nearly 70% in Gold Standard now owned by insiders and institutions, investors perhaps consider the stock a safe bet and continue to push it higher. However, there's a major caveat: Gold Standard is in the early stages of exploration and is yet to start commercial production.
McEwen Mining: Focus on costs and growth
McEwen is a relatively larger company compared to Gold Standard, with primary mine properties located in the U.S., Mexico, and Argentina. McEwen impressed investors when recently it reiterated its production target of 144,000 gold equivalent ounces for the full year but lowered its all-in-sustaining cost guidance from $935 per ounce to $860 per ounce. Hitting that number would place McEwen on the lower end of the industry cost curve, which matters a great deal in the gold mining industry.
To top that, McEwen swung to a profit of $25.5 million for the first nine months of the year from losses worth $5.5 million in the year-ago period. Going forward, McEwen has several plans in the pipeline, including targeted permissions for construction and production at its Gold Bar mine in Nevada in 2017. If on track, McEwen projects its gold equivalent production to jump almost 60% by 2019.
DRDGOLD: A massive 8% dividend yielder
Based in South Africa, DRDGOLD is an intriguing company that doesn't explore mines to produce gold. Instead, it reprocesses tailings (waste) material from gold dumps to recover yellow metal. Having been in business for 121 years, DRDGOLD's flagship metallurgical plant Ergo is among the world's largestgold surface tailings retreatment facilities today.
DRDGOLD reported16% and 13% growth in revenues and operating profits, respectively, for the financial year ended June 30, 2016, driven largely by higher gold prices. But there's another reason why DRDGOLD is such a hit with investors: It sports a whopping dividend yield of 7.8% currently. Encouraged by strong free cash flows, the company increased its dividend substantially in August, ending up with a fivefold increase in its annual dividend for its financial year 2016. The attractive dividend yield, combined with the appeal of a low-risk business, were strong factors that drove DRDGOLD shares up in 2016.
What lies ahead for these top gold stocks
While Gold Standard is the riskiest stock among the three as it is yet to establish its production base, McEwen appears to be the strongest in terms of asset base, operational performance, and financials. DRDGOLD looks promising too, though any substantial decline in gold prices could cut into its cash flows and risk dividends.
That said, there are even better gold stocks to invest in today that belong to companies with solid operations and intent focus on shareholder returns. Investing prudently can fetch you sparkling returns from gold stocks in the long run, regardless of the volatility in the yellow metal.
10 stocks we like better thanWal-MartWhen investing geniuses David and TomGardner have a stock tip, it can pay to listen. After all, the newsletter theyhave run for over a decade, the Motley Fool Stock Advisor, has tripled the market.*
David and Tomjust revealed what they believe are theten best stocksfor investors to buy right now and Wal-Mart wasn't one of them! That's right -- theythink these 10 stocks are even better buys.
Click hereto learn about these picks!
*StockAdvisor returns as of December 12, 2016The author(s) may have a position in any stocks mentioned.
Neha Chamaria has no position in any stocks mentioned. The Motley Fool has no position in any of the stocks mentioned. Try any of our Foolish newsletter services free for 30 days. We Fools may not all hold the same opinions, but we all believe that considering a diverse range of insights makes us better investors. The Motley Fool has a disclosure policy.