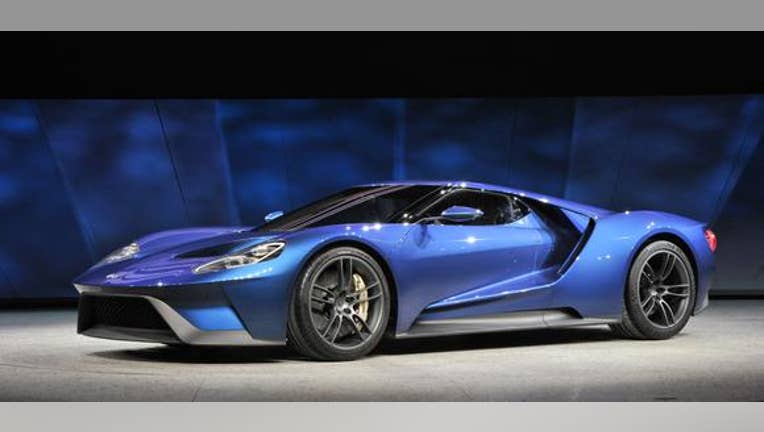 Ford started 2015 with a roar, unveiling the hot GT supercar in Detroit back in January. But trucks and profits were the real big stories of the year. Image source: Ford Motor Company.
What were Ford Motor Company's best headlines in 2015?
Ford started the year off with a fun surprise: An all-new Ford GT supercar. The new GT absolutely stole the show at the North American International Auto Show in Detroit. That was great for Ford, and CEO Mark Fields took some time to tell us about it.
"Ford's Mark Fields on the Stunning New Ford GT Supercar"
That wasn't Ford's only big auto-show surprise in 2015. The company wowed the crowds again with a concept version of its upcoming big Lincoln Continental sedan in New York in April. We got Fields to tell us a bit about that one, too.
"What Ford's CEO Told Us About the Stunning Lincoln Continental Concept"
Ford's first-quarter earnings weren't so hot, but that wasn't a surprise. Ford CEO Bob Shanks had told us upfront that 2015 would be the year in which Ford's huge investments in new products and expansion would begin to pay off. But he said that the surge probably wouldn't happen until the second half of the year, because it would take that long to get production of the all-new 2015 F-150 pickup up to full speed.
That made sense. It also made for a happy surprise when Ford's second-quarter earnings came with this headline:
"Ford's Profits Jump as New Products Boost Margins"
Ford's $0.47 per-share profit in the second quarter trounced the $0.37 Wall Street estimate. The surprise was twofold: First, analysts' concerns about the impact of a slowing new-car market in China proved largely unfounded. Second, while supplies of the F-150 were still tight during the quarter, dealers were getting top dollar for the ones they did sell -- and they were also getting top dollar for Ford's hot-selling Edge and Explorer SUVs.
The revamped-for-2016 Ford Explorer began arriving at dealers early in 2015. Demand and pricing have been extremely strong, giving Ford's bottom line a boost. Image source: Ford Motor Company.
A theme that played out all year -- and that will play out for years to come -- is Fields' push to remake Ford as a dynamic high-tech innovator. As he and other Ford executives see it, Silicon Valley companies like Alphabet and Apple threaten to overturn the auto industry's established ways. For Ford to remain an important provider of what it now calls "personal mobility," the Blue Oval has to be part of the technological upheaval, not a victim of it.
"Ford's CEO: We Want to Disrupt Like a Startup"
That self-disruption might be about to shift into high gear with what might turn out to be one of 2016's best headlines for Ford: The Blue Oval is said to be in advanced talks with Google about a partnership to build driverless cars.
Sales of the new F-150 picked up speed in the third quarter. Image source: Ford Motor Company.
Meanwhile, Ford is finally building and selling a whole lot of those all-new-for-2015 F-150 pickups. That, and the continued hot demand for Ford's SUVs, helped give Ford's third-quarter profits the boost we all expected.
"Ford Posts Strong Earnings as the New F-150 Begins to Pay Off"
Last but not least, Ford looks to be on track for another good result in the fourth quarter, as its transaction prices are still very high. High transaction prices suggest that buyers are opting for models that are loaded with options -- a very profitable situation for an automaker.
"Ford: Buyers are Paying More for Our Vehicles"
The year 2015 was good for Ford, one in which years of investments finally began to pay off. If its overseas efforts stay on track -- and if the U.S.'s new-car market continues to be strong -- 2016 could turn out to be even better.
The article The Best Ford Motor Company Headlines in 2015 originally appeared on Fool.com.
Suzanne Frey, an executive at Alphabet, is a member of The Motley Fool's board of directors. John Rosevear owns shares of Apple and Ford. The Motley Fool owns shares of and recommends Alphabet (A shares), Alphabet (C shares), and Apple. The Motley Fool recommends Ford. Try any of our Foolish newsletter services free for 30 days. We Fools may not all hold the same opinions, but we all believe that considering a diverse range of insights makes us better investors. The Motley Fool has a disclosure policy.
Copyright 1995 - 2015 The Motley Fool, LLC. All rights reserved. The Motley Fool has a disclosure policy.