The Best First Solar, Inc. Headlines in 2015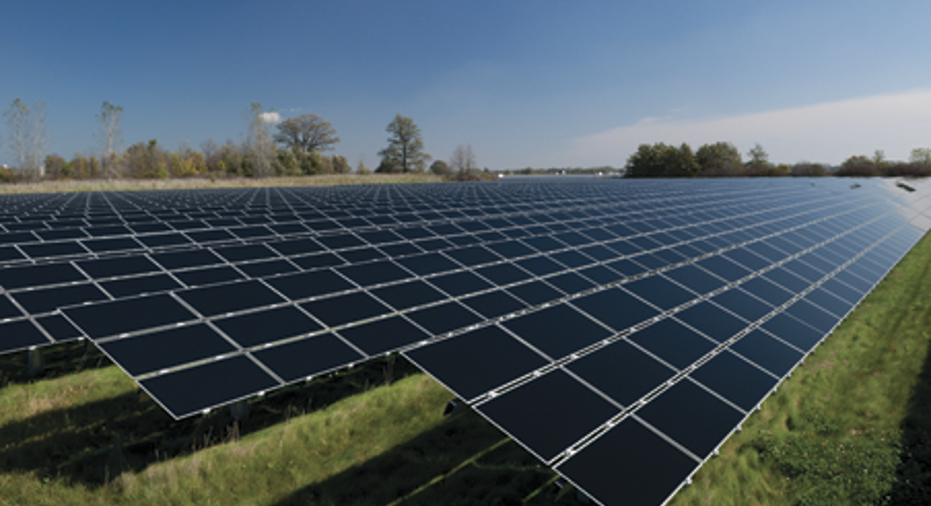 Image source: First Solar.
A decade from now, 2015 could be seen as a year of transition for First Solar. The company launched a yieldco, improved efficiency dramatically, and maintained industry-leading profitability. To top it off, Congress recently passed an extension of the solar investment tax credit (ITC), which will likely lead to massive solar growth in the U.S. over the next decade.
Among all of the good news for First Solar in 2015, here are the best headlines of the year.
Efficiency takes a big step forward For years now, First Solar has been under pressure from Chinese solar panel manufacturers making commodity silicon-based panels. These panels were more efficient than First Solar's thin-film panels, but First Solar had long won the battle with lower cost per watt. Since 2012, that advantage has evaporated and First Solar was playing from behind because it made a less efficient product.
That changed in 2015 as fleet conversion efficiency rose from 14.2% to 15.8% and the best line improved from 14.3% to 16.4%. That's a huge jump for any solar company, and it's changed First Solar's competitive position from competing on price alone to vying on the combination of price and efficiency.
Since higher efficiency lowers balance-of-system costs like land, labor, and wiring, it allows First Solar to be a lower-cost builder than competitors. This then allows profits to grow at a faster rate than competitors. It's a reinforcing loop, but at the center is improving technology, which was a very positive headline for First Solar in 2015.
Image source: First Solar.
A yieldco takes shape The second huge headline was the launch of 8point3 Energy Partners , a yieldco created with SunPower. Being a co-sponsor of a yieldco gives First Solar a place to sell projects to generate cash short-term while still owning some of the long-term value. First Solar's stake in the yieldco is currently a31% interest in the company and a 50% ownership of incentive distribution rights, a payment made to sponsors if the dividend rises above certain thresholds.
Given the ups and downs of the solar industry over the past decade, this will give First Solar another tool for financing projects. It can now sell to third parties, keep projects on its balance sheet, sell projects to 8point3, or do a combination of the three.
I also think the co-sponsorship with SunPower will turn out to be a long-term benefit for 8point3. Unlike single-sponsor yieldcos, which can be manipulated to a sponsor's benefit, the co-sponsorship structure provides a check and balance for both companies. That should result in a lower cost of capital long term, which means more project wins and higher margins for First Solar.
The ITC extension If there were a company that would have been fine with the ITC falling from 30% to 10%, it's First Solar, but it'll take the windfall from the recent extension anyway. In fact, I think when combined with improving efficiency and greater financing options, the ITC will give First Solar's management a reason to expand manufacturing further to boost growth.
Long gone are the days when First Solar was shutting down manufacturing operations because of intense competition. Now, the global solar industry is in hyperdrive and could grow from around 59 GW in 2015 to over 100 GW annually in the next five to 10 years. The U.S., India, and China will all play major roles, but emerging countries in South America, Africa, and the Middle East have big solar aspirations as well.
As First Solar is a U.S.-based company, the ITC extension is the wind in its sail. We may look back on it as the reason management became more aggressive about growth, and that could be a big win for investors.
The article The Best First Solar, Inc. Headlines in 2015 originally appeared on Fool.com.
Travis Hoium owns shares of 8point3 Energy Partners LP, First Solar, and SunPower. The Motley Fool has no position in any of the stocks mentioned. Try any of our Foolish newsletter services free for 30 days. We Fools may not all hold the same opinions, but we all believe that considering a diverse range of insights makes us better investors. The Motley Fool has a disclosure policy.
Copyright 1995 - 2016 The Motley Fool, LLC. All rights reserved. The Motley Fool has a disclosure policy.