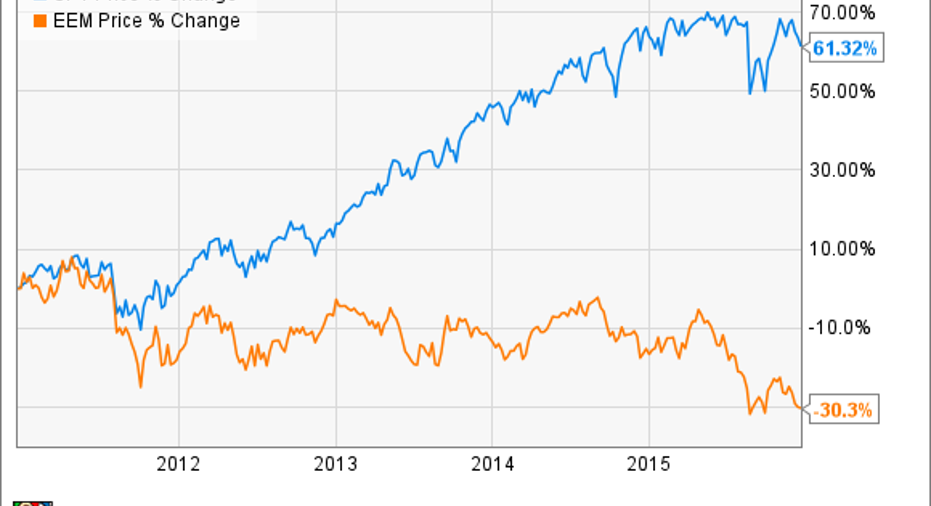 Image by Pictures of Money, Flickr Creative Commons.
Exchange-traded funds, or ETFs, have exploded in popularity in recent years. They offer investors an instant way to gain broad diversification, and unlike mutual funds, they can be bought or sold during the trading day. But with hundreds of ETFs available to choose from, which ones are the best buys for the year ahead?
For U.S.-focused investorsLarge-cap stocks have been on a great run recently, handily outperforming small caps over the past few years. But that won't always be the case. Over long periods, in fact, small-cap stocks tend to do better than large caps, since their smaller size allows them to grow at a much faster pace, which translates into higher returns.
One ETF that investors can use to play the eventual resurgence of U.S. small caps is theVanguard Small-Cap ETF. This option offers investors huge diversification -- it currently counts more than 1,500 stocks among its holdings -- yet it charges a minuscule expense ratio of only 0.09%.
Over the past five years, this fund has underperformed large caps by roughly 12%, but over a 10-year period it has been the place to be:
This ETF also offers up a juicy 2.30% dividend yield right now, and that's a higher payout than you can get from large caps.
The combination of a higher yield and small caps' strong history of outperformance could make this ETF a winning choice in 2016.
For contrariansThe strengthening of the U.S. dollar mixed with the collapse in commodity prices has caused many international stocks to take it on the chin. That's doubly true for investors who put money to work in emerging markets, which tend to rely heavily on commodity prices to keep their economies humming.
A quick look at a five-year chart comparing the S&P 500 with theiShares MSCI Emerging Markets ETF shows just had bad the carnage has been:
The ETF has drastically underperformed the U.S. markets in recent years, but if you're a believer in the rise of the global middle class, then now might be a great time to invest in this beaten-down ETF. It holds a huge collection of more than 800 large and midsized companies that make money in the world's emerging economies. Its assets are well diversified around around the globe, offering up exposure to China, India, Brazil, and more.
This fund's recent underperformance has pushed its current yield up to 2.48%, which is near its five-year high and could be a signal of its value.
When the U.S. dollar eventually weakens and commodity prices recover, this fund could be positioned nicely to outperform. In the meantime, its generous dividend yield more than covers its expense ratio of 0.68%.
For risk-tolerant investorsWhile emerging markets have been sucking wind recently, the biotech sector has been on an absolute tear. One ETF in particular, the SPDR S&P Biotech ETF , has put up an unbelievable five-year performance that's left the S&P 500 in the dust.
So what's the secret to this ETF's success?
As its name implies, the ETF concentrates on the biotech sector. It currently holds a position in 105 companies, many of them small-cap biotechs that on an individual basis carry a very high risk. But this fund's great diversification helps to make investing the in the space more palatable.
One feature I like about this ETF is that it employs an equal-weight strategy, meaning it invests the same amount of capital into each one of its 105 stocks, so if one of its holdings has a monster run -- which can happen easily in the biotech space -- then the entire ETF has a good chance of moving higher.
This fund isn't for the faint of heart, as its investing style makes it very volatile. But if you have a strong stomach and are looking for an ETF to turbo-charge your returns in 2016, this ETF might be a good choice.
The article The Best ETFs for 2016 originally appeared on Fool.com.
Brian Feroldi has no position in any stocks mentioned. The Motley Fool has no position in any of the stocks mentioned. Try any of our Foolish newsletter services free for 30 days. We Fools may not all hold the same opinions, but we all believe that considering a diverse range of insights makes us better investors. The Motley Fool has a disclosure policy.
Copyright 1995 - 2015 The Motley Fool, LLC. All rights reserved. The Motley Fool has a disclosure policy.