The Best Bet in the Growing Genetic Testing Market: Genetic Health vs. Invitae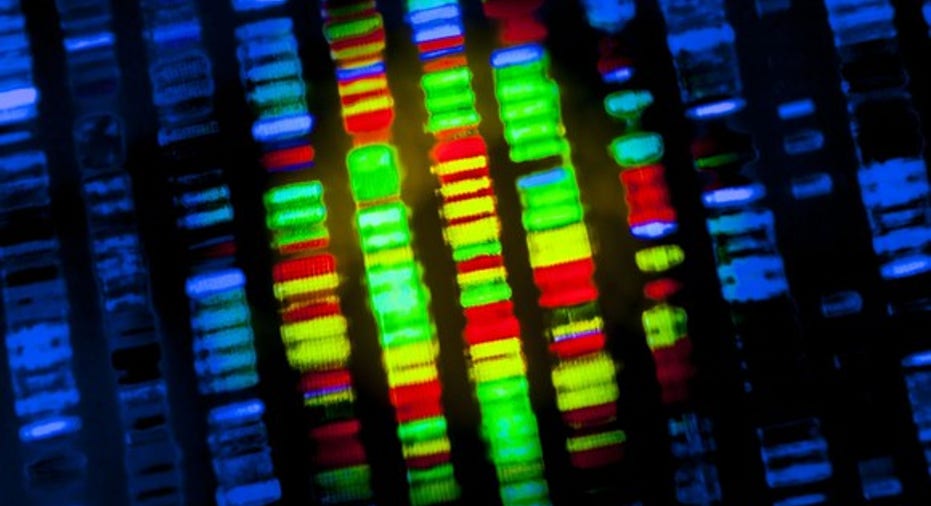 As the cost to sequence the human genome falls and the movement toward personalized medicine accelerates, the use of genetic information to predict potential diseases will continue to grow. According to United Health, the U.S. genetic testing and diagnostics market in 2010 was worth about $5 billion. By 2021, that number is expected to triple to $15 billion.
Below are two companies with the potential to profit from this huge secular growth trend.
Image source: Getty Images.
Genomic Health
Genomic Health (NASDAQ: GHDX) is a leading provider of genomic diagnostic tests for early stage cancer. The company offers these diagnostics through its Oncotype DX-branded cancer tests. These tests usea form of genomic analysis to provide cancer-specific information about a tumor (aka the "oncotype"). Genomic Health then uses this information to predict the likelihood of cancer occurrence or recurrence following treatment.
2016 was a strong year for Genomic Health, with the company delivering four consecutive quarters of double-digit revenue growth. Total revenue for the year came in at $328 million, up 14% over 2015. Looking forward, management has guided toward 2017 revenue between $355 and $370 million, representing a projected growth rate of 8% to 13%.
While the company has struggled to post a profit in the past, management has guided toward profitability in 2017, mainly on the back of its prostate cancer test, which, though it was a small percentage of overall revenue last year, has been growing at a rapid pace. Currently trading at around two times next year's projected sales, Genomic Health could be a value play in the rapidly growing genetic diagnostics space.
Invitae
Invitae (NYSE: NVTA) is a San Francisco-based company focused on making comprehensive genetic testing more affordable and easily accessible. Since going public in early 2015, its share price has languished below its IPO value, yet Invitae has been steadily executing on its goals of driving down the cost of genetic testing for disorders though aggregated genetic testing-- basically combining hundreds of genetic tests into one cheaper, comprehensive test. Currently, the company provides a diagnostic test that covers over 100 different conditions associated with oncology, cardiology, pediatrics, and neurology -- and it's rapidly adding more each quarter.
Since Invitae went public, the number of genes its genetic tests cover has increased from 600 to over 1,000, and the cost per test has decreased from $750 to $400. As a result of these two factors, the company has posted tremendous growth metrics. In its most recent quarter, the firm reported revenues of $9.2 million-- a nearly 200% increase year over year. Compared to the same quarter in the prior year, test volume has tripled, and Invitae has been growing sales at roughly 25% to 30%quarterly since going public.
The company currently sports a market cap of around $440 million. Management has guided toward 2017 revenue between $55 million and $65 million. While earnings are negative (and thus a traditional method of valuation such as P/E is inappropriate), it must be stated that while the company is growing quickly, it is also trading at the somewhat lofty valuation of six to seven times next year's revenue estimates. However, management has guided that they are well on their way toward achieving their long-term goal of 50% gross margin and 10% operating profits and expect to be cash-flow positive by Q4 2017.
The better pick
While both Genomic Health and Invitae both look set to profit from the growth of genetic diagnostics, these two companies could not be more different as investments. Trading at two times forward sales and projecting high-single-digit to low-double-digit revenue growth, Genomic Health is definitely the safer "value" approach to playing this space. However, assuming Invitae's management's guidance of $55 million to $65 million in revenue for 2017 is correct, this would imply a growth rate of over 100%. This, combined with the competitive edge Invitae enjoys by producing the most affordable, comprehensive genetic screening test, makes Invitae the better buy for me.
10 stocks we like better than Genomic HealthWhen investing geniuses David and Tom Gardner have a stock tip, it can pay to listen. After all, the newsletter they have run for over a decade, Motley Fool Stock Advisor, has tripled the market.*
David and Tom just revealed what they believe are the 10 best stocks for investors to buy right now... and Genomic Health wasn't one of them! That's right -- they think these 10 stocks are even better buys.
Click here to learn about these picks!
*Stock Advisor returns as of February 6, 2017
David Liang has no position in any stocks mentioned. The Motley Fool owns shares of and recommends Genomic Health. The Motley Fool has a disclosure policy.