The Best Apple Inc. Headlines in 2015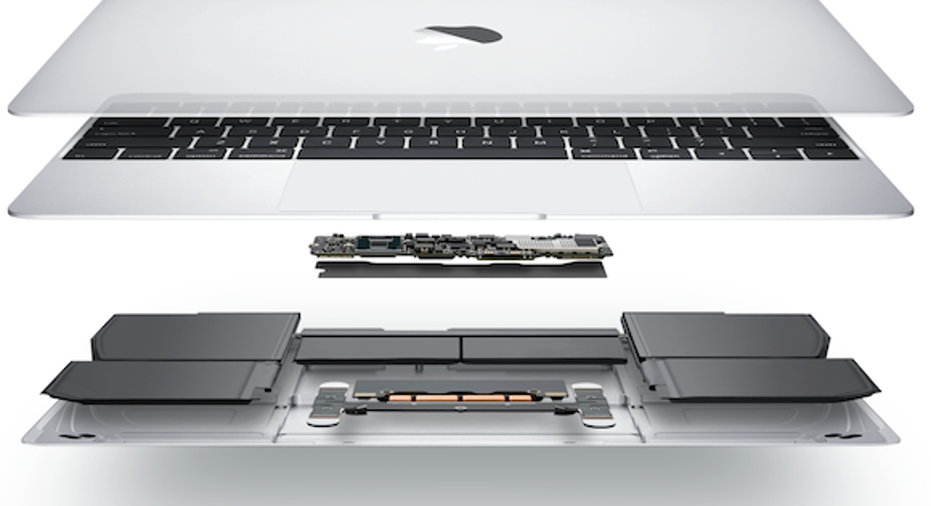 Apple MacBook. Source: Apple
Apple shares headed into the last day of 2015 priced nearly where they were 12 months before.
Yet that fails to capture Apple's 2015 as a whole, which was marked by some major volatility. Earnings reports, announcements, and product launches all, at times, dominated the narrative surrounding the firm. Let's take a look at some of the most significant positive headlines that benefited Apple shareholders in 2015.
The largest quarterly profit in historyIn January, Apple turned in what may have been its best earnings report ever. The Mac maker brought in $18 billion -- the best quarterly profit in corporate history -- on nearly $75 billion in sales. Demand for the iPhone 6 and iPhone 6 Plus was extraordinary, and Apple sold 74.5 million smartphones. The company enjoyed a record rate of Android switchers, and its Chinese revenue surged to an all-time high.
Reinventing the laptop and entering the streaming marketApple unveiled two major new products in the first half of the year. In March, it announced the new MacBook, and in June it launched Apple Music. Neither was a major contributor to Apple's earnings in 2015 (nor are they likely to be at any point in the near future), but both served important strategic functions for Apple's broader ecosystem of devices and services.
The MacBook represents Apple's vision of the future of traditional computing. Its weak processor and lack of ports attracted a fair amount of criticism, but its slim profile and light weight earned quite a bit of praise. Most importantly, it served to underscore Apple's commitment to continued innovation. For most consumers, other MacBook models likely offer a better experience, but the new MacBook seems to perfectly encapsulate the future of the Mac business as a whole.
Apple Music was arguably the opposite. The service offers some innovative features its competitors struggle to match, but when Apple Music launched in June, it was several years late to the streaming subscription music business. Still, its deep integration with iOS devices gives it an advantage, and Apple managed to rack up over 6.5 million paying subscribers by October. For a company whose resurgence was built on digital music, Apple Music is vital to ensuring the firm remains a relevant player in the industry.
Debuting in second placeApple's first wearable, the Apple Watch, made its sales debut in April. But its success was far from guaranteed and reviews of the device were, at best, lukewarm. Apple management was optimistic about the product, but hasn't released sales figures, and isn't planning to (at least not regularly).
The best news for the Apple Watch may have come in August, when research firm IDC released its second-quarter report on the state of the wearables market. According to IDC, Apple sold the second-most wearables of any firm from April to June, a significant milestone given that it was the first quarter during which the Apple Watch was available for purchase. IDC followed that report with one showing Apple maintaining its second-place status in the third quarter. FitBit remained No. 1.
The iPhone 6s sets a new recordGiven that they were the first iPhones to sport larger displays, the record demand for the iPhone 6 and iPhone 6 Plus was far from surprising. But the fate of their successors -- the iPhone 6s and iPhone 6s Plus -- was less certain. Would consumers be equally enthusiastic given their nearly identical form factors? In September, investors were given some insight when Apple reported a blockbuster debut weekend. Apple sold 13 million iPhone 6s and iPhone 6s Plus units the first weekend they were available, handily beating the 10 million iPhone 6 and iPhone 6 Plus units it sold during their first weekend of 2014.
The Apple TV and iPad Pro finally arriveFor Apple, the second half of the year was dominated by the launch of two new products that, while they were technically based on existing models, represented entirely new platforms.
The fourth-generation Apple TV made its debut in late October. With a redesigned remote and access to the App Store, the new Apple TV is much closer to a true smart TV platform than its predecessor. Offerings remain limited, but games such as Guitar Hero and Skylanders are available, as are some streaming apps (including Plex) that the old Apple TV lacked.
At first glance, the iPad Pro is simply a giant iPad. But when paired with its optional keyboard cover and the Apple Pencil, it becomes much more of a productivity device. The number of apps that take advantage of the iPad Pro's additional screen real estate and accessories is limited, but a growing base of users should eventually attract developers. It could also help rejuvenate Apple's declining iPad business.
Neither product is likely to drive significant revenue for Apple in the near term, but they represent two new categories the company can increasingly participate in over time.
The article The Best Apple Inc. Headlines in 2015 originally appeared on Fool.com.
Sam Mattera has no position in any stocks mentioned. The Motley Fool owns shares of and recommends Apple. Try any of our Foolish newsletter services free for 30 days. We Fools may not all hold the same opinions, but we all believe that considering a diverse range of insights makes us better investors. The Motley Fool has a disclosure policy.
Copyright 1995 - 2016 The Motley Fool, LLC. All rights reserved. The Motley Fool has a disclosure policy.