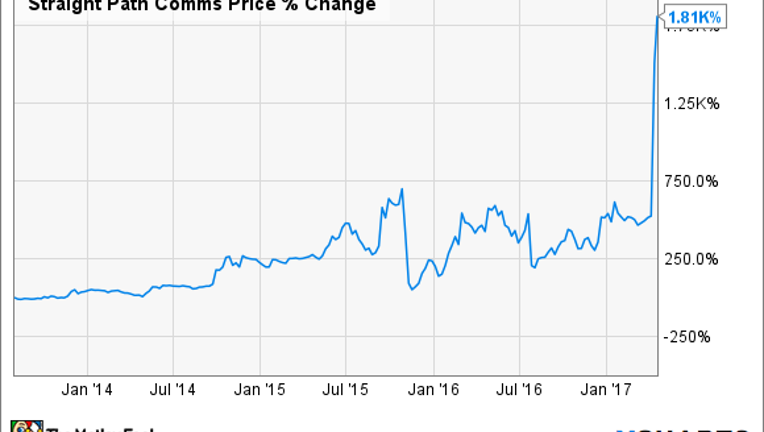 Straight Path Communications (NYSEMKT: STRP) investors were greeted last week by the news that AT&T (NYSE: T) planned to purchase the small company for a total transaction cost of $1.6 billion. Proceeds to Straight Path shareholders would be $1.25 billion, or $95.63 per share, payable in AT&T stock. That's over a 200% premium from the previous Friday's close, and a massive 1,500% increase since IDT spun off the company back in 2013.
Straight Path's stock closed last Thursday at $91.70 and this was followed by an SEC filing by the company noting that it had received interest from another party that was considering topping AT&T's offer. Investors jumped in when the market reopened Monday and had pushed the stock up to $106 by 2:30 p.m. Rumor has it Verizon (NYSE: VZ) is the second bidder.
While the AT&T deal, and any one topping it, will be a boon for Straight Path owners, it also has relevancy for other investors betting on the future of wireless communications. The race to launch the next-generation 5G network is heating up and is worth consideration.
What is 5G?
Each generation of wireless network has brought with it increased speeds and reliability. While that is part of the argument for one-upping the current creme de la creme 4G network, 5G will also bring with it greater flexibility of usage and lower latency (the time it takes for a data packet to be sent after the instruction for its transfer is sent).
Image source: AT&T.
That will be accomplished by expanding the network'sreach. Part of the conversation around 5G has been the use of small cells, referring to localized wireless access points. Historically, wireless connectivity has been achieved with large cell towers, but the next generation of connectivity could be brought down to the micro level, relying even on home-based routers to provide access for users.
Thus, 5G could have seamless integration with Wi-Fi, expanding the reach of networks overall and providing ultra-high speeds and ultra-high reliability for the tidal wave of device connections that has been dubbed the Internet of Things. Those connections span everything from consumer electronics and vehicles to industrial and medical equipment. A wireless connectivity service that is able to accommodate all of those devices could be huge.
The big telecom shopping spree
With the IoT movement already underway, it has become a race to get that bigger and better network up and running. Straight Path owns bandwidth licenses and other intellectual property that will play a key role in the future 5G network, which is expected to begin initial rollout later this year. AT&T hopes its acquisition helps accelerate its development and expansion and supports other key purchases it has made as of late or is in the process of making.
Chart by author. Data source: AT&T press releases.
AT&T hasn't been alone in trying to buy its way to future wireless leadership. Verizon has also been in the mix with 5G and Internet of Things purchases of its own.
Chart by author. Data source: Verizon press releases.
The country's largest mobile providers will likely continue to battle it out for subscribers, but growth in adding subscription services has started to slow dramatically as of late. Smartphone sales, which have provided a big source of revenue in years past, have also dipped as users are upgrading phones less often. It's beginning to look like the 5G network and the IoTwill be the next catalysts for growth.
The big purchases by AT&T and Verizon to speed up R&D are setting the stage for the next battle in the world of telecom. If the current trend continues, AT&T and Verizon will come to rely on big data services as their primary means of business in a few short years as a result of the move to 5G. The potential battle over Straight Path is the most recent, visible example of how the companies are trying to one-up each other.
10 stocks we like better than Verizon CommunicationsWhen investing geniuses David and Tom Gardner have a stock tip, it can pay to listen. After all, the newsletter they have run for over a decade, Motley Fool Stock Advisor, has tripled the market.*
David and Tom just revealed what they believe are the 10 best stocks for investors to buy right now...and Verizon Communications wasn't one of them! That's right -- they think these 10 stocks are even better buys.
Click here to learn about these picks!
*Stock Advisor returns as of April 3, 2017.
Nicholas Rossolillo owns shares of Verizon Communications. The Motley Fool owns shares of and recommends Verizon Communications. The Motley Fool has a disclosure policy.