The 5-Minute Guide to Horizon Pharma PLC Stock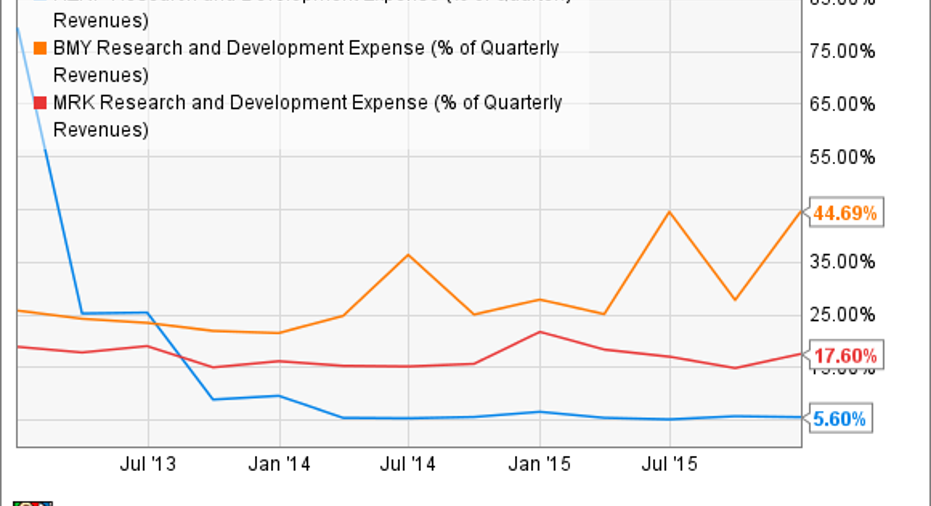 Value investors don't need to know a mitochondria from a hole in the ground to sense something's amiss withHorizon Pharmaceuticals stock. Over the past several years the company's sales have exploded, yet the stock fallen roughly 50% from its peak last summer.
With a forward price-to-earnings ratio under 10, this looks like a bargain hunter's dream come true. Before you go diving in, take five minutes to familiarize yourself with this company. You'll be glad you did.
Pharma-fundsEven if you don't follow pharmaceutical industry news, by now you're probably familiar with "pharma-bro" Martin Shkreli. While CEO of Touring Pharmaceuticals he orchestrated an overnight5,500% price hike of rare disease drug daraprim, and a media frenzy ensued.
While he took the practice to an extreme, his activity drew attention to an industry trend that had been taking place for years. Developing new drugs is risky, and as companies grow their returns on R&D tend to shrink. Companies such as Valeant Pharmaceuticals, and Horizon Pharma, among others, realized that acquiring drugs that have already won approval, then unlocking their value through flawless execution of commercial strategy, is a viable business model. Imagine a fund manager able to purchase undervalued stocks, then set their prices as high as the market will bear on his own.
What some might call excessive price raising has led to unprecedented scrutiny of Valeant's, as well as Horizon's, relationships with certainspecialty pharmaceutical distributors, and price raising practices. This scrutiny during an election year has devastated Valeant's share price over the past several months, along with the SPDR S&P Pharmaceuticals ETFof which Horizon Pharma is a top-ten holding.
Horizon Pharmaceuticals' model isn't identical to Valeant's or Touring's, but it isn't terribly research heavy either. Since 2013, Horizon has increased its medicines portfolio from two products to nine, as of this January.The addition of those products sent Horizon's sales through the roof, from just $18.8 million in 2012, to $757 million in 2015.Last year alone it began recognizing revenue from three recently acquired drugs -- Pennsaid, Ravicti, and Buphenyl -- adding $247.3 million its top line.
As its declining R&D expense as a percentage of revenue shows, it didn't develop those drugs itself. It acquired them, and ended 2015 with over $1.1 billion in debt.Last year it spent $69.9 million servicing those debts, and has some heavy contractual cash obligations in the years ahead. This year Horizon is on the hook for $92 million, and $74 million next year.
The $859.6 million in cash and equivalents on the books at the end of the 2015 might have helped its investors sleep easier. Following a $510 million acquisition of Crealta Holdings in January, much of the stuffing has fallen out of that pillow.
The productsNow that you know how Horizon leapfrogged into the big leagues, let's look at some of the products. After all, their sales will be responsible for paying down those enormous debts, and hopefully generating some earnings. If you're expecting some groundbreaking medical advances, you're going to be disappointed. Last year, Horizon's two best-selling products were combinations of drugs you can buy over-the-counter.
In first place was Duexis for relief of arthritic pain and prevention of gastric ulcers,which brought in $190 million, or 25% of Horizon's total sales.It's a combination of famotidine, which you'll probably recognize by the brand name Pepcid, and ibuprofin.
Coming in second was Vimovo, also for relief of arthritic pain and ankylosing spondylitis, with sales of $166.7 million. It's a combination ofnaproxen and esomeprazole magnesium, which you'll probably recognize by their brand names, Aleve and Nexium.
Image source: Horizon Pharma PLC.
That's right. Nearly half of the company's revenue came from over the counter drugs combined into easy to administer pills. That convenience is expensive, and becoming more so. Pharmaceutical companies are not terribly forthcoming with pricing details, but recently the Centers for Medicare and Medicaid Services published some interesting information. In 2014, the annual change in average cost per unit of Vimovo rose 534% and cost Medicare Part D patients an average of $1,826 per beneficiary.
If you're wondering why patients might be willing to shell out what must be a substantial co-pay, rather than swallow Pepsin or Nexium, before taking their ibuprofen or naproxen, let me introduce you to another standard practice in the pharmaceutical industry: Copay assistance programs. Out-of-pocket costs can be burdensome for patients, but with gross margins on pharmaceuticals so wide, companies are often willing "help" patients, then pocket enormous sums when the above-copay cost is covered by the insurance company.
Unwanted attentionHorizon Pharma's extensive use of patient assistance programs, and relationships with specialty pharmacies hasn't gone unnoticed by some authorities. Last November the company received a subpoena from theU.S. Attorney's Office for the Southern District of New York requesting documents related to its patient assistance programs and other activities.
As bad as that may seem, the authorities may be the least of Horizon's worries in the quarters ahead. America's two largest pharmacy benefit managersExpress Scripts, andCVS Health specifically exclude reimbursement for Duexis, and Vimovo, but some specialty pharmacies didn't get the message.Express Scripts has been cracking down on specialty pharmacies that dispense formulary excluded drugs,and it will be interesting to see the effect on Horizon's sales in the quarters ahead.
In transitionTo be fair, Horizon's more recent acquisitions, such as Krystexxa for treatment of gout in patients that no longer respond conventional therapy,look like an effort to reduce its dependance on aggressive price raising of drugs that aren't terribly innovative. Also, a move to the low corporate tax haven of Ireland would do wonders to its bottom line. However, if sales of its top two drugs plummet there won't be much profit to tax anyway.
Considering its debt pile however, transitioning to a company truly focused on innovation might be impossible. It will be fun to see what effect specialty pharma crackdowns and U.S. attorney investigations have on Horizon Pharma in the quarters ahead; from the sidelines, not as a shareholder.
The article The 5-Minute Guide to Horizon Pharma PLC Stock originally appeared on Fool.com.
Cory Renauer has no position in any stocks mentioned. The Motley Fool has no position in any of the stocks mentioned. Try any of our Foolish newsletter services free for 30 days. We Fools may not all hold the same opinions, but we all believe that considering a diverse range of insights makes us better investors. The Motley Fool has a disclosure policy.
Copyright 1995 - 2016 The Motley Fool, LLC. All rights reserved. The Motley Fool has a disclosure policy.