The 3 Most Important Drugs in Gilead Sciences' Pipeline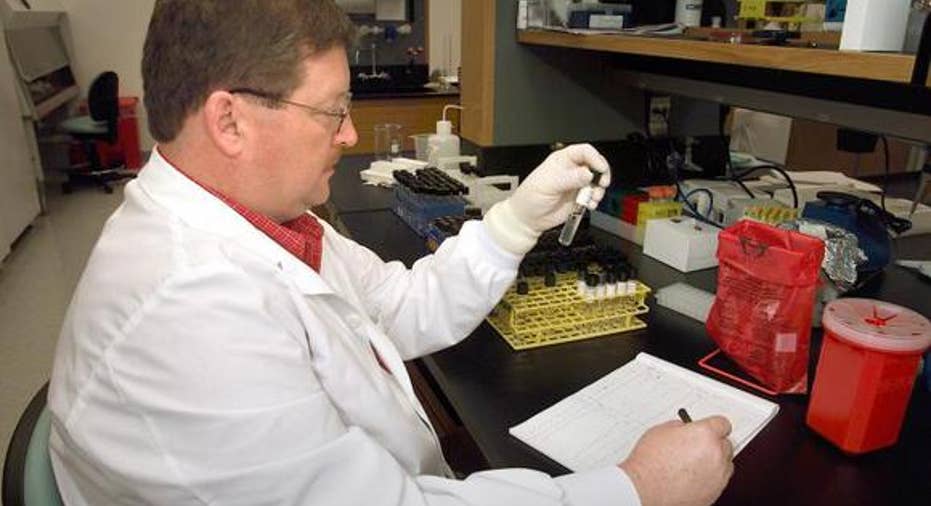 Image source: Centers for Disease Control and Prevention.
Although blue-chip biotech stock Gilead Sciences has had a bit of an up and down year, it's still sitting on a year-to-date gain of nearly 10%.
The catalyst behind Gilead's ongoing strength has been its hepatitis C franchise, headlined by Sovaldi and Harvoni, the company's once-daily HCV pills. These drugs have made an incredible difference in the lives of HCV patients, with cure rates typically above 90%, and relatively minimal side effects compared to the flu-like symptoms, anemia, and rashes which often accompanied the previous standard of care.
Through the end of the third quarter, Harvoni, which treats genotype 1, the most common form of HCV, had generated $10.52 billion in global sales, including $8.38 billion in the United States. Sovaldi, which is generally regulated to genotypes other than type 1, has generated $3.73 billion in global sales through Q3. Combined, that's $14.25 billion in HCV sales through three quarters, and an extrapolated $19 billion in estimated full-year sales from its franchise. Year-to-date, HCV sales make up 60% of Gilead's total product sales.
Image source: AbbVie.
These numbers are even more impressive considering that AbbVie's Viekira Pak, the lone approved competitor to Harvoni in genotype 1, generated just $469 million in global sales during the third quarter and has sold only $1.09 billion through the first three quarters of 2015. AbbVie's sales are nothing to sneeze at, but Gilead's HCV dominance is night-and-day next to AbbVie and Viekira Pak.
Even better news for investors is that Harvoni and Sovaldi still have an exceptionally long patent shelf life, and there are approximately 180 million people worldwide with HCV based on estimates from the World Health Organization. Translation: Gilead's HCV franchise looks to be in good shape for a long time to come.
The most important drugs in Gilead Sciences' pipeline However, Wall Street and investors are also forward-looking, and they'd like to see Gilead diversify or improve upon existing therapies. With that in mind, we'll briefly take a look at three pipeline products within Gilead's pipeline that could arguably be deemed its most important.
SimtuzumabOne of the most exciting developing drugs in Gilead Sciences' pipeline is simtuzumab, a monoclonal antibody designed to inhibit the lysyl oxidase-like-2, or LOXL2, enzyme. LOXL2 is believed to play an important role in tumor metastasis, as well as in the advancement of fibrotic diseases.
Simtuzumab is being tested in a variety of indications, and the initial results have been mixed. Once thought to be an intriguing candidate to fight treatment-nave advanced pancreatic cancer, simtuzumab, in combination with Gemzar, failed to provide a statistically significant improvement in progression-free survival compared to the control group. This indication was eventually scrapped.
Image source: Centers for Disease Control and Prevention.
What should have your attention is simtuzumab as a treatment for nonalcoholic steatohepatitis, or NASH. It's estimated that NASH could affect anywhere from 2% to 5% of the U.S. population, and if left untreated it can lead to scarring of the liver known as fibrosis, which can lead to liver complications, liver cancer, or even death. The market for a drug that could halt liver fibrosis, or potentially reverse it, would be enormous.
In December 2012, Gilead announced that a phase 1 dosing of simtuzumab in 10 patents with liver disease demonstrated reductions in AST and ALT levels with no serious adverse events reported or discontinuations. Phase 1 studies focus almost entirely on safety, and on this merit simtuzumab cleared the bar.
The real test is upcoming in 2016 when Gilead is expected to report top-line data on its 96-week phase 2 study in NASH patients. If the data is truly phenomenal, Gilead may be able to file for an accelerated approval of simtuzumab. If approved, simtuzumab would appear to have an easy pathway to blockbuster status with no other NASH products currently on the market.
Zydelig (idelalisib)Next up is Zydelig, known scientifically as idelalisib, a burgeoning oncology drug in Gilead's product portfolio and pipeline that's already approved to treat three types of blood cancers: relapsed chronic lymphocytic leukemia, small lymphocytic leukemia, and relapsed follicular B-cell non-Hodgkin lymphoma. Gilead received these three approvals in July 2014, and through the first three quarters of 2015 Zydelig has generated $92 million in sales.
What everyone should be watching are Zydelig's label expansion opportunities, as well as its ability to improve upon its existing indications.
Image source: Gilead Sciences.
Just a few weeks prior Gilead announced that the independent data monitoring committee overseeing a phase 3 study of Zydelig in combination with Treanda and Rituxan recommended it be unblinded early due to superior efficacy. Median progression-free survival for the trio was 23.1 months compared to just 11.1 months for the Treanda/Rituxan combination. Although approved in relapsed CLL already, Zydelig was only previously approved in combination with Rituxan. This PFS-thumping improvement over the control group should turn some heads and drum up Zydelig's use in relapsed CLL patients assuming it gains expanded approval from the Food and Drug Administration.
Other possible indications that could fuel Zydelig's growth include frontline CLL, relapsed refractory indolent non-Hodgkin lymphoma (iNHL), and frontline iNHL. Individually, none of these indications is going to result in blockbuster sales. However, if Zydelig can gain additional approvals into iNHL and frontline CLL, it very well could become a blockbuster drug with sales in excess of $1 billion annually.
It's important for Gilead to establish revenue outside of HCV, and Zydelig could be a decisive step in that direction.
Sovaldi + velpatasvir combo Lastly, even though it's been said that Gilead needs to potentially lessen its reliance on HCV products within its portfolio, it's hard to ignore the efficacy of the Sovaldi/velpatasvir combination in the four ASTRAL studies that Gilead reported on in September.
Image source: Centers for Disease Control and Prevention.
This cocktail therapy is designed to treat all six genotypes of HCV, marking it the first pan-genomic HCV drug that could make it to market. Although Harvoni is pretty much engrained as the go-to drug of physicians and consumers for genotype 1, Gilead's newest cocktail drug could secure it as the dominant force in genotypes 2 through 6.
Of the 1,035 tested patients of all genotypes, just 20 failed to show virologic clearance of HCV, with seven of those 20 simply failing to report for trial follow-up. With respect to genotype, not a single patient with HCV genotype 2, 4, 5 and 6 demonstrated a relapse in the ASTRAL studies. Furthermore, sustained virologic response improved in the ASTRAL studies for genotype 2 and 3 patients to between 80% and 99%. The FISSION, POSITRON, and FUSION trials from 2013 with Sovaldi plus ribavirin yielded SVR rates ranging between 50% and 78%.
Gilead's new cocktail has all the makings of a dominant blockbuster in genotypes 2 through 6 and could be very difficult to unseat for the foreseeable future if it's approved by the FDA.
Does Gilead's pipeline make it a buy?Even though Gilead's product portfolio is heavily reliant on Harvoni and Sovaldi, and competition within the hepatitis C is expected to grow in the coming years, I'd opine that Gilead remains a cash cow in the biotech sector that long-term investors should seriously consider owning.
Gilead has an impressive enough pipeline that it can grow its top- and bottom-line organically, but also boasts enough cash flow from its HCV dominance that acquisitions and partnerships are also a real possibility. Boasting a very low forward P/E, Gilead looks to have plenty of upside left in the tank.
The article The 3 Most Important Drugs in Gilead Sciences' Pipeline originally appeared on Fool.com.
Sean Williamshas no material interest in any companies mentioned in this article. You can follow him on CAPS under the screen nameTMFUltraLong, track every pick he makes under the screen nameTrackUltraLong, and check him out on Twitter, where he goes by the handle@TMFUltraLong.The Motley Fool owns shares of and recommends Gilead Sciences. Try any of our Foolish newsletter services free for 30 days. We Fools may not all hold the same opinions, but we all believe that considering a diverse range of insights makes us better investors. The Motley Fool has a disclosure policy.
Copyright 1995 - 2015 The Motley Fool, LLC. All rights reserved. The Motley Fool has a disclosure policy.