The 3 Fastest-Growing Drug Classes Over the Next 5 Years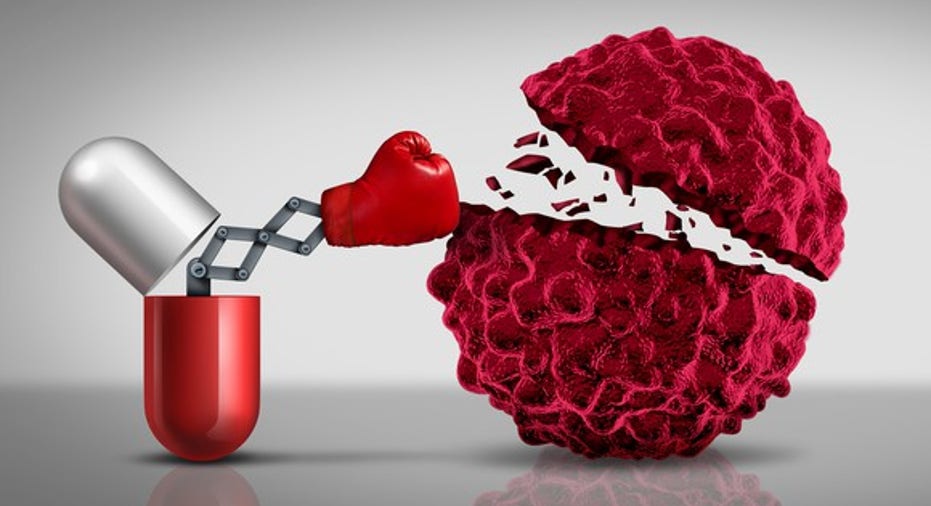 Image source: Getty Images.
If you've picked up a prescription from the pharmacy recently, you probably don't need any reminding that prescription drugs can be expensive.
In recent years, drug prices have soared as biotech and pharmaceutical companies have focused their efforts on bringing specialty products to market, such as cancer immunotherapies, which work by boosting the immune system to fight cancer, and hepatitis C drugs, such as Gilead Sciences' Harvoni.
For example, in just a three-year period we went from hepatitis C patients having about a 50-50 shot of sustained virologic clearance with a 48-week IV interferon and ribavirin regimen that came with a laundry list of unpleasant side effects to a once-daily pill that led to a better-than-90% cure efficacy in clinical trials. The more specific a drug is in targeting a gene or unmet indication, the more likely the drugmaker has been to have excellent pricing power on its product.
Move over, hepatitis C. These are the fastest-growing drug classes
However, according to the latest QuintilesIMS Institute report, Outlook for Global Medicines Through 2021: Balancing Cost and Value, the compound annual growth rate of drug sales between 2016 and 2021 is expected to slow a bit to a range of 4% to 7% from the 9% average annual sales growth witnessed in 2014 and 2015, which was fueled by hepatitis C and cancer drugs. Over the coming five years, antivirals, excluding those targeting HIV, are expected to see average annual sales growth of only 0% to 3% across eight of the largest developed markets and six emerging drug markets (known as "pharmerging" per QuintilesIMS Institute).
Yet, according to the recently released report, global medicine spending is still expected to tick higher by approximately $370 billion to $1.5 trillion between 2016 and 2021. There are three drug classes, in particular, that QuintilesIMS Institute has highlighted that have the potential to deliver double-digit annual growth over the next five years.
Image source: Getty Images.
Diabetes
Surprise -- or maybe not so much! With the Centers for Disease Control and Prevention estimating that 29.1 million people in the U.S. have diabetes, of whom more than 90% have type 2 diabetes, it may come as little shock that diabetes treatment is expected to be the third fastest-growing drug class over the next five years at 8% to 11% per year. In dollar terms, QuintilesIMS estimates 2021 spending on diabetes drugs will fall between $95 billion and $110 billion. QuintilesIMS pointed to "continued innovation, disease prevalence, and biosimilars" as the primary sources of diabetes-drug growth.
Innovation is certainly not hard to find in the diabetes space, specifically in the drug and device categories. Arguably the biggest improvement over the past couple of years has been the introduction of SGLT-2 inhibitors. Prior generations of diabetes medications worked in the liver or pancreas. SGLT-2 inhibitors do their work in the kidneys by blocking glucose absorption in an effort to control blood sugar levels for type 2 diabetics. Aside from meeting clinical efficacy standards, the SGLT-2 class of diabetes drugs has presented with pleasant side effects that include lowered systolic blood pressure and weight loss. Not all type 2 diabetics are overweight or have hypertension, but the correlation is more common than not, giving SGLT-2 drugs a potentially bright future.
Furthermore,Eli Lillyand its partner Boehringer Ingelheim have really stood out for their SGLT-2 inhibitor Jardiance. In their long-term cardiovascular outcomes trial known as EMPA-REG OUTCOME, Jardiance led to a 32% relative reduction in the risk of death from all causes. It was the first diabetes medication that had led to a statistically significant reduction in the risk of all-cause and cardiovascular-related death.
But it'sLexicon Pharmaceuticals(NASDAQ: LXRX)that could have the next eye-popping diabetes drug,sotagliflozin. Sotagliflozin is a dual inhibitor of SGLT-1 (which works in the intestines) and SGLT-2, and it fairly recently met its primary endpoint in a phase 3 study for type 1 diabetes. Both doses, the once-daily 200 mg and once-daily 400 mg, led to statistically significant reductions in A1C (a test that measures glucose levels over time) of 0.43% and 0.49%, respectively, compared to just 0.08% for the placebo. Type 2 diabetes is a considerably larger market, meaningsotagliflozincould be a star if successful.
Image source: Getty Images.
Oncology
Although oncology may not be the fastest-growing indication of them all, spending on cancer drugs in 2021 is expected to eclipse all other drug classes. QuintlesIMS' analysis that included those aforementioned eight developed countries and six growing pharmerging markets predicts oncology treatment sales will yield $120 billion to $135 billion in 2021. This means about 10% of all drug sales in these countries will be solely from cancer drugs. Oncology itself is expected to be the second quickest-growing indication at 9% to 12% compound annual growth.
According to QuintilesIMS Institute, better outcomes, improved drug tolerability, and the continued research of immuno-oncology treatments are expected to drive sales growth. The two key immunotherapy drivers at the moment are Merck's (NYSE: MRK) Keytruda and Bristol-Myers Squibb's (NYSE: BMY) Opdivo, both of which command $140,000-plus annual price points for treatment. These are drugs that work to inhibit the immunosuppressant quality of cancer cells, exposing them to the full brunt of a patient's immune system.
Bristol-Myers' Opdivo looked to have the clear lead in treatment potential compared to Keytruda after a few early approvals, but a recent slip-up in the first-line advanced non-small-cell lung cancer (NSCLC) trial CheckMate-026 has given Merck's Keytruda a clear path to dominant first-line advanced NSCLC market share in patients with high PD-L1 expression. Keytruda met its primary endpoint in first-line NSCLC with flying colors.
There's no shortage of immunotherapies angling to hit pharmacy shelves in the years to come, as well as opportunities for label expansion and combination with existing therapies. Oncology should be a rewarding space for investors -- and, more importantly, is capable of producing improved quality of life for cancer patients -- in the years to come.
Image source: Getty Images.
Autoimmune
The fastest-growing drug class over the next five years is expected to be autoimmune therapies. Autoimmune drugs include therapies designed to treat rheumatoid arthritis, ulcerative colitis, psoriasis, and Crohn's disease, to name a few higher-profile indications. Even though autoimmune drugs are expected to bring in "just" $75 billion to $90 billion by 2021, or roughly $45 billion less than oncology at the midpoint, their compound annual growth rate between now and 2021 is expected to be between 11% and 14%.
The report suggests that increased usage of autoimmune drugs, improved uptake in new geographic regions, an expanded definition of "autoimmune" to "include additional dermatological, gastrointestinal, and pain-related conditions," and the increased use of biosimilarswill be responsible for the increasing sales of autoimmune drugs.
Speaking of biosimilars, which are really just copycat versions of branded biologic drugs, Johnson & Johnson's (NYSE: JNJ) Remicade, an anti-inflammatory drug capable of nearly $7 billion in annual sales, has begun facing biosimilar competition. Rivals Pfizer and Celltrion launched Inflectra, a biosimilar to Remicade, in November. With a discount of 15% to Remicade's list price, the new drug could erode J&J's sales by more than $1 billion in short order.
Then again, it's not as if J&J is hurting when it comes to autoimmune-drug innovation. Johnson & Johnson, along with development partner GlaxoSmithKline (NYSE: GSK), released data on sirukumab, a treatment for moderate-to-severe rheumatoid arthritis, in June that hit the mark in every way imaginable. The primary endpoint (the inhibition of radiographic progression) demonstrated van der Heijde-Sharp scores of 0.50 for the 50 mg dose and 0.46 for the 100 mg dose compared to 3.69 for the placebo. A lower score represents less erosion and narrowing of the joints. Sirukumab also led to a doubling in ACR20(a 20% improvement in rheumatoid arthritis signs by week 16) compared to the placebo. Like a number of drugs in J&J's pipeline, sirukumab has blockbuster potential.
Autoimmune is likely to remain a strong performer for drugmakers and investors for years to come.
10 stocks we like better than Johnson and Johnson When investing geniuses David and Tom Gardner have a stock tip, it can pay to listen. After all, the newsletter they have run for over a decade, Motley Fool Stock Advisor, has tripled the market.*
David and Tom just revealed what they believe are the 10 best stocks for investors to buy right now... and Johnson and Johnson wasn't one of them! That's right -- they think these 10 stocks are even better buys.
Click here to learn about these picks!
*Stock Advisor returns as of Nov. 7, 2016
Sean Williamshas no material interest in any companies mentioned in this article. You can follow him on CAPS under the screen nameTMFUltraLong, and check him out on Twitter, where he goes by the handle@TMFUltraLong.
The Motley Fool owns shares of and recommends Gilead Sciences. It also recommends Johnson and Johnson. Try any of our Foolish newsletter services free for 30 days. We Fools may not all hold the same opinions, but we all believe that considering a diverse range of insights makes us better investors. The Motley Fool has a disclosure policy.