The 3 Biggest Challenges Facing Triumph Group, Inc. Stock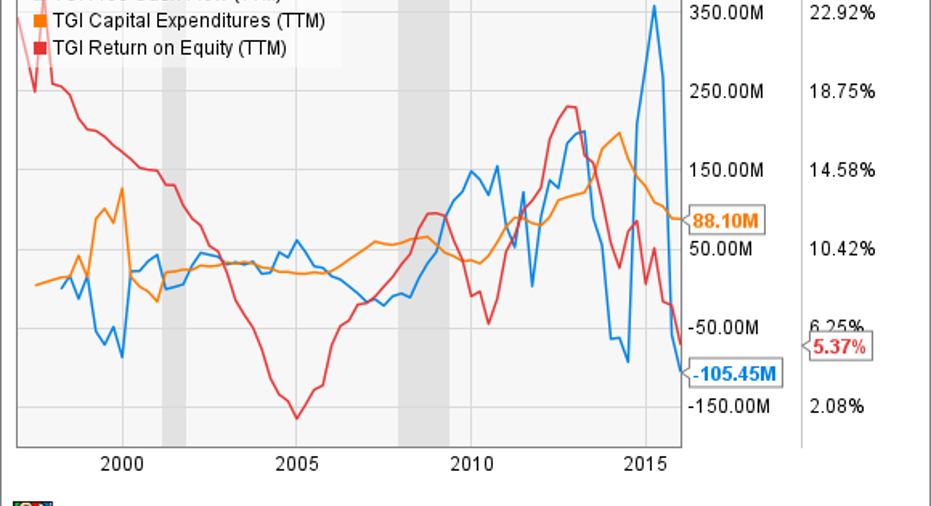 Being a supplieris anuncertain business. Just ask . While Boeing has notably outperformed the S&P 500 in the past five years -- driven on by burgeoning aircraft demand -- Triumph Group has languished because of overexposure to disappointing programs. Moreover, the company faces ongoing challenges in 2016. Let's take a look at three of them before you decide to invest any money in the stock.
Restructuring late in the commercial aerospace cycle Triumph Group has significant exposure on the Boeing 747-8 and 777 programs -- indeed, management cites them as its second- and third-biggest aerostructures programs, behind 's Gulfstream jets.
As such, the stock got hit when, earlier this year, Boeing announced production rate cuts on both aircraft. In September, the 747-8 production rate will be cut to one every two months from one every month, while next year the 777 will be produced at a rate of 84 a year from 100 a year. You can see the impact on Triumph's stock price in the preceding chart.
On the recent third-quarter earnings call, CFO Jeffrey McRae argued that Triumph could "mitigate the top-line impact" on the 777 because of possibly taking over more work on the program as a result of an agreement with Boeing, but the 747-8 impact is obviously significant.
All told, it's clear that Triumph needs to win new work. New CEO Daniel Crowley was candid on the subject and admitted as much, but as KeyBanc analyst Michael Ciarmoli asked in reference to , "How realistic it is for you guys to go out there and secure wins, when a lot of stuff has already been awarded for most of these programs?"
Crowley replied that he would be visiting Airbus "to meet with their senior leaders" in the next few weeks. However, given the timing in the cycle, he could find it difficult to secure highly profitable aerostructures business for Triumph.
IMAGE SOURCE: TRIUMPH GROUP, INC. WEBSITE
Highly exposed to the aerospace cycleThe 747-8 and 777 production rate cuts are doubly disappointing because of the nature of the business of being an aerospace supplier. Free cash flow, capital expenditure, and return on equity tend to be very lumpy because of the developmental cycle of airplane programs. Suppliers make capital expenditures to prepare for aircraft manufacturers' programs and then only reap the rewards in free cash flow generation when production starts to ramp up.
TGI Free Cash Flow (TTM) data by YCharts.
The problem occurs when production rate cuts kick in -- it leaves suppliers exposed to high ongoing costs. To be clear, the 747-8 rate cut was because of disappointing cargo demand, and the 777 cut is due to lower-than-expected 777 sales as Boeing bridges the gap to the new 777X plane -- due to begin production in 2018.
However, what would happen to Triumph if the aerospace cycle did turn down this year? It's even more cyclically exposed than usual, and that means more risk.
Business jet exposureSticking to the cyclical theme, there's no doubt that Triumph has above-industry exposure to business jets -- typically seen as much more cyclical in demand than commercial jets. When the economy is flourishing, business jet demand tends to pick up, but when conditions turn down it's usually the business jet market that feels the heat first. Indeed, there is already evidence of demand slowing in China.
Triumph generated 19% of total sales from business jets in the third quarter, and Gulfstream (General Dynamics) alone represented 12.6% of total sales. Gulfstream jets are the single largest program, and management expects to be cash flow positive on the Gulfstream G650 and G280 wing programs by the end of 2018. Moreover, Triumph is investing in developing the wing on Bombardier's Global 7000 luxury business jet. In short, business jets matter to Triumph Group.
Again, if the economy does turn down sharply in 2016, then Triumph could take a significant hit.
The bottom lineAll told, because of the nature of its business, its business-jet exposure, and the difficulties in getting work on new programs at this stage in the cycle, it's clear that risk has gone up with Triumph Group.
The Boeing 747-8 and 777 production cuts disappointed the market and were factored into the stock price, but the risks from Triumph's challenges in 2016 remain, and investors need to think about them before buying the stock.
The article The 3 Biggest Challenges Facing Triumph Group, Inc. Stock originally appeared on Fool.com.
Lee Samahahas no position in any stocks mentioned. Fun fact: Due to an error my father's trading account was once credited with 5% of General Dynamics' stock. Suffice it to say his monthly return figures looked good that month.The Motley Fool has no position in any of the stocks mentioned. Try any of our Foolish newsletter services free for 30 days. We Fools may not all hold the same opinions, but we all believe that considering a diverse range of insights makes us better investors. The Motley Fool has a disclosure policy.
Copyright 1995 - 2016 The Motley Fool, LLC. All rights reserved. The Motley Fool has a disclosure policy.