The 3 Biggest Challenges Facing FuelCell Energy Inc. Stock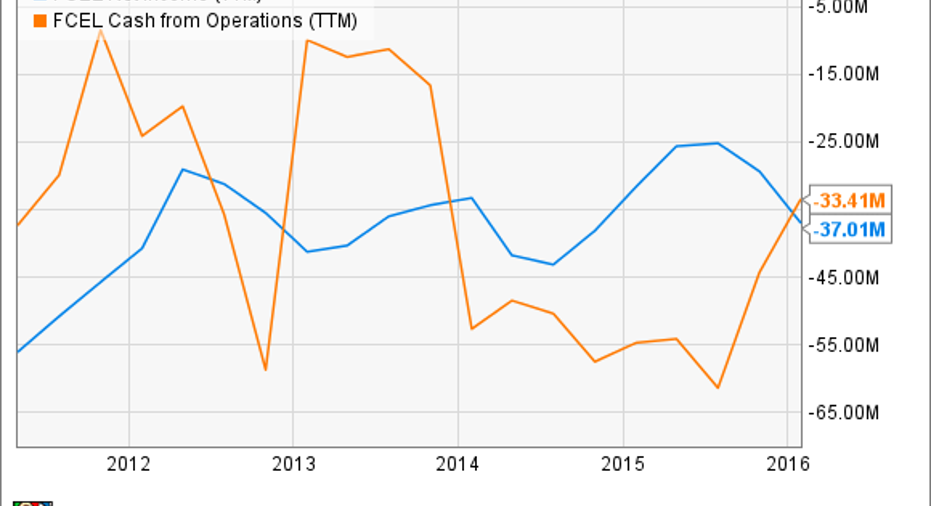 Image source: Fuel Cell Energy.
FuelCell Energy Inc has built a sizable business providing backup power to businesses and hospitals that put value in keeping the lights on 24/7. But the company has had a hard time turning that into a sustainable business long-term. Financially, it's constantly needed funding to cover losses, and the growth curve investors expect to see never quite seems to become a reality.
Looking forward, there are three big challenges FuelCell Energy will face before becoming a value for investors.
Where is the money? The problem FuelCell Energy has long faced is that it doesn't make a profit, or even have positive cash flow from operations. And as I recently highlighted, the company's $403.9 million backlog is actually down from $428.1 million three years earlier, so operations aren't exactly improving.
FCEL Net Income (TTM) data by YCharts.
If the argument was that the company is losing money to fuel growth, investors might give it the benefit of the doubt. But that's not the case, and if a company can't make money in its core business, someone has to fund operations long-term. And that brings me to the second challenge FuelCell Energy faces.
Constant dilution If there's one chart potential FuelCell Energy investors should see, it's the one below. In the past 10 years, shares outstanding have jumped 540% while the stock dropped 95%. Neither is a trend any investor should like.
Again, this comes back to not generating cash from your core operations. Someone has to fund those losses, and with debt investors unlikely to give a money-losing operation a good interest rate on debt, management has turned to equity markets for funds.
New backup options are emerging The biggest challenge facing FuelCell Energy long-term is that it's facing a growing number of competitive threats. The company's primary business is providing power for commercial facilities that are looking for cleaner and/or more reliable energy -- but customers are now choosing to install solar, and many are looking into battery storage, as well a variety of different technologies. This can lead to reliable backup power, and it can also lower costs by reducing demand charges.
FuelCell Energy has often sold itself as the best way to level out intermittent renewable energy production, but now batteries seem to be a better option and their costs are dropping like a rock. That could make fuel cells less desirable for a lot of building owners, especially those who put a high value on reliable backup generation and clean sources of energy.
At the end of the day, none of these trends look good for FuelCell Energy.
The article The 3 Biggest Challenges Facing FuelCell Energy Inc. Stock originally appeared on Fool.com.
Travis Hoium has no position in any stocks mentioned. The Motley Fool has no position in any of the stocks mentioned. Try any of our Foolish newsletter services free for 30 days. We Fools may not all hold the same opinions, but we all believe that considering a diverse range of insights makes us better investors. The Motley Fool has a disclosure policy.
Copyright 1995 - 2016 The Motley Fool, LLC. All rights reserved. The Motley Fool has a disclosure policy.