The 3 Best Obesity-Drug Stocks to Buy in 2017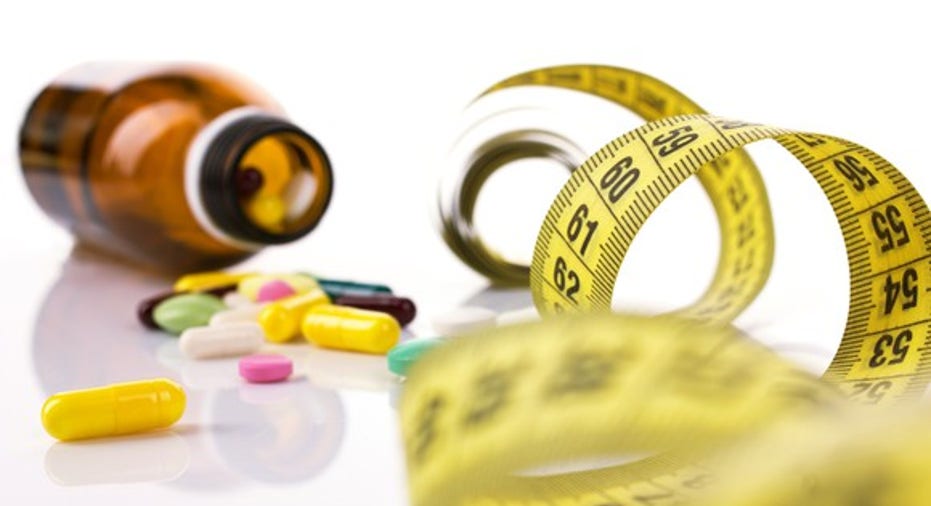 Although several obesity drugs are now on the market, they haven't caught on nearly as much as biopharmaceutical companies had hoped they would. Investors looking to buy obesity-drug stocks are better off finding companies that also have other products either on the market or in development.
Eisai (NASDAQOTH: ESALY), Novo Nordisk (NYSE: NVO), and Roche Holding Ltd. (NASDAQOTH: RHHBY) fit that description well. Each of these companies markets obesity drugs, but each also sells a broad array of other products with multiple pipeline candidates potentially on the way. Here's why Eisai, Novo Nordisk, and Roche rank as the three best obesity-drug stocks to buy in 2017.
Image source: Getty Images.
Eisai
Eisai partnered with Arena Pharmaceuticals (NASDAQ: ARNA) several years ago on obesity drug Belviq. The drug won U.S. regulatory approval in 2012, but sales have been underwhelming. As a result, Arena sold Belviq to Eisai earlier this year.
Don't look to Belviq as a great reason to buy Eisai stock. However, the Japanese drugmaker claims several other drugs on the market. Its biggest moneymaker is the world's top-selling drug, Humira. Eisai co-markets Humira in Japan with AbbVie.
Eisai also has a promising pipeline. It should find out if epilepsy drug Fycompa will gain U.S. approval by July 26. The company and its partner Biogen have two late-stage studies under way for experimental Alzheimer's disease drug elenbecestat. Eisai also has an option to jointly develop and market another Biogen late-stage Alzheimer's candidate, aducanumab. Two other late-stage studies are in progress evaluating lemborexant in treating insomnia.
Novo Nordisk
Novo Nordisk markets obesity drug Saxenda, which initially gained approval in the U.S. in 2014. Things are looking up for the drug, with sales more than doubling in the first quarter of 2017 compared with the prior-year period. Novo Nordisk also recently won FDA approval for a label update showing long-term safety and efficacy data for Saxenda.
One major advantage that Novo Nordisk has is that Saxenda fits well with the company's strong diabetes product lineup, since many patients with diabetes also battle obesity. Novo Nordisk continues to be a leader in the diabetes market with its insulin products and Victoza generating solid growth.
Expect the company to maintain its diabetes leadership with promising new drugs such as semaglutide, which could gain FDA approval later this year. Novo Nordisk also is expanding its presence in hemophilia. The company has several hemophilia drugs on the market and awaits approval for hemophilia B drug N9-GP.
Roche
Roche market Xenical, which is something of a granddaddy of obesity drugs. Xenical won FDA approval way back in 1999. The drug doesn't even merit a footnote in Roche's financial reports these days, though.
There are at least two better reasons to like Roche than its long-in-the-tooth obesity drug. First, the company is a leader in precision medicine, with a significant diagnostics business and an enviable track record of pioneering the development of precision medicine drugs. Second, Roche has one of the best pipelines among big pharma companies.
I'd also throw one other factor that could drive Roche stock higher. The company won FDA approval for multiple sclerosis drug Ocrevus in March. The drug could reach peak annual sales of around $5 billion.
Not making the cut
Arena is out of the obesity drug business, but what about Orexigen Therapeutics (NASDAQ: OREX) or VIVUS (NASDAQ: VVUS)? The problem is that they're both too dependent on their respective obesity drugs, Contrave and Qsymia. Neither of the drugs have performed up to expectations.
Orexigen is attempting to relaunch Contrave and generate higher patient awareness of the drug. VIVUS is looking to reshape its business model to focus more on development of pulmonary arterial hypertension drugs. It remains to be seen if Orexigen's and Vivus' efforts succeed.
In the meantime, Eisai, Novo Nordisk, and Roche appear to be on positive paths with new drugs potentially on the way. That makes these three the best obesity-drug stocks on the market for now.
10 stocks we like better than Roche Holding Ltd. (ADR)When investing geniuses David and Tom Gardner have a stock tip, it can pay to listen. After all, the newsletter they have run for over a decade, Motley Fool Stock Advisor, has tripled the market.*
David and Tom just revealed what they believe are the 10 best stocks for investors to buy right now... and Roche Holding Ltd. (ADR) wasn't one of them! That's right -- they think these 10 stocks are even better buys.
Click here to learn about these picks!
*Stock Advisor returns as of May 1, 2017
Keith Speights owns shares of AbbVie. The Motley Fool owns shares of and recommends Biogen. The Motley Fool recommends Novo Nordisk. The Motley Fool has a disclosure policy.