The 3 Best Media Stocks of 2016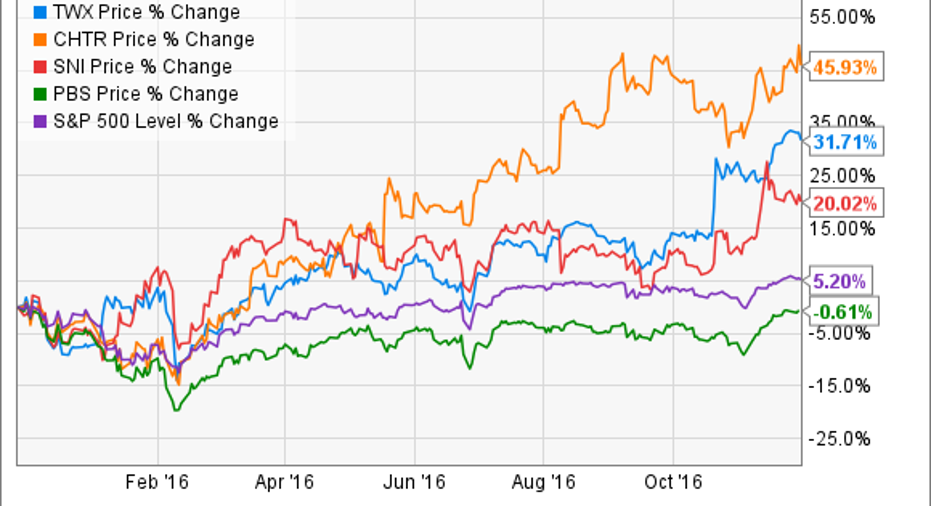 Image source: Getty Images.
Technological disruption is upending the media industry, making it far more difficult to successfully invest in media stocks -- more difficult, but not impossible.
Even as cord-cutting and the internet do their part to upend the broadcast and print-media business models, some media stocks have done well in 2016. In fact, Charter Communications (NASDAQ: CHTR), Time Warner (NYSE: TWX), and Scripps Networks Interactive (NASDAQ: SNI) have each handily outperformed their benchmark index, the PowerShares DynamicMediaPortfolio (labeled as PBS in the following chart)and the S&P 500.
So how did these become the best media stocks of 2016? Let's review how each of these media giants has trounced the market and their peers so far this year.
Charter Communications
After closing its acquisitions of cable distributor Time Warner Cable and internet provider Bright House Networks earlier this year, Charter Communications now ranks among the nation's largest telecom and media providers. However, while rivals AT&T (NYSE: T) and Comcast are reworking their business models to bundle wireless services with traditional cable offerings, Charter's business model remains a step behind its two main competitors. To address this weak spot, Charter has plans in place to license wireless access from Verizon's network, stating that it "plans to be a key part of [mobile network] growth" by eventually developing "its own licensed spectrum-based wireless network."
Charter's apparent plans to move toward bundles of wireless services, TV, and internet has resonated with consumers, as its impressive stock-price rally this year bears out. What's more, the company continues to add internet subscribers at a torrential pace, suggesting it can continue to grow earnings even before it enters the wireless space. So even though Charter will probably see continued cord-cutting on the video side of its business, the company appears to be pursuing a sensible long-term strategy.
Time Warner
The soon-to-be crown jewel of AT&T's long-term growth strategy, content juggernaut Time Warner -- owner of HBO, TNT, Warner Bros., and more -- has seen its shares rise in response to AT&T's $85 billion acquisition proposal earlier this year. The size of the deal and AT&T's history of attempted megamergers will no doubt attract plenty of regulatory scrutiny, and one of the major wild cards is how regulators in the Trump administration will view the Time Warner buyout. The potential that regulators will veto the deal is one major reason Time Warner shares trade slightly north of $90 per share, well below the full $107.50 cash-and-stock value that's part of the agreement.
Either way, the reasoning behind the deal is sound, and AT&T has already begun positioning itself as the first truly mobile entertainment provider. It recently launched a mobile version of its DIRECTV service -- dubbed DIRECTV Now -- that allows the company to leverage its clout in mobile connectivity for a full-on cable programing experience. Adding a content power could help AT&T integrate Time Warner's offerings into its service while acting as a natural hedge against rivals such as Comcast, which also owns many coveted content production assets. But even with questions about its merger's status remaining, Time Warner remains a media stock to watch in the year to come.
Scripps Networks Interactive
Despite the continued downward pressure from cord-cutting that's rippling through the broadcast media space, cable network operator Scripps Networks Interactive continues to defy the odds. Often overlooked in favor of its higher-profile rivals, Scripps Networks Interactive operates popular cable channels including HGTV, The Travel Channel, and Food Network.
In the company's most recent quarter, Scripps Interactive saw sales growth slow 3.5%, yet that number still beat the likes of rivals Discovery Communications (-3%) and Time Warner (+2%). Better still, the lower interest expenses for the quarter helped drive an impressive expansion of the media networks' profitability; net income and EPS increased 17.2% and 16.8%, respectively, compared with the same quarter last year. Ratings on Scripps' networks improved as well, suggesting that its content strategy continues to resonate with its core audiences. This advantage could help insulate the cable programmer from the cord-cutting that we've seen dragging down shares of far stronger rivals such as Walt Disney.
Scripps appears attractively valued, at just 12 times its last 12 months' earnings. The company is expected to continue to grow, which could fuel further share-price appreciation for one of this year's best performing media stocks.
10 stocks we like better than Time Warner When investing geniuses David and Tom Gardner have a stock tip, it can pay to listen. After all, the newsletter they have run for over a decade, Motley Fool Stock Advisor, has tripled the market.*
David and Tom just revealed what they believe are the 10 best stocks for investors to buy right now... and Time Warner wasn't one of them! That's right -- they think these 10 stocks are even better buys.
Click here to learn about these picks!
*Stock Advisor returns as of November 7, 2016
Andrew Tonner has no position in any stocks mentioned. The Motley Fool owns shares of and recommends Discovery Communications and Walt Disney. The Motley Fool recommends Scripps Networks Interactive and Time Warner. Try any of our Foolish newsletter services free for 30 days. We Fools may not all hold the same opinions, but we all believe that considering a diverse range of insights makes us better investors. The Motley Fool has a disclosure policy.