The 3 Best Dividend Stocks of the 2020s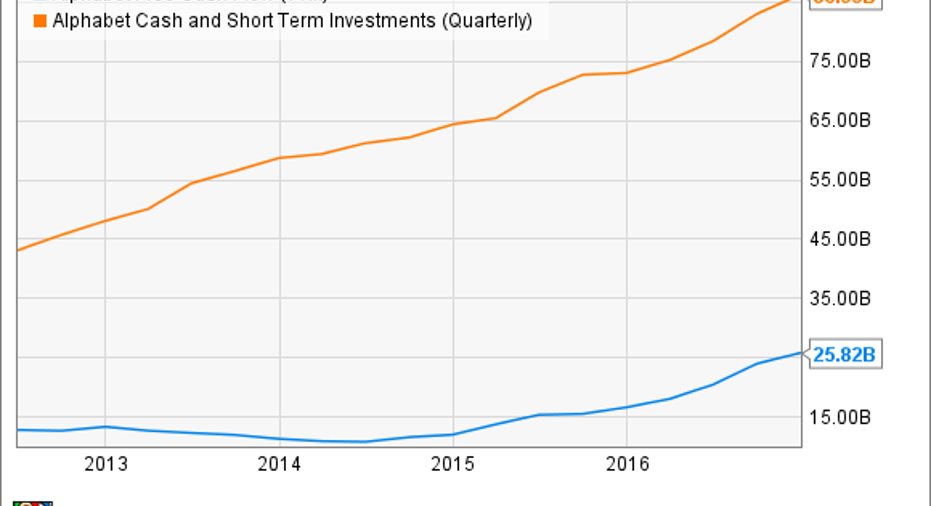 Investing in solid dividend stocks is arguably the most effective way to generate market-beating returns over the long term. But those returns can be even more lucrative for investors with the foresight to buy not just dividend stocks that have outperformed in the past but also companies that are positioned to deliver years of outsized gains going forward.
To help point you in that direction, we asked three top Motley Fool contributors to each discuss what they believe will be one of the best dividend stocks in the 2020s. Read on to learn why they chose Universal Display (NASDAQ: OLED), Qualcomm (NASDAQ: QCOM), and Google parent Alphabet (NASDAQ: GOOG)(NASDAQ: GOOGL).
IMAGE SOURCE: GETTY IMAGES.
"A good place to start"
Steve Symington(Universal Display): When Universal Display delivered strong fourth-quarter 2016 results in February, the OLED technologist also raised eyebrows all around Wall Street by announcing its first-ever quarterly cash dividend -- albeit at just$0.03 per share, which equates to a minuscule 0.14% annual yield at today's prices.
During the subsequent earnings conference call, however, Universal Display CFO Sidney Rosenblatt offered some context on the new dividend, by saying, "Today's announcement reflects the Board of Directors' confidence in Universal Display's robust future growth opportunities, expected continued positive cash flow generation, and commitment to return capital to our shareholders."
When asked to clarify the company's stance during the Q&A section of the call, Rosenblatt elaborated that the $0.03-per-share payout is "a good place to start," and further insisted they "intend to continue to pay regular dividends quarterly going forward."
And why not? I've argued beforethatUniversal Display is still in the early stages of its long-term growth story as its flagship OLED technology becomes more ubiquitous. Not only is its OLED material and intellectual property used in millions of smartphones from Samsung and televisions from LG -- which represent Universal Display's largest and second-largest customers, respectively --but it's also poised to become a bigger part of Apple's repertoire (Apple Watch already uses OLED displays) with the widely anticipated launch of the first OLED iPhone later this year.
In fact, shares of Universal Display climbed more than 5% on Thursday to flirt with a fresh all-time high after Goldman Sachsanalyst Brian Lee cited both the Apple developments and his expectation that Samsung will convert to a more lucrative running royalty agreement with UDC starting in 2019. In the end, as Universal Display's business continues to take off into the 2020s, I suspect its dividend payout will inevitably follow suit.
Tech tailwinds and a chunky yield
Keith Noonan(Qualcomm):Research firm IDC estimates that the number of connected devices will have increased from roughly 11 billion in 2016 to 80 billion in 2025, and semiconductor company Qualcomm is going to play a big role in driving that growth. Between its dominance in the mobile chip market, its recent push into the automotive segment by way of acquiringNXP Semiconductors, and its development of low-power Wi-Fi chips for Internet of Things devices, the company is on track to be a major beneficiary of the connectivity boom. A study from LexInnova found that Qualcomm has more high-value IoT patents than any other company, so both its licensing and its hardware businesses are looking at meaningful tailwinds as IoT ramps up.
On the returned income side of things, Qualcomm already boasts an attractive profile with its yield sitting at 4.3%, and its 14-year history of dividend growth suggests that investors can count on payout increases down the line. Trading at roughly 11.5 times forward earnings estimates, the stock is also a potential value play. A slew of legal challenges are depressing the company's valuation, and while these issues do suggest real downside risk, they also present the opportunity for investors to buy into a stock that could be a huge winner over the next decade and beyond at bargain prices.
Qualcomm stock is something of a rarity in that it combines a sizable dividend component, a cheap valuation, and ample growth potential. With these characteristics in mind, I think it stands out as one of the top dividend stocks to hold through the 2020s.
Tech's future dividend king
Travis Hoium (Alphabet): Alphabet isn't a dividend stock today, but by the 2020s, I think it is going to be one of the best dividend stocks on the market. The company has a massive lead in search, which is incredibly profitable and has adapted well in the shift from desktop to mobile devices. It's this core business that's driven the incredible cash flow machine you can see in the chart below.
GOOG Free Cash Flow (TTM) data by YCharts.
If free cash flow grows anywhere near the level you see above, Alphabet could easily pay a 5% dividend yield by 2020. And that's just from cash flow and doesn't include the cash pile it's already sitting on.
What makes Alphabet a potentially great dividend stock for the 2020s is the company's constant innovation. Whether it's artificial intelligence, self-driving cars, or virtual reality, it is constantly on the forefront. And with a cash flow machine at the core of the business and multiple growth opportunities in the lab, Alphabet will be generating enough money to pay a dividend for a long time to come.
10 stocks we like better than QualcommWhen investing geniuses David and Tom Gardner have a stock tip, it can pay to listen. After all, the newsletter they have run for over a decade, Motley Fool Stock Advisor, has tripled the market.*
David and Tom just revealed what they believe are the 10 best stocks for investors to buy right now... and Qualcomm wasn't one of them! That's right -- they think these 10 stocks are even better buys.
Click here to learn about these picks!
*Stock Advisor returns as of April 3, 2017
Suzanne Frey, an executive at Alphabet, is a member of The Motley Fool's board of directors. Keith Noonan has no position in any stocks mentioned. Steve Symington owns shares of Apple and Universal Display. Travis Hoium owns shares of Apple. The Motley Fool owns shares of and recommends Alphabet (A shares), Alphabet (C shares), Apple, Qualcomm, and Universal Display. The Motley Fool has a disclosure policy.