The 2 Critical Cogs That Pushed Johnson & Johnson 12% Higher in 2016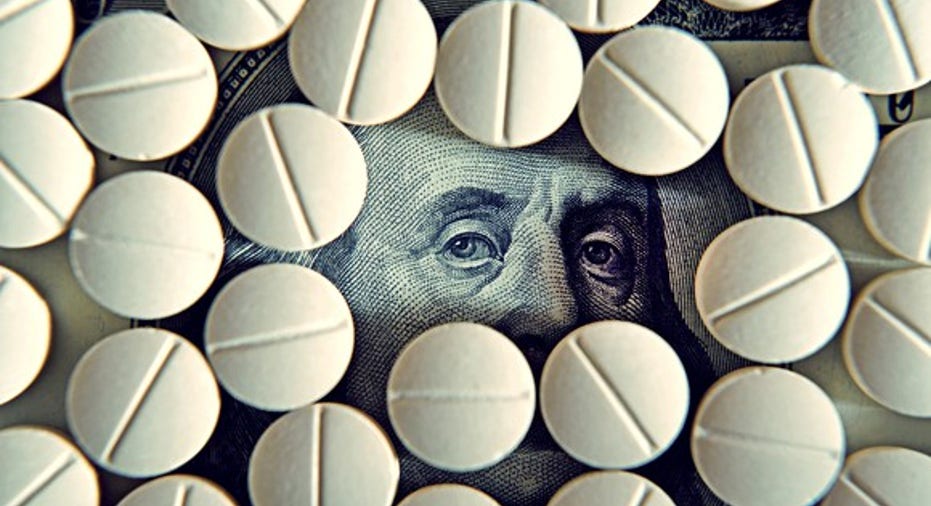 CEO Alex Gorsky. Image source: Johnson & Johnson.
What happened
Shares of healthcare conglomerate Johnson & Johnson (NYSE: JNJ) defied the odds in a year where healthcare stocks largely underperformed and, according to data from S&P Global Market Intelligence, gained 12% for the year, outperforming the Dow Jones Industrial Average and S&P 500.
So what
In many respects, we could just summarize J&J's 2016 performance as business as usual and call it a day. It would be a fair assessment, as Johnson & Johnson increased its dividend payout for a 54th straight year, grew its EPS once again, and maintained its AAA credit rating from Standard & Poor's. It's one of only two publicly traded companies to bear the highest credit rating bestowed by Standard & Poor's. However, if we were to pick out two specific drivers, it'd likely come down to the company's pharmaceutical sales performance, and one particular pipeline product.
You'll note the heavy emphasis on J&J's pharmaceutical segment. That's because pharmaceutical products account for the vast majority of J&J's growth and gross margin, so it's the most likely segment to be responsible for a 12% move higher.
Image source: Getty Images.
Through the first nine months of 2016, Johnson & Johnson managed 9.1% operational sales growth in its pharmaceutical segment, excluding the effect of currency moves. Even with Olysio falling off the map in hepatitis C and J&J set to face biosimilar competition for its best-selling drug, Remicade, the company's pharmaceutical segment, led by growth in blood cancer drug Imbruvica, continued to impress. All told, immunology and oncology sales have soared 19.4% and 28.7%, respectively, through the first nine months of fiscal 2016.
The other major catalyst for J&J was the release of pivotal phase 3 data on guselkumab, a next-generation experimental drug designed to treat moderate-to-severe plaque psoriasis. It was no surprise that guselkumab mopped the floor with the placebo given that it targets a protein known as interleukein-23, which is known to have a higher specificity when it comes to immune response disorders of the skin. At the 16-week mark, guselkumab led 73% of patients to near-complete skin clearance compared to just 2.9% of patients taking the placebo. The real shock was that it left the best-selling drug in the world, AbbVie's Humira, in the dust at both the 16-week mark for near-clearance (73% vs. nearly 50% for Humira), and at the 48-week mark (81% for guselkumab vs. 55% for Humira). All indications point to guselkumab being J&J's next blockbuster drug.
Now what
2017 should be business as usual once again for J&J, with one minor twist.
Image source: Johnson & Johnson.
The biggest factor shareholders will have to adjust to this year is the entrance of Inflectra into the market. Inflectra is the aforementioned biosimilar of Remicade (an annually $6-billion-plus drug for J&J) that was developed by Celltrion and licensed to Pfizer. It began hitting warehouses in November and is priced at a 15% discount to Remicade. Since there's really no precedent to biosimilar competition going after such a top-selling drug, no one on Wall Street is exactly sure what'll happen with Remicade or its sales. This uncertainty could weigh on J&J's shares for a quarter or two until we have an answer.
Investors should also keep an eye on whether J&J decides to go shopping in 2017. CEO Alex Gorsky has made it clear that J&J is looking to supplement its organic growth with mergers and acquisitions (M&A), and in recent weeks it's been courting Swiss-based Actelion and its portfolio of lung disease drugs. I'm personallynot a fan of a potential deal between the two companies, but something tells me this may not be J&J's only foray into M&A this year.
As a whole, though, Johnson & Johnson looks as steady as any healthcare stock you could buy. There have been no yellow flags in its earnings reports or financial statements to suggest otherwise. As such, I'd expect J&J's valuation to motor forward in the years to come.
10 stocks we like better than Johnson and Johnson When investing geniuses David and Tom Gardner have a stock tip, it can pay to listen. After all, the newsletter they have run for over a decade, Motley Fool Stock Advisor, has tripled the market.*
David and Tom just revealed what they believe are the 10 best stocks for investors to buy right now... and Johnson and Johnson wasn't one of them! That's right -- they think these 10 stocks are even better buys.
Click here to learn about these picks!
*Stock Advisor returns as of January 4, 2017
Sean Williamshas no material interest in any companies mentioned in this article. You can follow him on CAPS under the screen nameTMFUltraLong, and check him out on Twitter, where he goes by the handle@TMFUltraLong.The Motley Fool recommends Johnson and Johnson. The Motley Fool has a disclosure policy.