The 2 Big Numbers to Look for in Skechers U.S.A. Inc.'s Earnings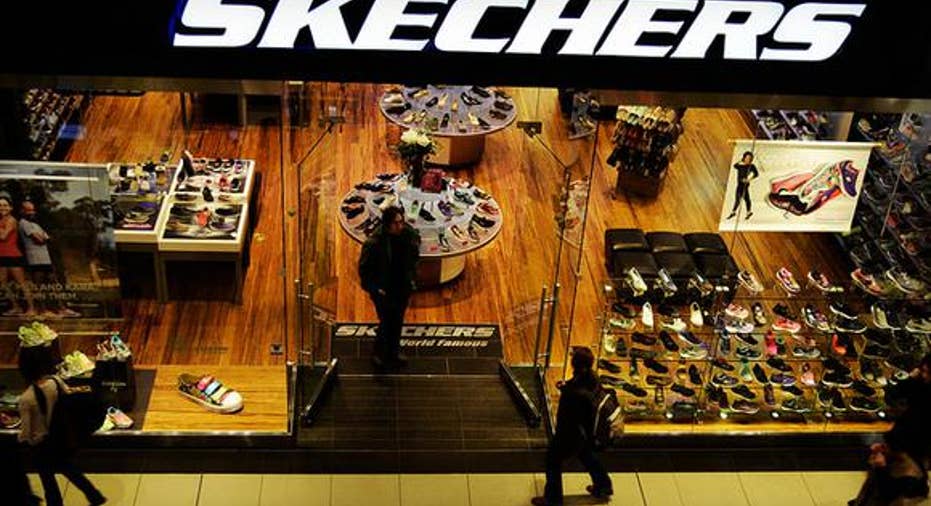 While Skechers U.S.A. is still growing, it's not doing so nearly as fast as it had been, yet it still intends to open hundreds of new stores. Image source: www.bargainmoose.ca.
The market has been taking a wait-and-see approach to Skechers" growth plans. The No. 2 footwear maker shocked the market last October when the Q3 growth rate in its domestic wholesale business experienced dramatic deceleration, causing it to lose almost a third of its valuein one day.
Although it said thedomestic wholesale business had expanded 12% from the year-ago period, that year-ago period had shown an almost-19% jump in sales, meaning the company experienced a 36% drop in its rate of growth. Worse, the number of pairs of shoes it shipped during the quarter tumbled from a 16% growth rate to less than 5%.
Even if the market's reaction to the Q3 report seems like a "what have you done for me lately" mentality, particularly since comparable-store sales were still growing at a healthy double-digit clip, there's actually good reason to worry when a company experiences such a dramatic slowdown, as it often portends additional periods of declining growth.
That actually came to pass in the subsequent quarter, when its domestic wholesale business plunged from 24% growth in the year-ago period to just 8%, and the growth in pairs shipped fell by two-thirds to just over 5%.
Skechers stock had been priced for perfection, more than doubling in value over the 12 months prior to the Q3 report. With the sudden slowdown, it shouldn'thave been surprising that the market sold off its shares after the Q3 report, but since then, Skechers stock has traded in a band between $25 per share and $35 per share as the market waits to see whether it can regain its footing.
With first-quarter 2016 earnings scheduled for Thursday the market will want to know which way the footwear maker is heading, so let's benchmark where Skechers has been to determine where it might be running off to. Here's how the footwear maker did in last year's Q1:
Although Skechers surpassed Adidas last year to become the second-largest footwear seller in the U.S., it remains a distant second behind Nike , which owns nearly two-thirds of the market with a 62.4% share. Skechers' 5% share is rather like fighting over the crumbs from the king's table, and it can help explain why despite otherwise seemingly strong growth rates, the market reacted as it did to the deceleration it's experiencing.
All the more worrisome are the gains rivals Adidas and Under Armour are making in footwear, with the latter recording an astonishing 70% jump in sales last quarter. Of course, Under Armour is starting from a much smaller base than any of its rivals as it makes the transition to become a more broad-based performance sporting attire maker, but the big uptake is worth keeping an eye on. It suggests the battle for Nike's leftovers will only get more intense, and that will put pressure on Skechers to kick it higher.
Wall Street, though, is expecting the footwear maker to stall further, with less than 20% revenue growth in the first quarter, which would actually translate into a greater than 50% decline in its growth rate.
Skechers U.S.A. Growth Rates
Period

Domestic
Wholesale

Pairs
Shipped
International
Q1 14
20.7%
14.8%
26.3%
Q2 14
35.4%
30.1%
54.0%
Q3 14
18.5%
16.1%
60.6%
Q4 14
24.3%
15.7%
37.9%
Q1 15
38.2%
30.5%
59.5%
Q2 15
31.9%
21%
60.1%
Q3 15
11.8%
4.6%
52.9%
Q4 15
8%
5.4%
64.9%
Further, management itself is only expecting its domestic wholesale business, which accounts for about 60% of the total (Skechers ultimately wants them split evenly, 50-50), to grow in the high single digits to low double digits. Considering the year-ago period was one of its strongest quarters in recent memory, that could come as a big shock to the market, notwithstanding management's warning.
If analysts' and Skechers' own forecasts pan out, the market may just drop the footwear maker's stock even lower.
On the last earnings conference call, management said there was nothing really out there to suggest particularly strong growth would be forthcoming (or, for that matter, anything to undermine its guidance). Demand for its footwear, however, is no longer near what it was, yet it still plans on opening over 400 new stores this year. Skechers has 1,340 company-owned and third-party retail stores and sells items online. Skechers may very well siphon off much of its growth opportunity by expanding during a slowinggrowth period, which could make for substantially lower performance. Investors may want to brace themselves for another stumble.
The article The 2 Big Numbers to Look for in Skechers U.S.A. Inc.'s Earnings originally appeared on Fool.com.
Rich Duprey has no position in any stocks mentioned. The Motley Fool owns shares of and recommends Nike, Skechers, and Under Armour. Try any of our Foolish newsletter services free for 30 days. We Fools may not all hold the same opinions, but we all believe that considering a diverse range of insights makes us better investors. The Motley Fool has a disclosure policy.
Copyright 1995 - 2016 The Motley Fool, LLC. All rights reserved. The Motley Fool has a disclosure policy.