Textron Takes the Lead in Robotic Warships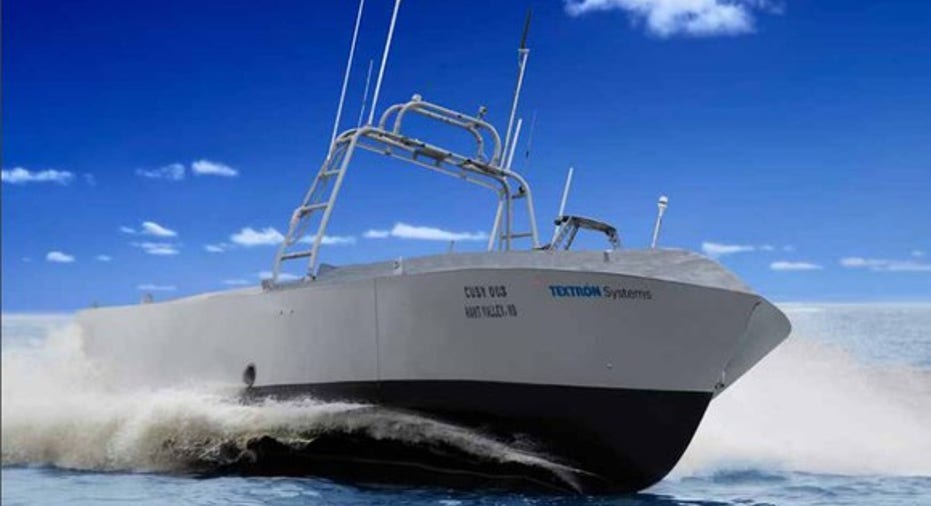 The Navy's new fleet of Littoral Combat Ships is a shambles.
Would-be multi-mission warships built alternately by Lockheed Martin (NYSE: LMT), General Dynamics (NYSE: GD), and GD partner Austal (NASDAQOTH: AUTLY), the LCS was designed to be equipped with swap-out-able "mission packages." These would enable a single LCS to perform minesweeping missions on Mondays, take on a surface combat role on Tuesdays, and on Wednesdays go out and hunt submarines if the situation called for it.
Problem is, the more the Navy looks at the LCS, the less sure it is that the ship will be able to survive in a contested environment. (Or even an uncontested one -- because these ships do seem to break down a lot). As the Navy has become less and less enthused with the Littoral Combat Ship's ability to survive combat, it's steadily talked down the number of them it is willing to buy. It's also talking more and more about relegating the LCS to a dedicated minesweeping role, and switching future purchases over to a more robust LCS-derivative to be designated a "frigate."
Textron's Fleet-class Common Unmanned Surface Vessel. Image source: Textron.
Making the best of a bad situation
Of course, since an average LCS costs $500 million, that's going to make for a very expensive minesweeper. (Avenger-class minesweepers cost just $61 millionto build back in the 1980s and '90s.) So if this is the tack the Navy ultimately takes, it will want to make darn sure the LCS at least performs the minesweeping mission well. Luckily, Textron (NYSE: TXT) thinks it can help with that.
A few weeks ago, Textron confirmed that the Navy has contracted it to build two new "Fleet-class" Common Unmanned Surface Vehicles (CUSVs) for use on LCS minesweeping missions. Combined with the four other CUSVsthat the Navy has already ordered, this will bring the Navy's complement of CUSVs to six, and a bit closer to its ultimate goal of 52 boats.
What is CUSV?
CUSV is basically a 39-foot crewlessrobotic speedboat. When performing a minesweeping mission, it will tow an "influence sweep system" behind it, mimicking the sounds and magnetic signature of a larger warship -- with the intent of attracting and detonating mines at a safe distance behind it.
Thus, the CUSV promises to help the LCS fulfill its minesweeping mission, and help plug the gap left by the failure of Lockheed Martin's own Remote Minehunting System to perform as promised. But that's not all the CUSV can do.
What CUSV means to Textron
All of the CUSVs ordered so far will form part ofthe Navy's Mine Counter Measure Unmanned Surface Vehicle (MCM USV) mission (i.e. mine-sweeping) under the service's Unmanned Influence Sweep System (UISS) program. Textron also notes in its marketing materialsthat the CUSV platform can be utilized in intelligence-gathering roles as well, for harbor security, and for "protection." In the latter role, the CUSV has been demoted and equipped with "nonlethal weapons."
These boats are versatile, too, in how they can be deployed. Initially designed to launch from an LCS, Textron says the CUSV can also deploy from vessels with well-decks (such as an LHD or LHA amphibious assault ship). The CUSV can also operate on its own, sallying forth from a port or harbor. Boasting a top speed of 28 knots, the vessel is described as being able to "endure" at sea for more than 20 hours, even in seas as rough as Sea State 6 (20-foot high waves). In fact, dividing the CUSV's rated cruising range of 1,200 nautical miles by its top speed of 28 knots, it seems the vessel might actually be able to operate independently of a mothership for nearly two days at a time.
All of this suggests that -- valuable as the CUSV might be to the Littoral Combat Ship's minesweeping mission -- minesweeping might be only the beginning of this vessel's capabilities.
What it means for investors
Reportedly, minesweeping alone will provide a big enough market to support orders of 52 CUSVs by the Navy, and at the $7.4 million-per-boat price that Textron is charging for its two latest CUSV deliveries, that implies total potential revenues of about $385 million from the program.
Now, $385 million is not a huge sum relative to the $1.8 billion in annual sales that Textron Systems (which builds the drone boat) rakes in every year -- much less the $13.8 billion in annual sales for Textron as a whole. But if minesweeping is only the beginning of the missions the CUSV can undertake, Textron could easily find this program growing beyond its initial vision.
With the price of these boats falling with each incremental order, that would be good news for taxpayers. And with Textron earning above-average profit margins from this program (the company's Textron Systems division earns 10.6% margins, versus 9.5% margins for Textron as a whole, according to data from S&P Global Market Intelligence), that would be good news for investors as well.
10 stocks we like better than TextronWhen investing geniuses David and Tom Gardner have a stock tip, it can pay to listen. After all, the newsletter they have run for over a decade, Motley Fool Stock Advisor, has tripled the market.*
David and Tom just revealed what they believe are the 10 best stocks for investors to buy right now... and Textron wasn't one of them! That's right -- they think these 10 stocks are even better buys.
Click here to learn about these picks!
*Stock Advisor returns as of April 3, 2017
Rich Smith has no position in any stocks mentioned. The Motley Fool has no position in any of the stocks mentioned. The Motley Fool has a disclosure policy.