Textainer Group Holdings Limited's Stock Got Hammered in 2016, but the Worst May Be Over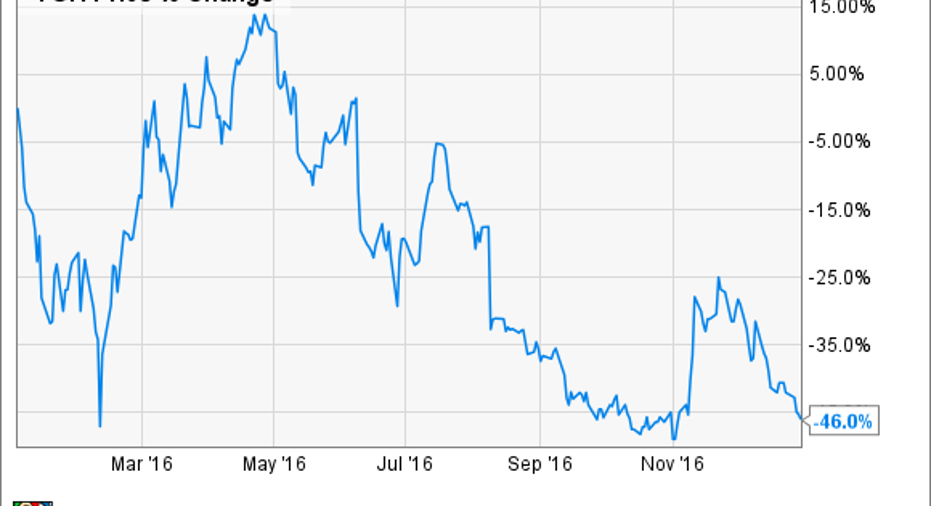 Image source: Getty Images.
The container shipping industry went from bad to worse in 2016. A combination of tepid global trade growth and low steel prices put downward pressure on both container prices and lease rates, which drove down Textainer Group Holding Limited's (NYSE: TGH) revenue and earnings. Market conditions further deteriorated when a leading shipping company filed for bankruptcy, sending the entire industry scrambling. These factors weighed on Textainer's stock last year:
While the sector still has several issues to work through, conditions appear to be on the upswing, which suggests that the stock's slide could be in the past.
What went wrong in 2016
Shipping industry conditions were challenging for much of last year. This weakness led to low prices for both new and used containers, which caused lease rental income to fall and forced the company to record impairment charges on containers held for sale. Overall, Textainer's revenue declined 8.8% year over year to $378.1 million through the third quarter while income from operations plunged 89.4% to just $18.5 million. That slumping income caused the company to significantly reduce its dividend before eliminating it altogether to preserve cash.
Making matters worse was South Korean shipping giant Hanjin's decision to file for bankruptcy protection at the end of August. This filing had a direct impact on Textainer because it had leased 6.4% of its fleet to the failed shipper, causing a $44 million financial hit during the third quarter. Aside from the lost revenue and income, Textainer has also lost track of some of its containers and only expects to recover 70% to 90% of the 114,000 leased to Hanjin. While the company has $80 million of insurance to cover these losses, it estimates that its losses will exceed the insurance coverage.
The inadequate insurance coverage meant that Textainer had greater exposure to this bankruptcy than some of its peers. CAI International (NYSE: CAI), for example, only leased 2% of its fleet to Hanjin, representing about $40 million of equipment exposure. As a result, CAI International estimated that its insurance policy would be more than enough to cover this exposure, aside from its $2 million deductible. Likewise, Triton International Limited (NYSE: TRTN) also expects insurance to cover most of its Hanjin losses.
Image source: Getty Images.
What needs to go right this year?
Lost in all this turmoil was a noticeable improvement in the container market during the third quarter. Textainer noted that new container prices had rebounded sharply from the low point of the year, while rental rates increased significantly to levels not seen in several years. Driving these improvements is the fact that new container production was expected to be at its lowest level since 2009 and barely enough to cover retiring containers leading to minimal fleet growth.
Those improving conditions suggest that the worst is over. In fact, arecovery appears to be taking hold. For example, according to comments by Triton International CEO Brian Sondey in the company's third-quarter earnings release, "leasing demand remains strong as we start the fourth quarter, and we have not seen the usual seasonal slowdown in dry container lease-out activity." Meanwhile, CAI International was repositioning some of its equipment back to China to meet increasing demand, which it thought would improve utilization in 2017.
One of the other factors contributing to Textainer's decline last year were concerns that its balance sheet had started deteriorating. Driving those worries was the company's decision to spend $477 million in acquiring containers, keeping its debt level above $3 billion, which is substantial considering Textainer has $4.3 billion of total assets. The biggest concern was that its declining earnings had pushed its leverage ratios closer to the financial covenant thresholds, which could limit its flexibility in the future.
Given the deteriorating market conditions last year, some of its rivals focused on strengthening their balance sheets instead of continuing to grow. For example, CAI International chose to reduce debt and buy back shares instead of investing in its fleet because, according to comments by CEO Victor Garcia in last quarter's earnings release, "we do not currently believe that returns in general for new investment are attractive." Thus far Textainer's initial move to shore up its financials was the decision to eliminate the dividend. However, a more concerted effort to improve its financial footing in 2017 could put its stock back on solid ground.
Investor takeaway
Last year was a brutal one for the container industry as slowing global trade caused market conditions to deteriorate, culminating in the bankruptcy of one of the world's largest shippers. However, that event might have marked the bottom in the sector because conditions started turning around about that same time. Those improving conditions, which along with some self-help efforts to strengthen its balance sheet, could mean that Textainer's long slide has finally come to an end.
10 stocks we like better than Textainer Group Holdings Limited When investing geniuses David and Tom Gardner have a stock tip, it can pay to listen. After all, the newsletter they have run for over a decade, Motley Fool Stock Advisor, has tripled the market.*
David and Tom just revealed what they believe are the 10 best stocks for investors to buy right now... and Textainer Group wasn't one of them! That's right -- they think these 10 stocks are even better buys.
Click here to learn about these picks!
*Stock Advisor returns as of January 4, 2017
Matt DiLallo owns shares of Textainer Group Holdings Limited. The Motley Fool recommends Textainer Group. The Motley Fool has a disclosure policy.