Testimony at US trial tests relations with Turkey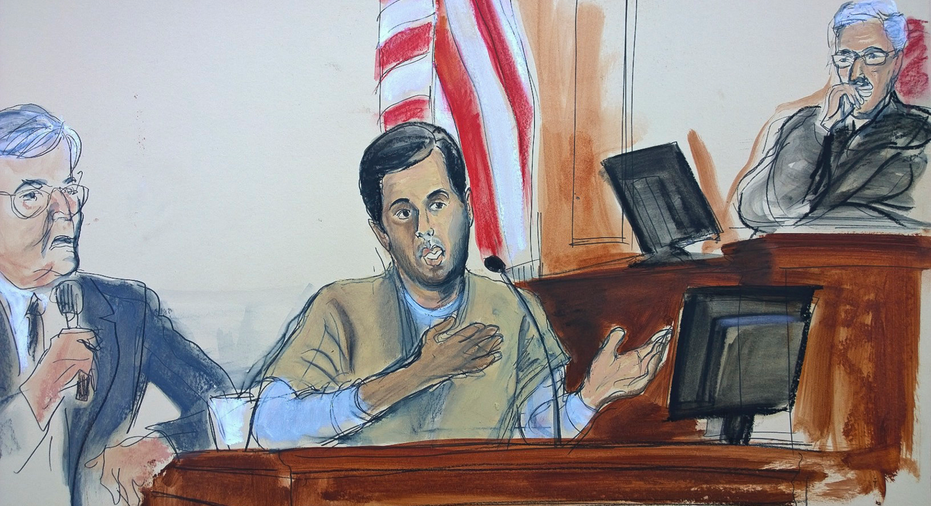 A criminal trial that has chilled relations between the U.S. and one of its important allies, Turkey, began in a New York courtroom over the past week with testimony by a once high-flying gold trader who claimed to have paid millions of dollars in bribes to government and banking officials in Turkey.
Some of the testimony by the Turkish-Iranian businessman, Reza Zarrab, has even implicated Turkey's president, Recep Tayyip Erdogan, in a scheme to help Iran evade U.S. sanctions.
Erdogan's ministers say the trial is based on fabricated evidence. They have called Zarrab a "hostage."
Some highlights from the first week:
___
THE STAR WITNESS
Prosecutors say Zarrab made a fortune as the middleman in a conspiracy designed to beat U.S. sanctions that were supposed to keep Iran from profiting by selling its rich supplies of oil and natural gas.
After narrowly avoiding prosecution in his own country in 2013, Zarrab was arrested last year after coming to the United States to visit Disney World with his daughter and his wife, Turkish pop star and TV personality Ebru Gundes.
What followed was a saga that saw demands by the Turkish government for Zarrab's release, attempts by well-connected American lawyers to broker a prisoner exchange with Turkey, and a mystery over Zarrab's whereabouts after he stopped appearing at pretrial hearings.
Prosecutors revealed Tuesday that Zarrab had secretly pleaded guilty to charges including money laundering and agreed to testify against a co-defendant, Mehmet Hakan Atilla, the former deputy CEO of the Turkish state-owned bank Halkbank.
The agreement got Zarrab released from jail, though he is still in FBI custody because of undisclosed threats against him.
Zarrab originally took the witness stand in jail-style scrubs. But after the judge questioned the outfit, his wardrobe switched to a blazer, open-collar white shirt and slacks.
The defense has labeled Zarrab a "liar" and a "cheat." And Turkish prosecutors have ordered the seizure of the assets of Zarrab and 22 others as they investigate claims of "espionage for a foreign country" and an "attempt to smuggle assets," Turkey's official Anadolu Agency reported.
___
THE SCHEME
As if teaching a class on economics, Zarrab has drawn diagrams for the jury outlining a complex shell game that he said was set up to conceal the origins of money flowing to and from Iran.
Through bribes and with encouragement of Iranian officials, Zarrab said he gained backdoor access to the proceeds parked in Halkbank. The money was transferred to other Turkish financial institutions and used to make gold trades.
In some instances, couriers would fly with suitcases full of gold to Dubai, where it was converted back into cash. More bank deposits and transfers followed before Zarrab used the cash to facilitate international payments for Iran.
"Gold," he said, "is just an accessory to make the payments."
___
THE BRIBES
Zarrab testified that he needed the blessing of Turkish finance minister, Zafer Caglayan, and the head of Halkbank, Suleyman Aslan, to pull off the fraud. But their participation, he said, came at cost.
Caglayan acted curious about Zarrab's profits before demanding half of them. Aslan expressed "concerns for his future," Zarrab said, which meant, "He was asking for money."
Zarrab said he ended up paying Caglayan more than $50 million in bribes. In an intercepted phone call, Zarrab said Caglayan had told him that Erdogan, then prime minister, had signed off on the arrangement.
Aslan got tens of millions more, he said. Atilla, however, got nothing.
"I was already giving bribes to the Turkish minister of the economy. I was also bribing the HalkBank general manager," he said. "I didn't see a need to pay any other individual."
___
THE FALLOUT
A contingent of Turkish reporters has descended on the New York courthouse to track every minute of the trial, coverage producing newspaper headlines in Turkey that read: "I gave 50 million Euros to Caglayan" and "Zarrab is used to bribing."
Officials have responded to the bad publicity by calling the U.S. prosecution a charade aimed at discrediting Erdogan's government. When Caglayan and Aslan were named in the same indictment charging Zarrab and Atilla last year, Erdogan came to Caglayan's defense, telling U.S. prosecutors they should back down.
Halkbank has also challenged the accusations, insisting it "strictly adheres to national and international regulations" in all businesses and transactions.
Last week, senior Turkish spokesman Bekir Bozdag went further, branding the trial an attempt by Pennsylvania-based cleric Fethullah Gulen to harm Turkey's government.
Turkey says Gulen's movement was behind a bribery and corruption scandal involving Zarrab in 2013 that led to Caglayan and three other ministers' resignations. The allegations were dropped after Erdogan dismissed police and prosecutors conducting the probe.
"What (Gulen's movement) was not able to achieve here, it is trying to achieve there (New York)," Bozdag said.
Erdogan has called on American authorities to "review" their decision to indict Caglayan, who is not in U.S. custody, saying the former minister had not engaged in any wrongdoing because Turkey had not imposed sanctions on Iran.