Tesla's Battery Pack Costs Are Cheaper Than You Think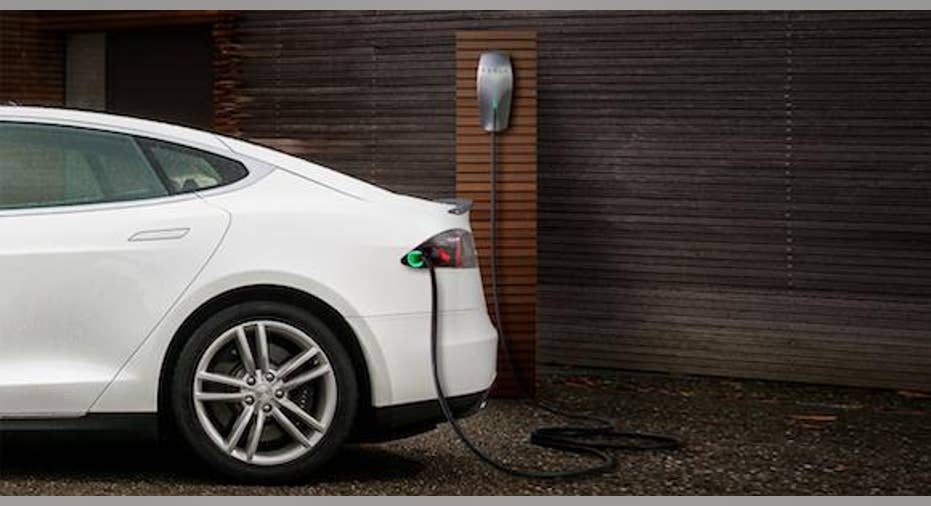 Model S charging. Image source: Tesla.
Late last year, General Motors inadvertently set off a mild media storm (well, at least within the EV community) when it explicitly stated that its EV battery cell costs were already as low as $145/kWh. The large automaker touted that tidbit in a slide deck during its Global Business Conference.
Battery partner LG Chem was not amused though, since $/kWh is an incredibly important number that companies like to keep proprietary due to competitive sensitivities. In disclosing the actual figure, LG Chem's other customers might start trying to negotiate favorable pricing as well, since other customers were reportedly paying over $100/kWh more than General Motors.
Since batteries comprise a very large chunk of EV component costs, this is all very relevant to how the forthcoming Chevy Bolt will stack up against Tesla's Model 3, particularly on the profitability front. Tesla similarly doesn't share its $/kWh data often, either, but it just tipped its hand.
Cell cost vs. pack costFirst off, it's important to note an important distinction between battery cell costs and battery pack costs. The $145/kWh figure that GM shared was the battery cell cost, but then you have to manufacture and assemble the actual battery pack, which includes a wide range of other important subsystems like microcontrollers and a thermal management system, among other things.
When asked specifically about the $145/kWh number on the November conference call, Tesla said it wasn't all that worried. Here's CTO JB Straubel, noting the difference between cell cost and pack cost:
CEO Elon Musk added:
Now let's fast forward a few months to the most recent fourth-quarter call. When asked directly about Tesla's $/kWh, Musk noted that Tesla's costs are cheaper than what everyone thinks, without elaborating further:
How low can you go?UBS analyst Colin Langan just hosted a conference call with Jon Bereisa, GM's former chief EV engineer and current CEO of Auto Lectrification, and Jeff Evanson, Tesla's head of investor relations, according to Street Insider. Bereisa believes that the Model 3 will be unprofitable at the $35,000 price point in part because of aluminum content and a wider range of sensors, but also because he estimates Tesla's pack costs at $260/kWh (he estimates GM pack costs at $215/kWh).
Evanson's response was that Model 3 is not predominantly aluminum like the Model S and Model X, which Tesla had unofficially disclosed at the Model 3 unveiling (a Tesla rep confirmed Model 3 would be over 50% steel). More important, Evanson added that Tesla's pack costs are already below $190/kWh.
Both Langan and Bereisa were skeptical about the figure. Langan estimates that even at $190/kWh, Tesla's breakeven point for Model 3 would be a $45,000 to $48,000 price point. It would be quite a feat if Tesla is already at $190/kWh in pack costs, even before the Gigafactory is fully operational.
The article Tesla's Battery Pack Costs Are Cheaper Than You Think originally appeared on Fool.com.
Evan Niu, CFA owns shares of Tesla Motors, andhas the following options: long January 2018 $180 calls on Tesla Motors. The Motley Fool owns shares of and recommends Tesla Motors. The Motley Fool recommends General Motors. Try any of our Foolish newsletter services free for 30 days. We Fools may not all hold the same opinions, but we all believe that considering a diverse range of insights makes us better investors. The Motley Fool has a disclosure policy.
Copyright 1995 - 2016 The Motley Fool, LLC. All rights reserved. The Motley Fool has a disclosure policy.