Tesla Taking Solar Roof Orders in April: What We Know and What We Don't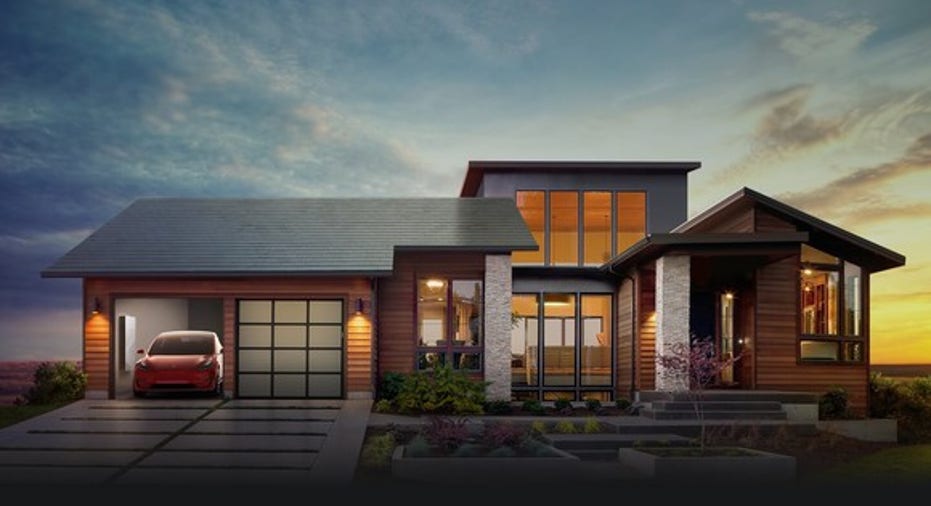 When Tesla's (NASDAQ: TSLA) solar roof was announced in November, Elon Musk took the solar industry by surprise. The roof is elegant and almost hidden on a home, a design goal that's been elusive to solar manufacturers. Tesla's shingle design is a concept that at least a half dozen companies have tried before -- and failed at -- and Musk said he could make it for the same price as a "regular roof."
After a short presentation showing off the product, Musk walked off stage, and we haven't heard much in the way of details about what the solar roof will be. Now, Musk says orders will start in April. Here's what we know, what we don't know, and what investors should look for when details are announced.
Image source: Tesla.
Here's what we know
We know that the solar roof is a glass shingle with a solar cell in it. And the few glimpses we've seen indicate that the solar roof is a great-looking product. We also know that Musk says orders will start in April.
And that concludes what we know about the product. Seriously -- that's it.
What we don't know
What we don't know about the solar roof is far more consequential for Tesla's new product.
Musk says the solar roof will be priced similarly to a regular roof, but what he means by "regular roof" hasn't been defined. And unless he's referring to the most expensive roof options, like ceramic or concrete tiles, it's hard to see how his projected pricing could be possible. I did the calculations a few months ago, and cells alone are far more expensive than asphalt shingles,so it's hard to even pencil out how the roof could be cost-effective. Cost is a big unknown.
We know absolutely nothing about how the solar roof will be installed and connected to an inverter. Based on what we've seen so far, each cell will need to be connected to its neighboring cell and eventually to an inverter. How exactly will that work?
It's also not known who will install the solar roof. There would presumably be very little volume early on, so SolarCity's installation infrastructure could be used, but the product may also be sold through a traditional roofing network, where roof replacements with a solar roof might make sense. Musk needs to expand on the channel plan.
When the solar roof was introduced, it was obvious that the roofs used to display the product had been completely rebuilt for the solar roof. We don't know what kind of angle and space limitations roofs will have, so we don't even know how many roofs could potentially take a solar roof.
There's still uncertainty about when the solar roof will be available. SolarCity's Buffalo, New York, manufacturing plant is supposed to be where the cells and roof shingles will be made, but we haven't seen the facility produce a reliable traditional solar cell, much less a revolutionary solar product.
There's a reason SunPower CEO Tom Werner said he was "skeptical" about the solar roof. Musk and Tesla are trying to create a solar product that many others with more manufacturing experience have failed at. And there are a lot of dots that need to be connected before customers will be able to put the Tesla solar roof on their roofs.
What investors should watch and expect
Anyone expecting a solar roof to cost anything near a traditional asphalt roof will be disappointed when details are released. At best, investors should expect that a solar roof product will cost a customer over $15,000; an all-in price over $30,000 wouldn't surprise me. The roof may also generate less energy than traditional solar panels would, given the design.
Some challenges with installation could be answered with a limited launch, likely in solar-dense areas in California. And Tesla will presumably design the product in a way that will allow it to be installed on many kinds of roofs.
Investors' highest expectations should be that Tesla could make the solar roof a highly profitable niche product for the high end of the roofing and solar market. Trying to make it a mass-market product could end in disaster unless it's extremely low-cost (which I've highlighted is unlikely). The solar roof could be a good product for Tesla, but the company shouldn't be betting big on an untested product with untested manufacturing. Until we know more, I'll take a skeptical approach to the product as well.
10 stocks we like better than TeslaWhen investing geniuses David and Tom Gardner have a stock tip, it can pay to listen. After all, the newsletter they have run for over a decade, Motley Fool Stock Advisor, has tripled the market.*
David and Tom just revealed what they believe are the 10 best stocks for investors to buy right now... and Tesla wasn't one of them! That's right -- they think these 10 stocks are even better buys.
Click here to learn about these picks!
*Stock Advisor returns as of February 6, 2017
Travis Hoium owns shares of SunPower. The Motley Fool owns shares of and recommends Tesla. The Motley Fool has a disclosure policy.