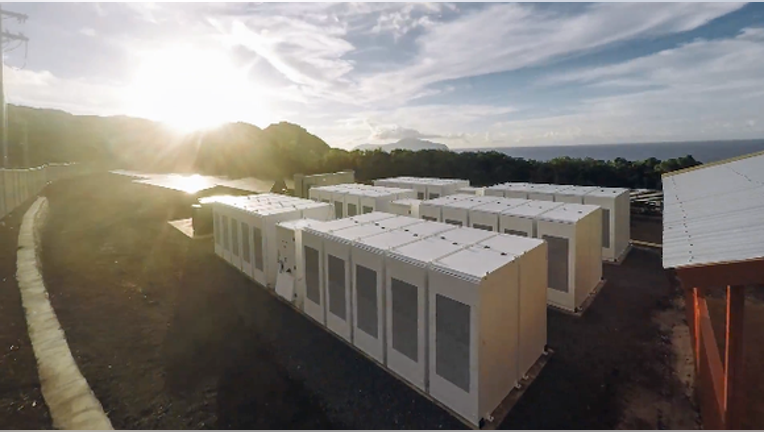 Just a day after Tesla Motors (NASDAQ: TSLA) announced it has closed its acquisition of SolarCity (NASDAQ: SCTY), the combined company is sharing an extreme example of what solar power generation and sustainable energy storage can accomplish together. Thanks to SolarCity's solar panels and Tesla's lithium-ion energy storage, the island of Ta'u in U.S. territory American Samoa now receives nearly 100% of its power needs from a microgrid enabled with solar power and battery storage.
Tesla Power packs, paired with solar power generation, enable Ta'u to access dependable energy during the day and night. Image source: SolarCity.
The completed Ta'u project demonstrates the practicality of solar and energy storage together, underscoring the reasoning behind Tesla's acquisition of SolarCity.
Powering Ta'u
Keith Ahsoon, local resident of the island of Ta'u in U.S. territory American Samoa, recalls growing up using candlelight for a light source when the island's diesel supply was running low. Dependent completely on boats that would ferry diesel to the island, delayed shipments would create lots of uncertainty. These problems, Ahsoon surprisingly noted in SolarCity's blog post, have persisted even into 2016...until now.
Over 4,000 miles from the West Coast of the U.S., the island's new microgrid gives residents dependable energy.
A SolarCity blog post explains:
Ta'u's new microgrid, which is operated by American Samoa Power Authority, includes 1.4 megawatts of solar generation capacity from SolarCity 5,328 solar panels and 6 megawatt hours of battery storage from 60 Tesla Powerpacks.
"The system provides energy independence for the nearly 600 residents of Ta'u," reads SolarCity's blog post. It enables the island to access on-demand energy during the day and at night.
Image source: SolarCity.
While the community admits that no longer having to worry about power outages or rationing is an important benefit of the new system, the cost savings achieved are also important to Ta'u.
"Factoring in the escalating cost of fuel, along with transporting such mass quantities to the small island, the financial impact is substantial," SolarCity said.
"Like peanut butter and jelly"
Tesla has been adamant about how solar and battery storage solutions belong together.
"Solar and batteries go together like peanut butter and jelly," Musk said in a question-and-answer session with press following the company's unveiling of a new solar roof product in October.
Akin to the benefits achieved by this microgrid on Ta'u, Tesla envisions solar and energy storage products as an integrated solution. The company articulated this rationale in a November blog post several weeks before it closed its acquisition of SolarCity:
With SolarCity now a part of Tesla, investors should look for more integration of solar and battery-enabled energy solutions. If the future is as accepting of the integration of solar power generation and battery energy storage as Tesla anticipates it will be, this Ta'u microgrid is only a preview of what's to come.
10 stocks we like better than Tesla Motors When investing geniuses David and Tom Gardner have a stock tip, it can pay to listen. After all, the newsletter they have run for over a decade, Motley Fool Stock Advisor, has tripled the market.*
David and Tom just revealed what they believe are the ten best stocks for investors to buy right now...and Tesla Motors wasn't one of them! That's right -- they think these 10 stocks are even better buys.
Click here to learn about these picks!
*Stock Advisor returns as of November 7, 2016.
Daniel Sparks owns shares of SolarCity and Tesla Motors. The Motley Fool owns shares of and recommends SolarCity and Tesla Motors. Try any of our Foolish newsletter services free for 30 days. We Fools may not all hold the same opinions, but we all believe that considering a diverse range of insights makes us better investors. The Motley Fool has a disclosure policy.