Tesla Motors, Inc.'s Supercharger Network Is Still Mostly Free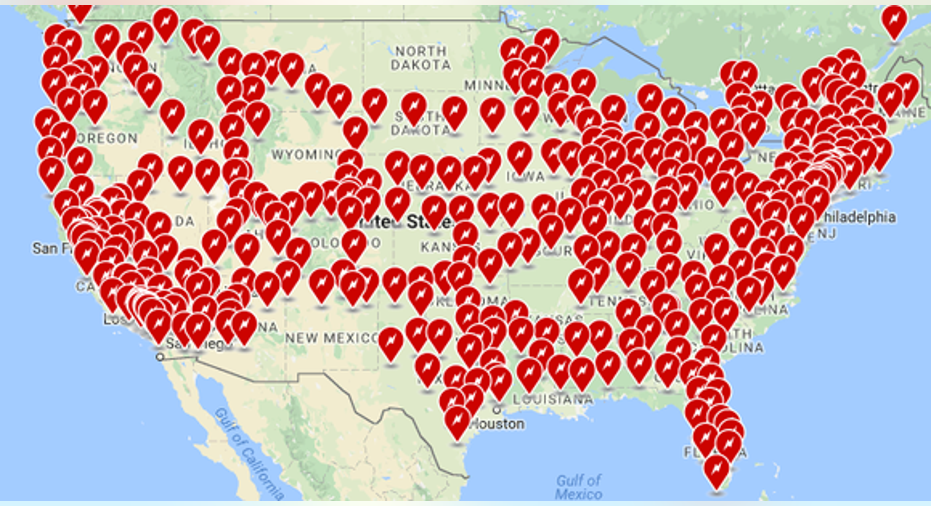 In a blog post Thursday evening, Tesla Motors (NASDAQ: TSLA) revealed the latest details on its plans to charge new Tesla owners some small fees for Supercharger usage. As it turns out, however, most charging will still be free. Here's the latest on Tesla's evolving Supercharger program ahead of its higher-volume Model 3 launch later this year.
Tesla Supercharger. Image source: The Motley Fool.
Necessary changes
As Tesla pointed out in its Thursday blog post, "Building a charging network that provides quick, convenient, and long-distance travel is critical to the adoption of electric vehicles." And this is why the company has been both rapidly expanding its Supercharger locations and introducing some fees and policies aimed to relieve congestion at crowded locations. With Model 3 planned to launch this year and expected to be produced at much higher volumes than its pricier Model S and Model X vehicles, the Supercharger network will need to be ready to handle demand from a fast-growing fleet of vehicles.
Tesla started initiating changes to the Supercharger program in November, when the electric-car maker said it would soon begin charging new vehicles for Supercharger use beyond 400 kWh per year. Then, in December, Tesla introduced a fee for vehicles plugged in at Supercharger locations but no longer charging.
Now Tesla is unveiling the details of the new fee structures as it begins to deliver the first Tesla vehicles that no longer qualify for free lifetime access to unlimited charging for long-distance travel.
In short, new Tesla customers will have to pay per kWh of charging after using 400 kWh of free Supercharging credits in any given year. Charging for use by the kWh is "the fairest way" for owners to pay for the exact energy they use, Tesla says. But in some regions, Tesla will bill users per minute of charge because of local regulations prohibiting the sale of electricity on a per kWh basis. However, Tesla says it is "actively working with regulators to update the rules."
Prices range from state to state, but they remain well below the price of gasoline. Tesla gave some examples of how much charging could cost:
Tesla also promised that Supercharging will always be "significantly cheaper than gasoline."
Furthermore, Tesla ensured customers that they won't have to get out their credit cards or cash to pay when accessing Superchargers. Instead, Tesla owners will be billed automatically to credit cards linked to their website account. And customers can view Supercharger history and invoices online anytime.
The goal for Tesla's new Supercharger fees, the company emphasized, isn't to make a profit, but rather to "recover a portion of our costs and set up a fair system for everyone; this will never be a profit center for Tesla."
Tesla's plan for U.S. Supercharger locations by the end of 2017. Image source: Tesla Motors.
Still free (kind of)
But what's perhaps most intriguing about Tesla's approach to monetizing the network is that it still clearly aims to offer enough free charging for most owners to rarely -- if ever -- have to pay.
Since owners charge at home for local driving and the Supercharger network is only meant for long-distance travel in the first place, 400 kWh (roughly 1,000 miles) turns out to be sufficient for most drivers' annual long-distance Supercharger usage, according to Tesla.
Image source: The Motley Fool.
Ahead of Tesla's planned Model 3 launch later this year, the company will likely continue to make changes to its Supercharger network, primarily by continuing to expand it. Last year, Tesla said it planned to double its Supercharger stations around the world by the end of 2017, increasing them from 3,600 to 7,200. The network has already expanded rapidly, with stations now numbering 5,085.
10 stocks we like better than Tesla Motors When investing geniuses David and Tom Gardner have a stock tip, it can pay to listen. After all, the newsletter they have run for over a decade, Motley Fool Stock Advisor, has tripled the market.*
David and Tom just revealed what they believe are the 10 best stocks for investors to buy right now... and Tesla Motors wasn't one of them! That's right -- they think these 10 stocks are even better buys.
Click here to learn about these picks!
*Stock Advisor returns as of January 4, 2017
Daniel Sparks owns shares of Tesla Motors. The Motley Fool owns shares of and recommends Tesla Motors. The Motley Fool has a disclosure policy.