Tesla Motors, Inc.'s Small Misses on Big Targets Set the Stage for Huge Growth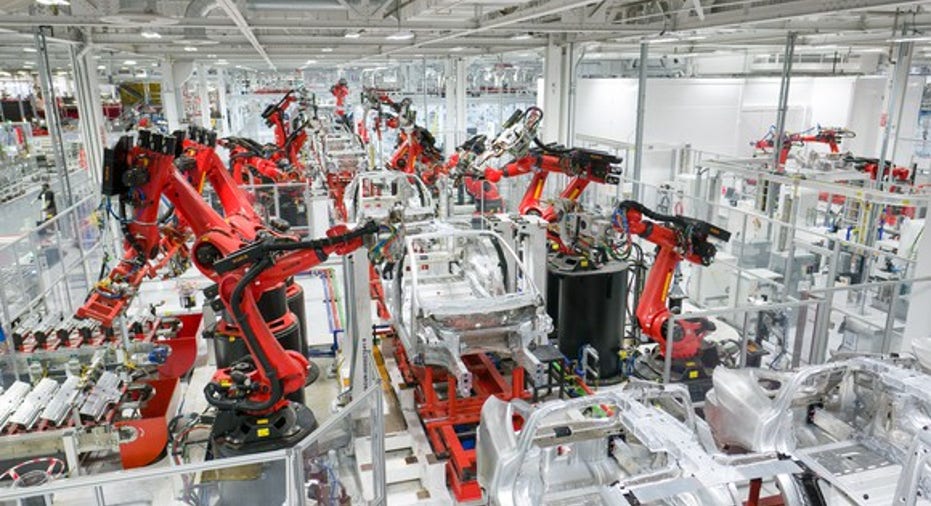 One of the biggest criticisms against electric-car maker Tesla Motors' (NASDAQ: TSLA) is the company's tendency to miss delivery targets. While the automaker is undoubtedly growing rapidly, Tesla has missed its initial guidance for vehicle deliveries for two years in a row -- and there's a chance Tesla could end up underperforming its initial annual target again this year.
However, considering just how ambitious Tesla's annual targets are, the automaker's ability to ramp up production isn't necessarily a weakness. This has been particularly evident recently, as Tesla is very close to hitting its initial 2016 delivery target, which represented management's most ambitious growth objective yet.
Image source: The Motley Fool.
Missing targets
"[W]e plan to deliver 80,000 to 90,000 new Model S and Model X vehicles in 2016," Tesla said in its 2015 fourth-quarter shareholder letter. The target was aggressive; in 2015, Tesla delivered about 50,700 vehicles. Even the low end of this guidance, then, would require about a 58% jump in deliveries.
But Tesla lowered its full-year guidance after a slower-than-expected initial production ramp of its Model X SUV weighed on delivery growth in the company's first and second quarters. In a July 3 press release detailing the company's second-quarter deliveries, Tesla said it now expected full-year deliveries to be closer to 79,000.
Management similarly decided to reduce full-year guidance for vehicle deliveries in both 2014 and 2015.
In 2014, Tesla initially set out to deliver 35,000 vehicles. But worse-than-expected production growth led management to reduce guidance to "approximately 33,000" units in the third quarter of 2014. And actual deliveries for 2014 ended up at about 32,000.
In 2015, Tesla first targeted "approximately" 55,000 vehicles. But a delayed Model X launch prompted management to reduce guidance to 50,000 to 52,000 vehicles. By the end of the year, Tesla had delivered close to 51,000 vehicles.
These missed targets may have some investors growing wary of the company's guidance.
A weakness or a strength?
Given Tesla's reoccurring theme of falling short of annual guidance in recent years, it's easy to conclude that the company's outlook for vehicle deliveries can't be trusted. But some context shows why investors may want to overlook this apparent fault.
Tesla factory. Image source: The Motley Fool.
First, investors should realize that Tesla's misses were on big targets. A zoomed-out view of Tesla's production reveals staggering growth, making missed annual targets appear less pertinent to a criticism of the company's growth story. In 2013, Tesla delivered just over 20,000 vehicles. Today, Tesla is delivering vehicles at an annualized run rate of about 100,000 units.
Further, total deliveries in 2013, 2014, and 2015 are only about 5% lower than the total of each year's initial guidance during this period -- not bad for a company growing this fast.
Data for chart retrieved from quarterly SEC filings. Chart by author.
Second, despite a slower-than-expected initial production ramp-up of its Model X during 2016, there's still a reasonable chance Tesla could meet its initial guidance range for the year. In order for full-year deliveries to come in at the bottom of Tesla's initial guidance range, fourth-quarter deliveries would only need to be about 5% higher than management's guidance for the quarter.
Viewing Tesla's impressive ramp in vehicle deliveries between 2013 and 2016, and considering Tesla has only slightly underachieved its own initial annual expectations during this timeframe, the company's ability to grow production and deliveries is probably better defined as a strength than a weakness.
Of course, if Tesla's fourth-quarter deliveries somehow come in lower than expected, this optimistic view of the electric car maker's ability to ramp up production may be worth revisiting.
Tesla's ability to increase production and deliveries today is more critical than ever as the company prepares to bring its much higher volume Model 3 to market next year. With the help of Model 3, Tesla is planning to increase annual production from an estimated 80,000 vehicles this year to 500,000 in 2018.
10 stocks we like better than Tesla Motors When investing geniuses David and Tom Gardner have a stock tip, it can pay to listen. After all, the newsletter they have run for over a decade, Motley Fool Stock Advisor, has tripled the market.*
David and Tom just revealed what they believe are the 10 best stocks for investors to buy right now...and Tesla Motors wasn't one of them! That's right -- they think these 10 stocks are even better buys.
Click here to learn about these picks!
*Stock Advisor returns as of November 7, 2016.
Daniel Sparks owns shares of Tesla Motors. The Motley Fool owns shares of and recommends Tesla Motors. Try any of our Foolish newsletter services free for 30 days. We Fools may not all hold the same opinions, but we all believe that considering a diverse range of insights makes us better investors. The Motley Fool has a disclosure policy.