Tesla Motors, Inc.'s Model S Sales Could Jump More Than 75% in Q4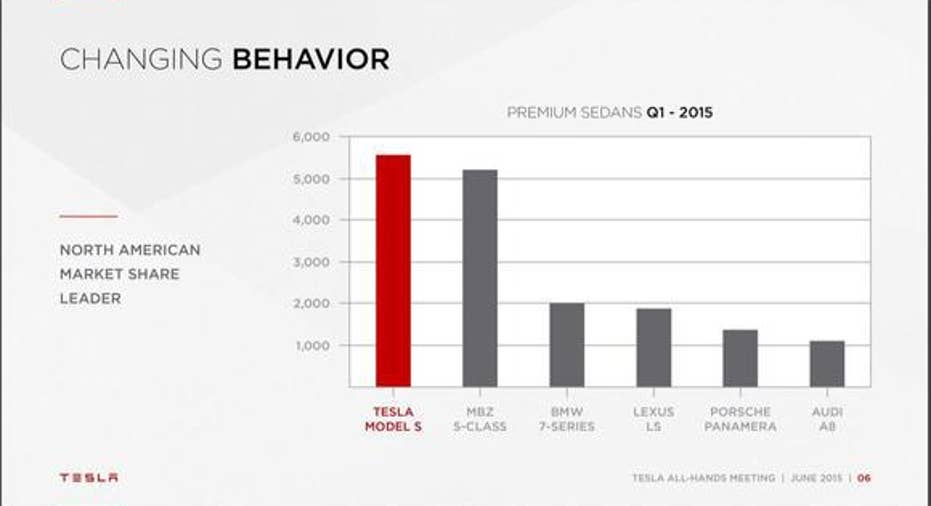 Throughout 2014, electric-car maker Tesla Motors was very clear that demand for its Model S sedan would continue to increase. Even after increasing Model S sales by 41% during the year, the company anticipated sales of the luxury Model to continue to soar higher. Management went as far as to predict in its third-quarter shareholder letter that there was room for vehicle production to increase by 50% during 2015 "and probably for several years to follow." Anticipating this projection would be criticized, management added, "This is unusual in the car industry."
As 2015 comes to a close, it looks like the company's bullish bet on continued rapid growth for Model S was on target. Indeed, the rate of Model S sales growth in 2015 is actually set to surpass the rate achieved in 2014. But this feat is going to require a huge fourth quarter.
Model S. Image source: Tesla Motors
Here's a close look at what investors can expect from Tesla's fourth-quarter Model S sales.
The path to 58% sales growth With only a few weeks left in Tesla's fourth quarter, it's safe to say that a 50% year-over-year growth rate for Model S sales is already in the bag. To achieve this growth rate, the company would need to deliver about 14,350 Model S cars to customers, yet Tesla is guiding for 17,000 to 19,000 deliveries in Q4 -- and the low end of this range bakes in potentially unexpected circumstances, including severe weather, holiday delivery issues, and a scenario in which Tesla fails to ramp Model X to meaningful numbers, according to Tesla management.
So far, Tesla hasn't given investors any reason to view its quarterly guidance with skepticism. The company has met or exceeded its quarterly guidance in 10 out of the past 11 quarters. And Tesla's guidance for the one quarter it fell short was based on a specific target -- not a range.
Assuming the bottom of Tesla's range (17,000 deliveries) represents management's estimate of what the quarter could look like if Tesla's Model X production ramp-up during the quarter fell flat, the electric-car maker is actually now predicting its Model S deliveries during 2015 will increase about 58% compared to the prior year -- a significant jump in the Model S' year-over-year sales growth. For Q4, 17,000 Model S deliveries would represent 77% growth compared to the year-ago quarter.
What is driving Model S sales so much higher during 2015? Some of the key factors for further demand growth in 2015 have been further penetration in newer international markets, a rapid rollout of the company's Supercharger locations, and a late 2014 update to the Model S line that included dual-motor all-wheel drive capability and autopilot technology.
An impressive featTesla's ability to continue to grow sales of its Model S during 2015 at such a high rate is a notable achievement. By the first quarter of 2015, Model S was already outselling every other luxury sedan in its price range. And with Model S sales continuing to grow both globally and in North America throughout 2015, the young automaker's lead in the market looks poised to stay ahead of competition for the long haul.
Tesla's ability to grow sales of Model S to an estimated 17,000 deliveries in Q4, despite its high starting price of $70,000, is a clear indication of the demand for compelling fully electric cars. And a tally of around 25,000 deposit-backed preorders for Tesla's Model X SUV, with a $75,000 starting price, reinforces the immense consumer interest in Tesla's vehicles.
The article Tesla Motors, Inc.'s Model S Sales Could Jump More Than 75% in Q4 originally appeared on Fool.com.
Daniel Sparks owns shares of Tesla Motors. The Motley Fool owns shares of and recommends Tesla Motors. Try any of our Foolish newsletter services free for 30 days. We Fools may not all hold the same opinions, but we all believe that considering a diverse range of insights makes us better investors. The Motley Fool has a disclosure policy.
Copyright 1995 - 2015 The Motley Fool, LLC. All rights reserved. The Motley Fool has a disclosure policy.