Tesla Motors, Inc.'s Model S Catches Fire -- Should Investors Worry?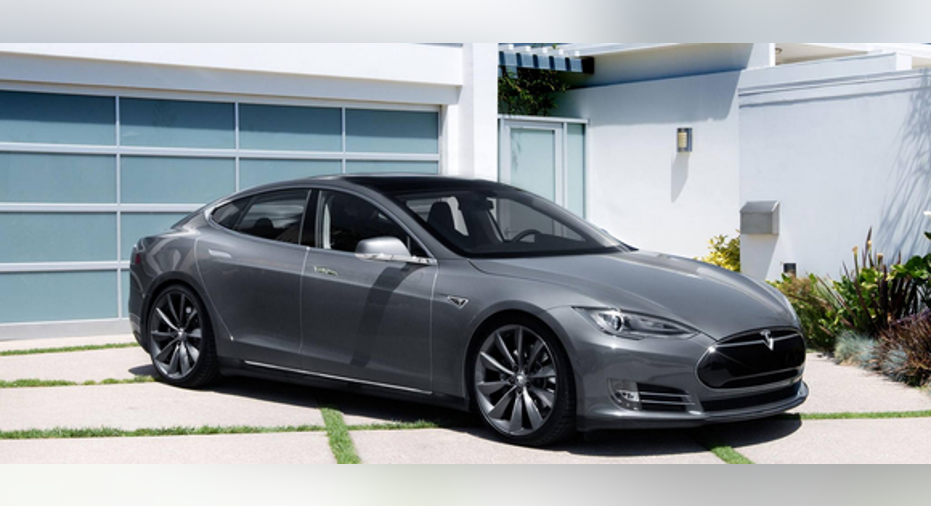 One of Tesla Motors' fully electric Model S caught fire while charging at a temporary Supercharger location in Norway last week. Tesla has confirmed the fire with the Motley Fool.
"Nobody was harmed," a Tesla spokesperson said in a statement. "We are undergoing a full investigation and will share our findings as soon as possible."
Should investors be concerned?
Model S. Image source: Tesla Motors
While it wouldn't hurt to keep an eye on the investigation, there's no reason to worry at this point.
Tesla's fire historyWhen one of Tesla's vehicles catches fire, it attracts a lot of attention in the media. And even the Street reacts to Tesla fires -- a third Model S fire in November 2013 sparked a 7% sell-off in the company's share price.
The attention in the media makes sense. After all, not only is Tesla a hot topic in the news, but it's also the world leader in the electric-car market when measured by lithium-ion battery sold. Consumers are naturally curious about any issues with this the company's fast-growing sales of its fully electric vehicles.
But there's less merit to the Street's concern. While Model S fires may make for good headlines and interesting reading, the frequency of the electric-car maker's fires pales in comparison to fires of gas cars, and in comparison to the fires that occur at gas stations.
As Tesla CEO Elon Musk noted in a blog post following one of the rare Model S fires, there are about 150,000 car fires per year according to the National Fire Protection Association, or about one vehicle fire for every 20 million miles driven. At the time, this compared to one fire for every 100 million miles driven for Tesla. But this statistic has undoubtedly improved for Tesla since this 2013 fire -- even including the most recent incident.
Going further, the potentially explosive nature of internal combustion engine fires makes traditional auto fires far more dangerous.
So, when it comes to fires, it's difficult to argue that Tesla doesn't have a huge advantage over its internal combustion engine counterparts.
Tesla could take actionIf this Supercharger fire could have a financial impact on the company, it would likely be voluntary effort involving proactive measures.
Tesla voluntarily responded to its first three Model S fires by adding a titanium underbody shield and aluminum deflector plates to the quarter-inch ballistic-grade aluminum armor plate that was already protecting vehicle's battery pack. The retrofit was designed to prevent underbody penetration from objects the vehicle drives over. Underbody penetration at high speeds caused two of the Model S' first three fires.
Similar to the way Tesla conducted itself when it added the underbody shield, the electric-car maker was also proactive with a seatbelt recall after discovering a single deficiency.
Model S interior. Image source: Tesla Motors
Pairing the company's history of taking proactive measures with its emphasis on safety, the company will likely go to extreme measures to enhance safety even by small amounts if it has the opportunity to do so. Tesla has made safety one of the company's top priorities. The Model S has the lowest probability of injury of any vehicle, according to the National Highway Traffic Safety Administration. And Tesla asserts its recently launched Model X will achieve an even lower probability of injury, making the electric-car maker's two vehicles the safest in the world. It wouldn't be surprising, therefore, if Tesla does take some sort of action after this fire.
But before Tesla can take any action, it will, of course, first need to determine the cause of the fire. So, in the meantime, all investors can do is wait for the company to provide more information on the incident.
The article Tesla Motors, Inc.'s Model S Catches Fire -- Should Investors Worry? originally appeared on Fool.com.
Daniel Sparks owns shares of Tesla Motors. The Motley Fool owns shares of and recommends Tesla Motors. Try any of our Foolish newsletter services free for 30 days. We Fools may not all hold the same opinions, but we all believe that considering a diverse range of insights makes us better investors. The Motley Fool has a disclosure policy.
Copyright 1995 - 2016 The Motley Fool, LLC. All rights reserved. The Motley Fool has a disclosure policy.