Tesla Motors, Inc.'s Model 3 to Get "Ludicrous" Acceleration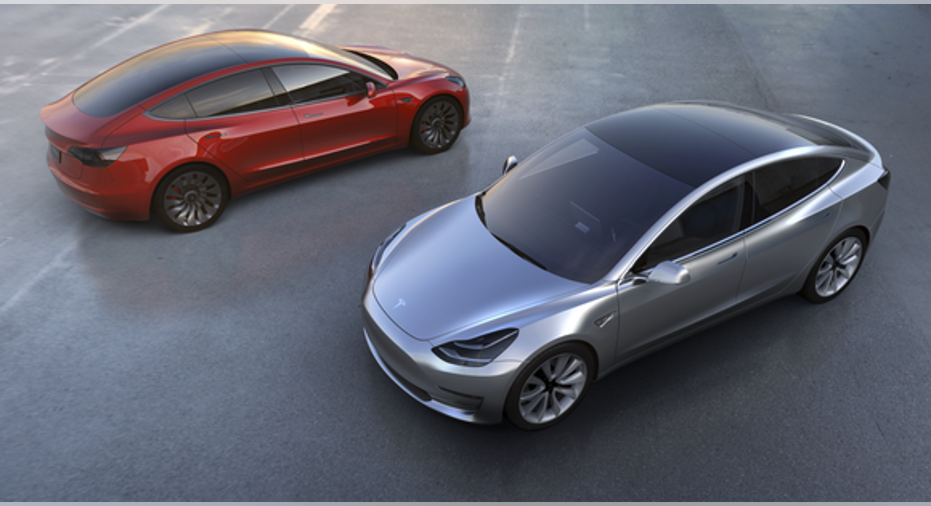 To be able to sell its March-introduced Model 3 at $35,000, or nearly half the price of its Model S, Tesla Motors will obviously have to hold back in the vehicle's offering when compared to its more expensive predecessor. Indeed, already we know that the vehicle is both smaller and will sport less driving range on a single charge. But there's one area Tesla seems unwilling to compromise: performance -- particularly the instant torque and impressive zero-to-sixty mph times its vehicles are known for. Indeed, the more we find out about the Model 3, the more it looks like the car's acceleration will be comparable to the Model S.
Model 3. Image source: Tesla Motors.
Tesla's obsession with accelerationWhen the first deliveries of Tesla's flagship Model S began in 2012, the company debuted the vehicle with an impressive zero-to-60 time of 4.2 seconds when buyers paid extra for a performance upgrade. With its instant and powerful torque off the line, Tesla quickly made a name for itself as a brand prioritizing rapid acceleration. Sure, Tesla had already built and delivered hundreds of its Roadster, which boasted an even faster zero-to-sixty time. However, this sort of performance was expected from the Roadster; it was a small, expensive sports car. A 4.2-second zero-to-sixty time for a four-door large sedan with 5+2 seating, however, was a delightful surprise.
But Tesla didn't stop at 4.2 seconds. Alongside the launch of its first dual motor vehicles in 2014, the automaker began producing a version of Model S with "Insane" mode. Capable of a 3.2-second zero-to-sixty time, Tesla officially had a love affair with acceleration.
Next, Tesla solidified its obsession with acceleration when it began offering a "Ludicrous" upgrade for Model S in 2015. While it would cost around a minimum of $118,000 to build a Model S to achieve this acceleration -- a whopping 68% price hike from the entry-level $70,000 Model S at the time, it was solid value when compared to vehicles with similar acceleration. With Ludicrous mode, Tesla entered supercar territory when it came to acceleration.
But how much of Tesla's love affair with acceleration will carry over to Model 3? More than you think.
Model 3: Quicker than you thinkWell ahead of Model 3's unveil Tesla emphasized Model 3 would achieve performance similar to Model S. But it wasn't clear exactly how close its performance would come to the much more expensive sedan. But as Tesla's late 2017 timeframe for the first deliveries of Model 3 comes closer, it's becoming increasingly evident that the vehicle's acceleration may not lag far behind Model S -- if at all.
Model 3. Image source: Tesla Motors.
When Tesla introduced Model 3 during "part one" of the vehicle's unveiling (part two will come much closer to production), the company said the base version of Model 3 would have a zero-to-60 time of "less than six seconds" -- not too far behind its entry-level Model S' zero-to-60 time of 5.5 seconds. And Musk went on to emphasize the company hopes the production version of Model 3 will exceed the performance figures it shared during the event.
"I want to emphasize these are minimum numbers," Musk said. "We hope to exceed them."
Of course the company won't stop at a sub six-second zero-to-sixty time for the base version of Model 3.
"[O]f course, there will be versions of the Model 3 that go much faster," Musk said.
And, as of Friday, we now know one more thing about Model 3's performance: a Ludicrous upgrade will be available, Musk said on Twitter.
Of course, we can't be certain Model 3's Ludicrous acceleration will actually equal Model S. But for the company to live up to the wild acceleration associated with its Ludicrous mode, the option will need to be really fast -- perhaps at least coming very close to the same zero-to-60 time of Tesla's Ludicrous-enabled Model S.
Yes, these higher-performance options will drive the price of Model 3 higher. But with the vehicle's price starting at $35,000 instead of $70,000, it's still notable the company is aiming for its Model 3 to even come near to the acceleration of its more expensive sibling. Even if options required for buyers to achieve Ludicrous-like performance pushed the total price to $50,000, this would be an impressive feat when compared to similarly priced cars.
No wonder Musk took the time at the Model 3 unveiling to remind those watching the event about the company's philosophy on performance:
"At Tesla, we don't make slow cars," the CEO said affirmatively.
The article Tesla Motors, Inc.'s Model 3 to Get "Ludicrous" Acceleration originally appeared on Fool.com.
Daniel Sparks owns shares of Tesla Motors. The Motley Fool owns shares of and recommends Tesla Motors. Try any of our Foolish newsletter services free for 30 days. We Fools may not all hold the same opinions, but we all believe that considering a diverse range of insights makes us better investors. The Motley Fool has a disclosure policy.
Copyright 1995 - 2016 The Motley Fool, LLC. All rights reserved. The Motley Fool has a disclosure policy.