Tesla Motors Inc.'s Misses Are Habitual, but So Is Its Mind-Boggling Growth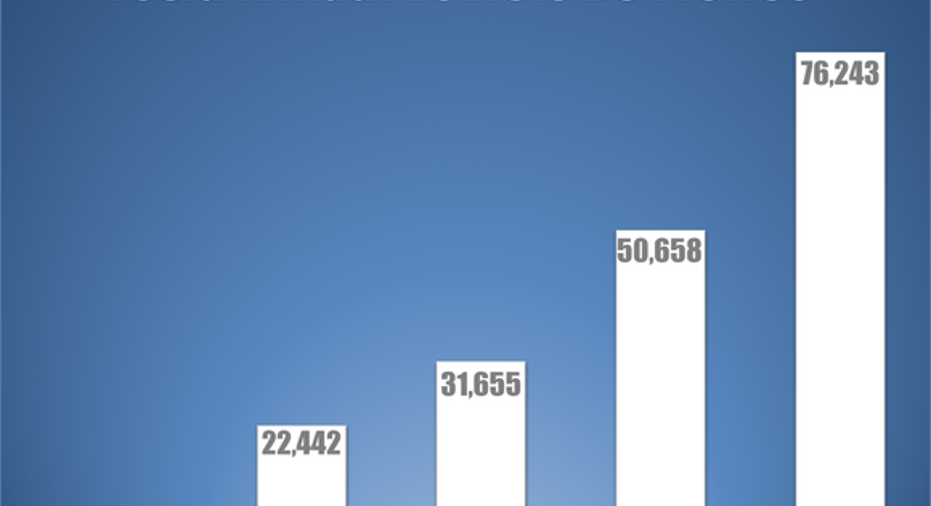 After Tesla Motors (NASDAQ: TSLA) reported fourth-quarter deliveries below its own guidance Tuesday after market close, investors seemed like they couldn't care less about the miss. Indeed, if anything, shareholders might have been happy to see production increasing -- even if the company is underperforming its own ambitious growth targets. Tesla stock was up about 5% in late afternoon trading Wednesday.
So, why is it that investors still seem pleased with Tesla's recent performance, despite the company missing its own targets?
Tesla store. Image source: The Motley Fool.
Small misses on increasingly bigger targets
For its fourth quarter, Tesla delivered about 22,200 vehicles, the company announced earlier this week. This put its total deliveries for 2016 at 76,230 -- 3,770 vehicles below the bottom of Tesla's initial full-year guidance range of 80,000 to 90,000 deliveries.
Bad news right? Not necessarily. The narrative looks a bit more optimistic when investors consider that Tesla delivered under 50,700 vehicles in 2015. Its 2016 deliveries, therefore, are up a notable 51% year over year.
In a sense, the market seems to have gotten used to Tesla'shabit -- whether it's on purpose or not -- of missing its big growth targets. And it's arguably becoming easier to forgive the company given that it's still growing at a blistering rate.
To put Tesla's small misses into perspective, consider this table of the company's actual annual deliveries versus initial annual guidance for full-year vehicle deliveries during each period.
| Year | Initial Guidance | Actual Vehicle Deliveries | Difference |
| --- | --- | --- | --- |
| 2013 | 20,000 | 22,442 | 12.2% |
| 2014 | 35,000 | 31,655 | (9.6%) |
| 2015 | 55,000 | 50,658 | (4.3%) |
| 2016 | 80,000-90,000 | 76,230 | (10.3%)* |
| Total | 195,000* | 180,985 | (7.2%)* |
Data from SEC filings and Tesla's quarterly press releases for vehicle deliveries. * indicates a figure based on a guidance range midpoint.
Tesla is definitely underperforming its targets, but it's still ramping up deliveries every year at consistently rapid rates.
Production, deliveries, and demand are soaring
Further, several metrics about Tesla's recent growth give investors reason to be hopeful about the company's growth trajectory. Consider some of these tidbits:
It has increased deliveries at a rate of 41% or higher during each of the last four years, with deliveries increasing 51% year-over-year in 2016.
Data for chart based on SEC filings and Tesla's quarterly press releases for vehicle deliveries. Chart source: author.
Vehicle production in 2016 was up 64% year over year. (The difference in delivery growth and production growth reflects vehicles still in transit to customers at the end of Q4.)
Demand is increasing sharply, with Q4 net orders for the Model S and Model X at a record high, up 52% year over year and 24% sequentially.
This recent growth, of course, still isn't quite enough to eliminate watchers' well-justified skepticism toward the company's ambitious target of achieving an annualized production rate of 500,000 vehicles in 2018 with the help of the company's planned Model 3 launch later this year. But when considering both Tesla's recent growth and its estimated 400,000 deposit-backed reservations for the lower-cost Model 3, it's definitely beginning to look like the company could build and sell several hundred thousand vehicles in 2018 -- and 500,000 doesn't sound as crazy as it used to.
10 stocks we like better than Tesla Motors When investing geniuses David and Tom Gardner have a stock tip, it can pay to listen. After all, the newsletter they have run for over a decade, Motley Fool Stock Advisor, has tripled the market.*
David and Tom just revealed what they believe are the 10 best stocks for investors to buy right now... and Tesla Motors wasn't one of them! That's right -- they think these 10 stocks are even better buys.
Click here to learn about these picks!
*Stock Advisor returns as of January 4, 2017
Daniel Sparks owns shares of Tesla Motors. The Motley Fool owns shares of and recommends Tesla Motors. The Motley Fool has a disclosure policy.