Tesla Motors, Inc.'s Greatest Advantage: Software?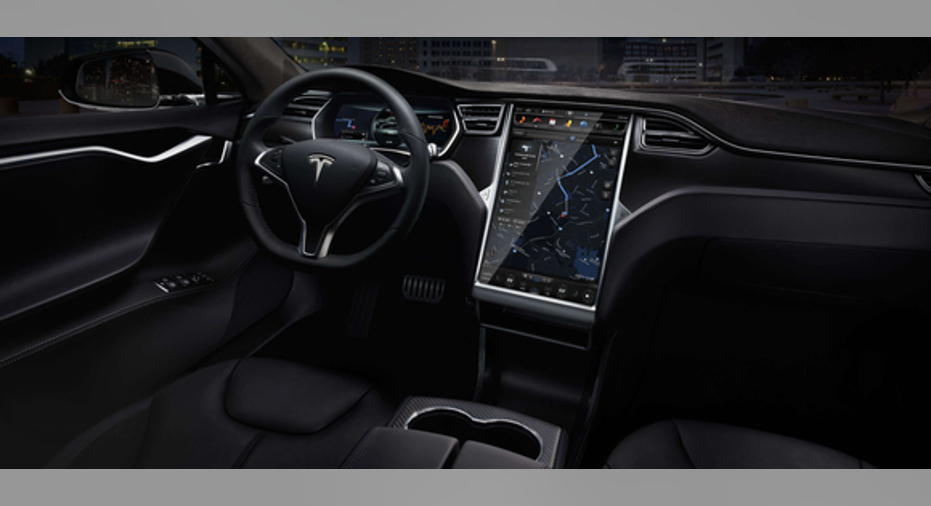 As a small player in one of the most capital-intensive industries in the world, Tesla Motors has investors wondering whether the company has staying power in this hyper-competitive environment. While Tesla's big bet on fully electric cars and its narrow focus on leading in this nascent category may serve as the company's key catalyst for growth in the near term, there is another, often overlooked, area of its business that sets it apart: in-car software. And Tesla's home-built software could very well be the company's greatest competitive advantage.
Model S 17-inch touchscreen. Image source: Tesla Motors.
A software company?Tesla is arguably just as much a software company as it is a car company. Its vehicles' unprecedented 17-inch touchscreen dominates the infotainment experience in the industry. With the massive touch display controlled by a Tesla-built computer and in-house software, the company has far more control on the way software interacts with its vehicles than other auto manufacturers.
And the company's intimate interconnection between custom software and hardware has already reaped benefits: Tesla has pioneered capabilities that are superior to the offerings of established peers in a number of areas, including over-the-air software updates, fleet learning, and autopilot features.
Ashlee Vance, the author of Elon Musk: Tesla, SpaceX, and the Quest for a Fantastic Future, shares a telling story in his book about T.J. Giuli, the engineer who established Ford's Silicon Valley Lab in Palo Alto and helped create the company's vision for software. T.J. Giuli, realizing in-car technology's increasing importance, "felt very jealous of Tesla" while working for Ford, according to Vance.
Giuli eventually left Ford and now works for Skyport Systems, an information technology company focused on cloud security.
The importance of software is growingUnsurprisingly, a number of studies suggest software is becoming increasingly important to consumers when buying a vehicle. Morgan Stanley recently predicted, for instance, the value added from software in a car will grow from about 5% today to around 60% over the next decade. Similarly, a recent BI Intelligence study determined that consumers, from all over the world, now value in-car technology more than driving performance.
And a December 2013 Accenture study found that 39% of 14,000 surveyed drivers across the world's largest auto markets said infotainment technology is their "primary consideration in choosing a new automobile."
Tesla's software and hardware integration plays a key role in the company's industry-leading autopilot technology, as as well as in its ability to deploy this technology with over-the-air software updates and improve it over time.
Of course, no auto manufacturer is turning a blind eye to the growing importance of software. So investors can bet that Tesla's established and well-capitalized peers are working hard to get an edge in software.
But in spite of an explosion of Silicon Valley automotive investment, Tesla's integration of software and hardware is increasingly looking like an advantage for the company. Could the company's geek culture of deep software integration serve as a key differentiator for its products similar to the way Apple's tight-knit integration of hardware, software, and services has helped it have a slight advantage in the overall customer experience for decades?
Investors should be watching Tesla's moves in software just as closely as they are following the company's rapid expansion of electric vehicle production. If the company can keep innovating and expanding the gap between its computer and software systems and its competitors', this could become the electric-car maker's key competitive advantage over the long haul.
The article Tesla Motors, Inc.'s Greatest Advantage: Software? originally appeared on Fool.com.
Daniel Sparks owns shares of Apple and Tesla Motors, and The Motley Fool owns shares of and recommends both of the companies. The Motley Fool recommends Ford. Try any of our Foolish newsletter services free for 30 days. We Fools may not all hold the same opinions, but we all believe that considering a diverse range of insights makes us better investors. The Motley Fool has a disclosure policy.
Copyright 1995 - 2015 The Motley Fool, LLC. All rights reserved. The Motley Fool has a disclosure policy.