Tesla Motors, Inc.'s 500,000 Unit Build Plan: Realistic or Not?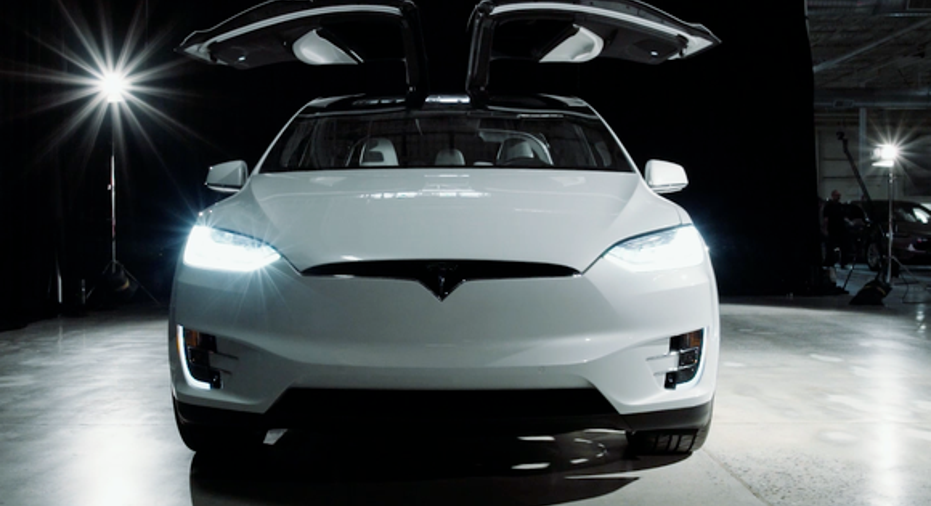 Electric-car maker Tesla Motors shocked investors on Wednesday when, alongside its latest financial results, it announced it is doubling its already-ambitious plans for production growth. Initially, investors seemed to respond optimistically to the news, with shares rising in after-hours trading. But by the time the market opened the next day, the CEO's confidence in such a wild-growth roadmap was mostly criticized as naive and unrealistic; the stock ended the trading day down about 5%.
Should investors take Tesla's accelerated plan for production seriously? Or is it a pipe dream?
Model X production. Image source: Tesla Motors.
Forward-looking projections are always risky -- especially those involving leaps and bounds of growth. But for investors insisting on assessing Tesla's accelerated forecast's validity, a look at the company's historical production versus previous expectations would certainly be useful. So, how has Tesla lived up to its previous production goals to date?
Tesla's production execution is better than you thinkFor two years in a row, Tesla has missed its initial guidance for annual production. This has led to Tesla taking a lot of slack for being unable to live up to its growth goals. But a more holistic look at Tesla's production execution puts some meat behind management's monstrous ambitions.
First, it's important to put Tesla's recent deliveries into context. Here's how Tesla's annual deliveries since it launched Model S compared to initial guidance for each respective year:
| Year | Initial Guidance For Deliveries | Actual Deliveries | Difference (%) | Growth (YOY) |
| --- | --- | --- | --- | --- |
| 2013 | 20,000 | 22,442 | 12.2% | 671% |
| 2014 | 35,000 | 31,655 | (9.5%) | 41% |
| 2015 | 55,000 | 50,635 | (7.9%) | 60% |
| 2016 | 80,000-90,000 | ? | ? | 58%-78% |
As this table shows, Tesla does have a track record of missing some of its production and delivery targets. But when you consider the sort of growth it is serving up investors, it would be unfair to say that ramping up production is a company weakness.
Growing deliveries by 41% and 60% in 2014 and 2015, respectively, and now planning to boost deliveries by about 68% in 2016, Tesla may have missed some targets, but its growth during these periods is downright astounding -- and beyond what any auto-industry veteran would have forecast when the company first started delivering Model S in 2012.
Second, zooming out and looking at the company's growth in vehicle deliveries, the automaker is surprisingly growing faster as its gets bigger. It would be a concern if growth was decelerating as the automaker's annual sales increase, but growth rates are accelerating.
*Asterisk indicates estimate based on management guidance."Chart source: Author.
Third, when viewed at a 10,000-foot view, the automaker was arguably on schedule with its previous plan to achieve a build rate of 500,000 vehicles by 2020. If Tesla hit the mid range of its guidance this year, it would require about 55% annualized growth in vehicle sales between the end of 2016 and its previous 2020 time frame for achieving a 500,000 unit build rate. This would actually leave room for a deceleration in the company's year-over-year growth in years beyond 2016.
Sure, Tesla has missed its production goals for two years in a row. But its overall execution in moving toward its previous 2020 target paints production growth as a company strength -- not a weakness.
But what about those Model X delays?However, investors do have reason to question Tesla. The Model X was delayed by nearly two years. Production of the all-electric SUV was supposed to begin by the end of 2014, with deliveries starting by early 2014. Instead, the first deliveries occurred in late 2015. Further, initial production of the vehicle has been more difficult than the company anticipated.
Model X. Image source: Tesla Motors.
With this sort of track record on product development and initial production of Tesla's most-recent vehicle, it does raise some concerns about Tesla's ability to actually bring the Model 3 to market in a timely manner.
For Model X, Tesla has cited too much technology, insufficient supplier capability validation, and "not having broad enough internal capability to manufacture the parts in-house," as key problems holding back initial production of Model X.
But Tesla is confident it won't make these same mistakes again. "Tesla is addressing all three root causes to ensure that these mistakes are not repeated with the Model 3 launch," the company said in an April 4 press release announcing its worse-than-expected first-quarter Model X deliveries.
Giving Tesla some credit, it's fair to say that Model X is a difficult vehicle to manufacture. With the largest piece of glass in any production vehicle, second-row seats unlike seats in any other car, self-presenting front doors, and double-hinged falcon wing doors for rear passengers, it's an impressive feat thatany automaker would build this vehicle -- let alone the newest automaker on the block.
Model 3. Image source: Tesla Motors.
If Tesla really can follow through with its promise to keep Model 3 simple enough for manufacturing to move smoothly, it's possible Tesla could surprise investors with its ability to ramp up its production. And with the Model X's wild complexity in mind, it should be fairly easy for Tesla's more-affordable car to be much simpler than its troublesome predecessor.
Tesla's huge production plans are both grandiose and speculative -- there's no way around it. But Tesla's execution in ramping up production so far makes it easier to believe Tesla can at least come close.
Yes, achieving a build rate of 500,000 vehicles per year by 2018 is going to take a lot of capital -- and probably an amount the company doesn't have. But fortunately, thanks to Tesla's lofty stock price, this cash is just an equity sale away. And if some dilution can help Tesla boost its production around fivefold over the next two to three years, I'm all for it.
The article Tesla Motors, Inc.'s 500,000 Unit Build Plan: Realistic or Not? originally appeared on Fool.com.
Daniel Sparks owns shares of Tesla Motors. The Motley Fool owns shares of and recommends Tesla Motors. Try any of our Foolish newsletter services free for 30 days. We Fools may not all hold the same opinions, but we all believe that considering a diverse range of insights makes us better investors. The Motley Fool has a disclosure policy.
Copyright 1995 - 2016 The Motley Fool, LLC. All rights reserved. The Motley Fool has a disclosure policy.