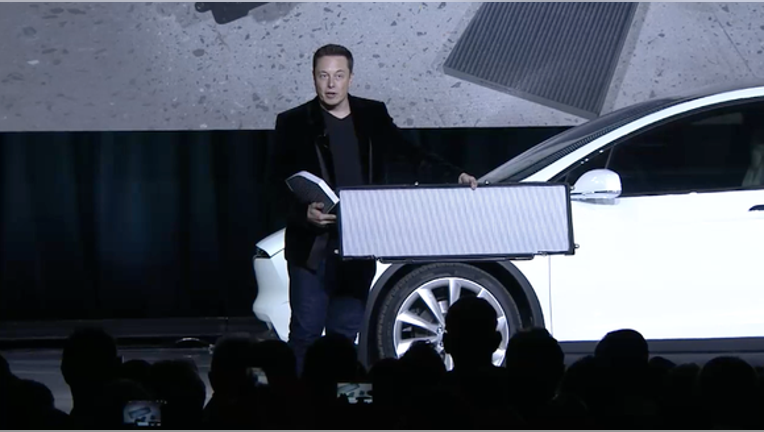 When electric-car maker Tesla Motors unveiled the production version of Model X last September, there were a number of unexpected features, including the largest front windshield in production and self-presenting doors. But arguably the most surprising new feature was the SUV's "bioweapon defense mode."
Tesla CEO shows air filters in Model X. Image source: Tesla Motors.
"The net effect of the air filtration system is that you have air cleanliness levels which are comparable to a hospital operating room in the car," Tesla CEO Elon Musk said when he unveiled the feature.
But some have questioned whether the feature was the real deal, or just a marketing gimmick.
Model X in a biohazard bubbleIn a new blog post, Tesla is asserting that it wasn't kidding about the air filtration system's capabilities.
First, the company emphasized that air pollution really is a serious problem and deserves attention.
While the automaker had already put the system to the test in real-world environments including busy freeways, landfills, smelly marshes, cow pastures, and major cities in China, Tesla wanted to "take things a step further."
Model X in biohazard bubble. Image source: Tesla Motors.
The test, which apparently involved humans, was a success.
Chart source: Tesla Motors.
And Tesla isn't done with its air system. According to the company, subsequent filters, which current owners will be able to install as replacements in the future, will make it even better. The company is continuing to work to "improve the micro-geometry and chemical passivation defenses in the primary and secondary filters." Indeed, Tesla said in the blog post that it's open to suggestions on ways to improve the system.
Although bioweapon defense mode debuted in the Model X, the company recently added the feature to Model S as part of a slight redesign, which included a total makeover to the vehicle's nose cone.
As Tesla matures as an auto company, it's increasingly clear that one of its goals is to be a standard-setter when it comes to safety. The Model S received a 5-star rating in every category from the National Highway Traffic Safety Administration, and the company has said it expects the Model X and Model 3 will receive the same ratings when they are tested. Further, Tesla's autopilot safety features, including side collision avoidance, automatic emergency braking, and more, come standard on all of its vehicles.
The article Tesla Motors Inc.: Bioweapon Defense Mode is Real originally appeared on Fool.com.
Daniel Sparks owns shares of Tesla Motors. The Motley Fool owns shares of and recommends Tesla Motors. Try any of our Foolish newsletter services free for 30 days. We Fools may not all hold the same opinions, but we all believe that considering a diverse range of insights makes us better investors. The Motley Fool has a disclosure policy.
Copyright 1995 - 2016 The Motley Fool, LLC. All rights reserved. The Motley Fool has a disclosure policy.