Tesla Motors, Inc. Begins Promoting Test Drives for Model X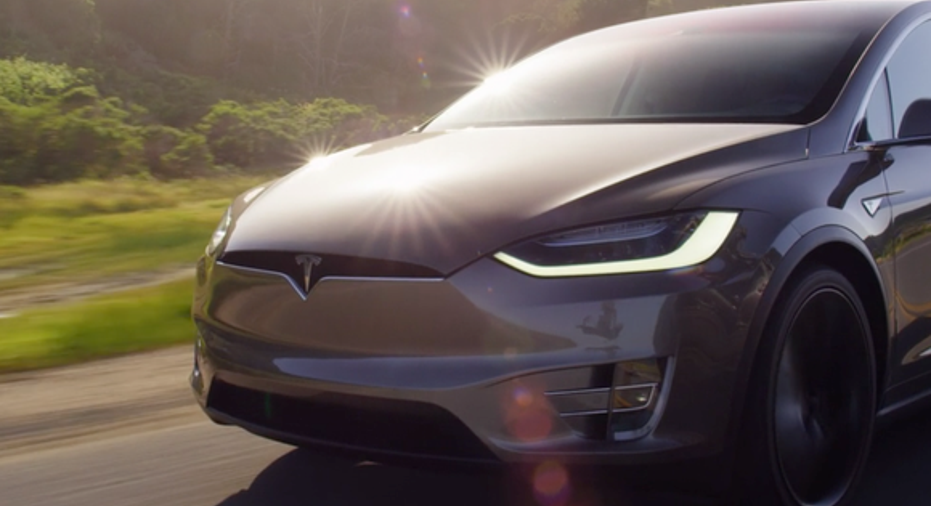 Until recently, electric-car maker Tesla Motors wasn't making it easy for consumers to test drive its September-launched Model X SUV. But as production of the vehicle continues to ramp up, so are Tesla's efforts to highlight the falcon-winged vehicle.
Model X finally gets prime front-page real estate on Tesla's website. Image source: Tesla Motors.
Test-drive a Model X
While Tesla began the first deliveries of its Model X last September, the vehicle has mostly remained out of the limelight until recently. Combining the approximately 30,000 deposit-backed reservations Tesla had garnered for the Model X going into 2016, along with a slower-than-expected production ramp, Tesla simply hasn't had much incentive to market the vehicle vigorously. Indeed, earlier this year during an earnings call Tesla management even went as far as to emphasize it was doing virtually whatever it could to suppress demand for the SUV.
But as Tesla's Model S production increases, so too is its marketing for the vehicle.
Here's the progression of some of Tesla's growing efforts to show off the Model X:
Test-drives for reservation holders: In early February, Tesla launched its Meet Model X tour, which offered test drives of the vehicle -- but only for those who put $5,000 down to reserve one.
Model X referral program. By the end of May, Tesla began including its Model X in the company's referral program, which gives buyers a $1,000 credit toward the purchase price of a new vehicle.
Test-drives for interested buyers. About a month ago, Tesla started offering test drives of the Model X to some interested customers in its store, as well as to some customers on its email list.
Wide availability of test drives. As of last weekend, the Model X finally received some front-page real estate on Tesla's website, and the company began making it easy for interested buyers to book a test drive online.
Notably, it appears Tesla's marketing push for Model X is generating quite a bit of interest; Model X test-drives appear to be pushed out nearly a month at many of Tesla's stores.
Tesla's more aggressive test-drive push for the Model X, along with some front-page promotion for the vehicle, comes just after the company announced its second-quarter deliveries, which highlighted a significant jump in Model X deliveries.
Data retrieved from Tesla SEC filings and press releases. Chart source: author.
In Q2, Tesla delivered 4,625 Model X units, up about 93% compared with Q1. The significant jump in Model X production means it's starting to make sense for Tesla to show off its Model X more prominently.
A key demand generator
Tesla has successfully relied on broad availability of test-drives as a demand generator with great success in the past. For instance, its Double Black All-Wheel Drive tour launched last year to promote its late 2014-launched dual motor versions of its Model S was played a role in Tesla's soaring Model S sales during the year, which increased from about 31,700 in 2014 to over 50,000 in 2015. Further, the company has specifically acknowledged that availability of test-drives have been a key demand driver for the company.
Model X. Image source: Tesla Motors.
Tesla is particularly reliant on test drives because it doesn't pay for any advertising. Further, since the fully electric experience is so much different from an internal combustion engine experience, Tesla depends on test-drives as a way to show off its vehicles' advantages.
As Model X production continues to ramp up, Tesla's marketing efforts for the Model X will probably increase, too. Perhaps the next step is a touring test-drive event, akin to the Double Black All-Wheel Drive tour for Model S, for Model X.
For now, the Model X remains production-constrained. But as Tesla makes a dent in its backlog of deposit-backed reservations, it will be interesting to see how high demand generation efforts for the Model X can take sales over the longer term.
The article Tesla Motors, Inc. Begins Promoting Test Drives for Model X originally appeared on Fool.com.
Daniel Sparks owns shares of Tesla Motors. The Motley Fool owns shares of and recommends Tesla Motors. Try any of our Foolish newsletter services free for 30 days. We Fools may not all hold the same opinions, but we all believe that considering a diverse range of insights makes us better investors. The Motley Fool has a disclosure policy.
Copyright 1995 - 2016 The Motley Fool, LLC. All rights reserved. The Motley Fool has a disclosure policy.